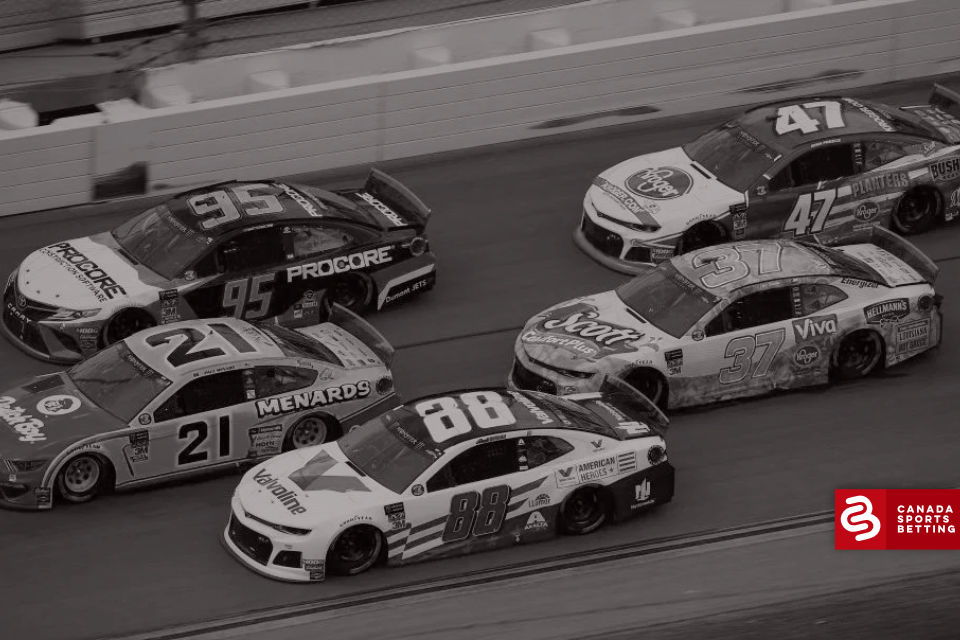 Can you believe it? The NASCAR playoffs begin in two short months. Now that we're hitting the final stretch of the racing season, it's the perfect time to make updated NASCAR Cup Series picks to win! In this article, we're giving you expert advice on how to bet the futures wager!
NASCAR 2021 Series Betting Picks
Eighteen races down, eight more to go in the regular season of the NASCAR Cup Series. Of course, after this, the postseason runs another 10 races.
The 2021 NASCAR Cup Series odds have fluctuated plenty over the last few weeks. But coming out of the most recent Pocono double-header, here are the drivers most favoured to win the title, per online sportsbooks:
Larson has created a sizable lead in the betting odds — despite still trailing Hamlin in the Cup Series leaderboard. Presently, Hamlin is clinging to a two-point lead over the red-hot Larson in the standings.
When making a futures bet, especially in motorsports, you need to "spread the wealth" to several different outcomes. NASCAR is too unpredictable to stake all your money on a single driver, no matter how good they are. That's the approach we're taking here, as we're picking three different drivers that offer the most potential to cash in a big payday at the season's end. Let's get into it:
Betting Pick — Kyle Larson
There's a reason why Larson is the runaway betting favourite at the moment. Simply put, he seems to be in a league of his own over the past two months (and counting). As a bettor, it's never a bad idea to "ride the hot hand."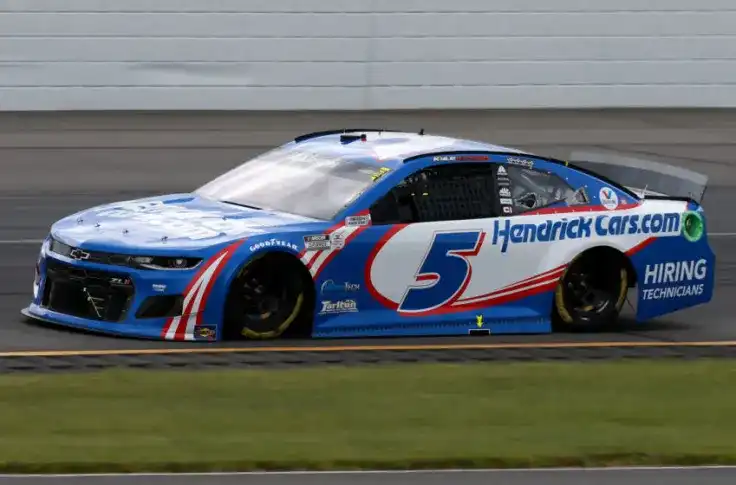 And momentum is plenty for Larson. This past weekend, Larson was on the verge of winning his fourth straight Cup Series race and fifth overall (he won the NASCAR All-Star race, too). He was leading the Pocono 325 before he cut a tire and hit the wall in the final lap. If not for the unlucky mishap, Larson would've become only the ninth-ever driver to win four consecutive Cup events.
Instead, Larson settled for ninth place. However, the following day at the Pocono 350, he did eke out a second-place finish. So he's now finished at least top-two in eight of the last nine races he's participated in, and c'mon, that should really be nine straight. Yep, Larson is red hot and showing no signs of cooling off.
Not only that, but it really feels like Larson is racing with a "chip on his shoulder." Since breaking into the sport in 2013, he's slowly improved his Cup Series standing over the years, but never finished higher than last season's sixth-place standing. The soon-to-be 29-year-old is driving with urgency, which we're riding all the way to the bank.   
Betting Pick — Chase Elliott
Per most oddsmakers, Elliott is about level with current Cup leader Hamlin in this future wager. Hamlin has led the standings almost wire-to-wire — at one point even leading the group by 101 points — but has raced very modestly during this Larson hot streak.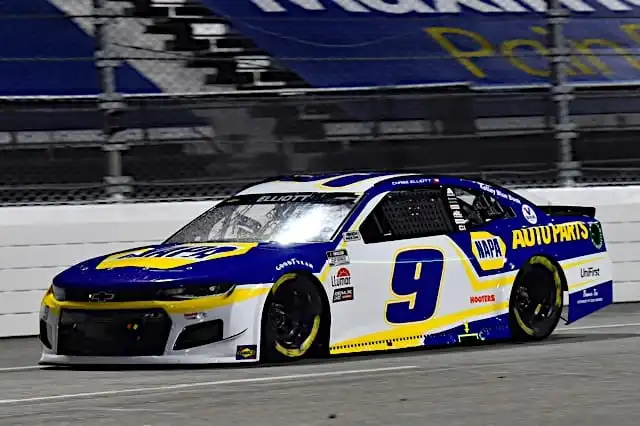 Between the two drivers, your money is in safe hands with Elliott. All you need to do is remember the 2020 NASCAR playoffs. During that stretch, Elliott took the checkered flag in three different races, which propelled him to a Cup Series championship. The reigning champion isn't someone you want to underestimate in clutch situations, which will be common from here on out.  
Betting Pick — Martin Truex Jr.
Like Hamlin, Truex got off to a hot start initially before going cold. But the difference between Hamlin and Truex is the latter has shown a killer instinct. Truex has won three races, while Hamlin remains at zero.
If someone is going to catch fire down the stretch, we're saying it's Truex. The long-time veteran has seen everything this sport has to offer and won't be phased by the pressure-cooker moments that lay ahead. 
So there you have it, three of our best-value picks to win the 2021 NASCAR Cup Series. If you want complete NASCAR betting odds, not only for the championship but also for every individual race from now until the season concludes, then visit one of the bookmakers listed below.
Not only will you find great betting prices, but you'll also find multiple promotions. If you're a first-time player of the site, there's the sign-up bonus. Returning bettors have reloaded bonuses at their disposal, too. With either bonus, players could earn hundreds to thousands of dollars in free play.
The deals function in the same manner: deposit money into your account and part of that is matched in free play. How much money is matched exactly and at what percentage is detailed in the table below.
Bonus money earned can be bet right back into NASCAR or another sport of your choosing. Leveraging such deals is a great way to build a betting bankroll, which is always a plus when wagering over the long haul. If you want to reap the rewards immediately, then visit one of the bookies underneath.