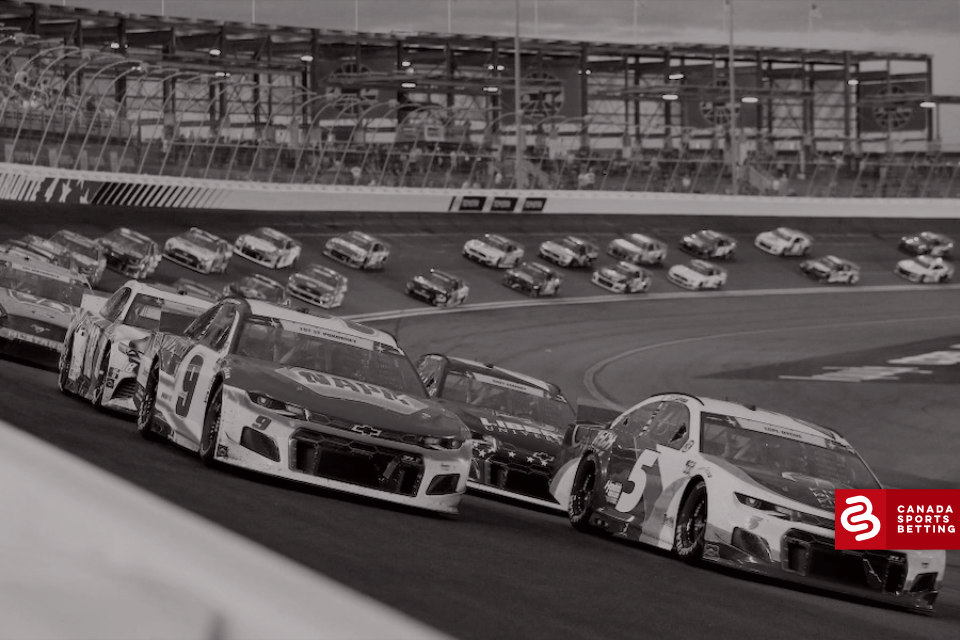 The "all-stars" of NASCAR descend into Fort Worth, Texas for the exhibition showcase. Who are the best betting picks to win the NASCAR All-Star race? We have a few drivers in mind. Read this betting preview of the big event!
To start off, let's take a peek at the current betting lines for the All-Star event, being held at the Texas Motor Speedway. Online oddsmakers have pegged the below eight drivers with the best odds to win the race:
No surprise here, all the usual suspects — Hamlin (current leader of the Cup Series), Larson (in second place), Truex Jr. — are again favoured. Of course, the All-Star event isn't a typical NASCAR race. Special rules apply and we'll begin our betting preview there.
What Is The Race Format Of The All-Star Race?
In late April, NASCAR unveiled a first-time format for the upcoming All-Star race. The rules caused some confusion among sports fans, but we'll try to break it down in simple terms:
The competition will be run in six rounds. The first four rounds are all 15 laps. Round five, however, jumps to 30 laps — the highest of any round. Finally, the last round is a quick 10 laps for all the marbles.
The starting lineup for round one, which was released Tuesday, was drawn at random.
The racing field will be inverted at several different points, all at random. Before rounds two and four, anywhere from eight to 12 drivers will be shuffled. At the start of round three, the entire field will be inverted.
The starting positions for the final two rounds will be determined by the finish of the round prior.
Round five will include a mandatory pit stop with a special prize. The fastest team on pit road will take home a $100,000 bonus.
Only green flags will count in the All-Star race.
Got all that? It's a lot, which could either be good (a unique event like no other) or bad (perhaps overly complicated).
The 100-lap race will be run on a 1.5-mile track. Awaiting the first-place finisher is a cool $1 million prize — so don't think drivers aren't motivated, despite it being an exhibition and the result having no bearings on the NASCAR Cup Series leaderboard.
2021 All-Star Race Best Betting Picks
All in all, 21 drivers will line up for the All-Star race. Seventeen have already qualified, while the other four will be determined soon enough — the three top drivers from the All-Star Open hours before this earn a spot, plus the top All-Star vote-getter per the fans. Among that entire group, our attention is on these three drivers:
Kyle Larsen (+450)
One of our bets is undoubtedly going on the favourite. We know, that's not the "sexy" choice, but it is the smart decision. Larsen has everything you're looking for when betting — a pristine career on the track, past success at these style events, AND a very favourable pole position.
We don't need to tell you Larsen is one of NASCAR's top-five drivers. Nor do we probably need to remind you he won the All-Star race two years ago (held in Charlotte). But you may not know Larsen randomly drew the starting position for the 2021 race this week. Starting round one at the pole gives Larsen an advantage he likely doesn't need, but hey, as bettors, we'll take anything we can get!
Kyle Busch (+800)
Speaking of starting position, right behind Larsen in round one will be another Kyle, of course, we're talking about Busch. If that wasn't advantageous enough, Busch also has four career wins at the Texas Motor Speedway — second all-time and most among drivers competing at the event. Busch is a perfect secondary bet to go alongside Larsen.
Brad Keselowski (+1500)
For our final pick, we wanted to pick a name not among the favourites like Larsen and Busch. In that second tier of drivers, Keselowski offers a ton of value. What we like most about Keselowski is his hot streak during 2021. He's finished top-5 at five different races — which is fifth-most this season after the usual drivers you'd expect. At +1500 odds, the streaky Keselowski is worth an "insurance" bet per see.
How Can I Watch The Race?
You don't want to miss NASCAR All-Star weekend, a little less if you have action on the race (c'mon, you know you are). For those that want to follow along in real-time, here is how:
Race day: Sunday, June 13
Start time: 8 pm EST
TV Broadcaster: Fox Sports 1 (FS1)
Location: The Texas Motor Speedway (Fort Worth, TX)
That wraps up our All-Star preview. If you're in need of a betting site to place your bet(s), then we can also help you in that regard. A great starting point is the bookmakers listed in the table underneath.
These online sportsbooks not only have the latest NASCAR betting odds but also offer a variety of promotions. For new players, these promotions are, by far, the most lucrative of the bunch.
It's called a sign-up bonus and as the name hints, it's a deal aimed at new signees. Just create an account at a bookmaker and make an initial deposit to your account. Do those two simple things and the bonus is unlocked. Full offer details are listed below, but as you can see, the bonuses range from $1000 to $2500 in free play!
Better yet, that free play can be wagered right back into the NASCAR All-Star race. We have a feeling if you heed our betting advice, you'll be well on your way to a big-money weekend!