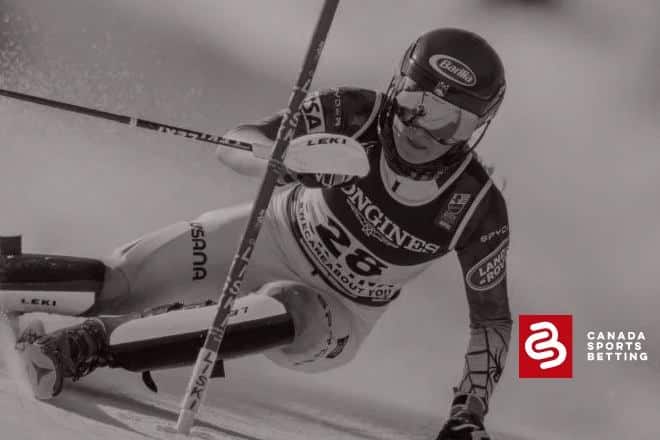 Mikaela Shiffrin leads the way when it comes to Winter Sports Props. Can she win the Women's Overall this year or will someone else crash the party?
With Thanksgiving in the rearview, that can only mean one thing. Yes, Winter Sports are here. What do we mean by that? There's skiing and several other fine sports that get lumped into the term. Our first focus is skiing and the 2021-22 Women's World Cup.
One of the questions often asked at Canada Sports Betting is this. How much can you bet on? The question should be asked like this. What else can you bet on? There are props and futures for almost anything these days. If one wants to bet on the draft position for a certain team. yes, there are numbers for that. If one wants to pick who is going to win the Women's Overall World Cup, there are numbers for that too.
2021-22 Women's World Cup Overall By the Numbers
Let's take a closer look here, go over a few possible candidates, maybe take a look at a longshot, then reveal our pick. Remember that this year is an "Olympic Year" so the event structure is a bit different. We will dive into that. One can always look into the best online sportsbooks in Canada for the latest information and more. 
Another source is just going straight through the sports betting news section of the site. This is the time of year for more Winter Sports stories after all. Anyway, speaking of winter sports, here are those numbers for the World Cup Overall props. 
Winter Sports Picks Super-G 12/11
Sofia Goggia
Lara Gut-Bahrami
Mikaela Schiffrin
Corinne Suter
Federica Brignone
Ester Ledecka
Marta Bassino
Tamara Tippler
These numbers were taken as of November 27th.
Winter Sports Props: Mikaela Shiffrin Tops 2021-22 World Cup Overall
Few should truly be surprised by this but Mikaela Shiffrin has done everything in the world of women's skiing. There are all the golds in several disciplines, the Olympic triumphs, etc. Yet, every year, she comes back even more hungry than ever. She is the World Cup Overall favourite for two reasons. One, she wins. Second, Shiffrin is still just 26-years young.
One would think after winning three straight Overall titles, Shiffrin would just stop. That is far from the case. When she lost the title late in 2020, that only angered her. The pandemic forced its own set of problems (death of her father in February 2020) in the last two years for the American skier. With what appears to be a more robust 2021-22 season, the skier has more hope than ever that she can regain her rightful crown.
It is not going to be easy. When the props came out very early in October, Shiffrin was a very, very slight favourite. Since then, her odds have shortened a bit down to 2.50. That is far from a runaway by any stretch. Her back injury from last year has healed completely. It comes down to the events. The problem may be the gearing more towards speed events in the "Overall" this time around. Can Shiffrin overcome a slightly stacked deck?
If anyone can pull it off, it could be Shiffrin. She did so in 2019, winning the world's in four total disciplines. Considering, the American skier has won a World Cup event in six, impressive feats are nothing new to her. The skier is our pick to win the slaloms but surprisingly not the overall. If her number lengthens, the temptation may be greater. 
Lara Gut-Behrami Positioned Well to win the World Cup Overall
The Swiss skier is a little older at 30 but still skies with the youth of someone much younger. That is part of the reason why she does so well at the speed events. At times, her go for broke style does not mesh with the courses she skis on. See the Olympics as a great example of that. However, when Gut-Behrami is on her game, maybe only Shiffrin can compete with her and even then. She's that good and why the World Cup Overall maybe hers.
The skier has only won the overall once in 2016 but last year she nearly did it again. She also won the Super-G and the Giant Slalom at the World's last year which was a bit of a surprise. Gut-Behrami is one of the few skiers out there that has the talent to win in almost as many disciplines as Shifrin. Again, it all comes down to discipline for her. She seemed to show more of that last season at the World's especially.
It is why her prop is intriguing at 3.50. There was a hope it would lengthen a bit and it still may. Some early events favour Shiffrin a bit more but as the season goes on, Gut-Behrami has the advantage. That is why she is our pick to win the 2021-22 Women's Overall World Cup in the Winter Sports Props. 
Do not forget that there is an impressive list of sports betting odds to examine when wagering including Winter Sports of course. 
Are There Any Long Shots in Position To Topple The World Cup Overall Props?
That is a great question. There could be a couple of names to keep an eye on. Remember, Petra Vihova won the World Cup OVerall last year with the slalom heavy schedule. That will not be the case this time around. Sofia Goggia and Michelle Gisin are those two skiers to keep an eye on. Goggia (15.00) is a wild one. She won the downhill in the 2018 Olympics but has had little Overall success. Is this the year? Gisin (26.00) is kind of the same winning the Olympic Combined in 2018.
It will be an exciting season for sure and check out more sportsbooks as the races go on for shifts.