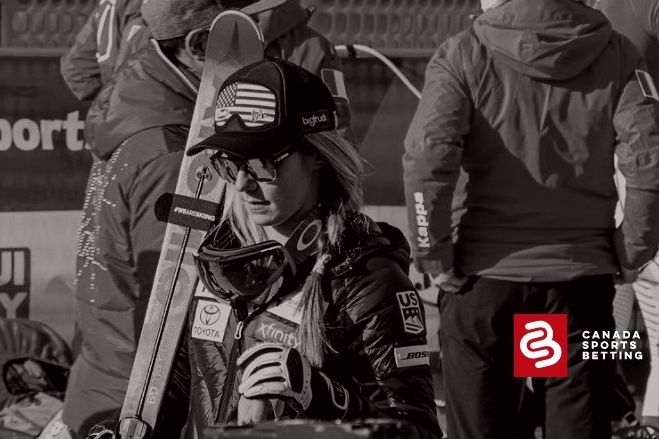 Mikaela Shiffrin is arguably the biggest name competing at the 2022 Winter Olympics. This year Shiffrin is aiming for a spectacular five podium finishes. Can she do it?
She's only 26 years old, and already Mikaela Shiffrin is an Olympic legend. Shiffrin is already the holder of three medals. Included in her haul are two golds and one silver.
Shiffrin's win at the 2014 Sochi games saw her become the youngest slalom champion in Olympic alpine skiing history. She was just 18 years and 345 days old when she claimed the gold.
This year she is aiming for five podium finishes. Shiffrin is attempting to compete in the giant slalom, slalom, downhill, super-G, and combined.
If she manages the five podium finishes, she will equal Kjetil Andre Aamodt's eight (Olympic) medal haul. Three podium finishes and she matches the six medals of Janica Kostelic and Anja Parson. Either would represent a massive achievement.
How many Beijing Podium Finishes are realistic for Shiffrin?
History is against Shiffrin. No skier to enter all five events at one Olympics has made the podium for all of them. The record number for an athlete entering all five is three podiums.
Also going against Shiffrin is her very own record. She attempted the same feat back in 2018, only to find it wasn't possible.
Back in Pyeongchang, the cards weren't stacked in Shiffrin's favor though. The original schedule would have seen her compete in the giant slalom, slalom, and super-G over six days.
But thanks to high winds postponing the start by three days, Shiffrin would have had to compete for three days running, as opposed to the original schedule of across six days.
After winning the giant slalom and then finishing fourth in the slalom the following day, Shiffrin then skipped the super-G and the downhill. She was quoted as saying at the time that "it wouldn't have been safe to race." Shiffrin did then pick up the small consolation of silver in the combined.
On the flip side to that though, back in 2002, Janica Kostelic of Croatia entered four events and won three golds and a silver.
And going back to 2018, it was the first Olympics that no athlete – male or female – who won a medal competed in all five events since the super-G was added in 1988. This highlights how much the three-day delay to proceedings must have mucked up the schedules of the elite athletes.
The conclusion here has to be that it is possible but bloody hard!
Find out how to claim the latest new customers offer on our Sports Interaction Review page.   
Will Troubled Build Up Decrease Shiffrin's Chances?
Shiffrin has had a troubled time since winning her two medals in 2018.
In 2020 her father died in an accident, and in the aftermath, Shiffrin did consider retiring.
She lost all motivation for the sport and had no urge or ambition to practice or compete after the tragic death of her father. But now she's back and fully motivated again.
Her build-up to the games has been hampered by a back injury and – like a lot of other athletes – covid related disruptions. In the main, cancelled events.
The back issues seem to have cleared up sufficiently. Whether that's sufficient enough to compete in all five events is another question though.
One thing we do know is that Shiffrin is in decent form. Just before Christmas, she recorded back-to-back podium finishes at World Cup events in Courchevel… winning one of them.
Mikaela Shiffrin 2022 Winter Olympic Betting Picks
First up, I don't think Mikaela Shiffrin can claim five podium finishes. There are just too many obstacles to overcome, and some of them are not in Mikaela's power to influence. For example, the weather.
In two of the slalom events, Shiffrin is in the running for gold. In the giant slalom, she is 3.75 to win gold. Not a shoo-in, but she's the favorite. While in the slalom, Shiffrin is the second favorite in what looks like a two-horse race between herself and Slovakia's Petra Vlhova.
There's not too much between the two girls in the latest Olympic sports betting for the slalom. Vlhova is 1.90 to win gold, with Shiffrin at 2.38. Going in the favor of Shiffrin in this race is that Vlhova has never been on the podium at an Olympics before (she competed at both 2014 and 2018). Meaning there will be added pressure on the 26-year-old.
Although I'm not prepared to back Mikaela Shiffrin to get five medals, I do think three is within reach. In 2018 she pulled out of two events and got two medals and a fourth-place, so she's shown it is possible to be competitive in three events.
Shiffrin has also been to hell and back over the past couple of years and I now feel that she's in the frame of mind where she'll just go for it.
She has nothing to lose now. She has her Olympic golds already, and she seems to be entering these games with a 'what the hell' attitude.
I can see her attempting all five, but for my betting pick, I'm backing Mikaela Shiffrin to finish on the podium three times at the 2022 Beijing games.
Check out our Betway Canada Review for 2022 and get the latest new customer offer for the Winter Olympics.