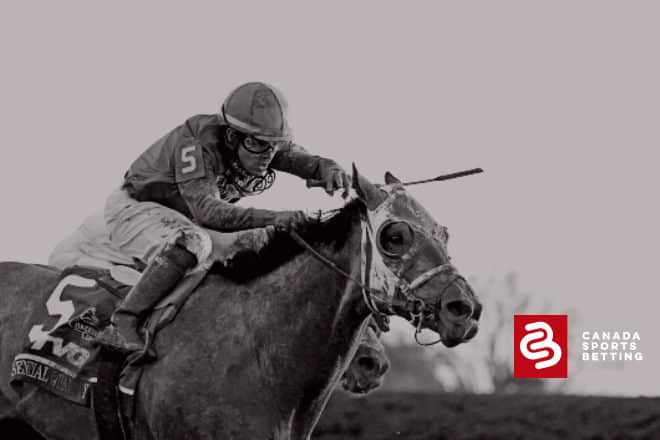 The Breeders' Cup happens this weekend at Del Mar, and the Breeders' Cup Turf Sprint (G1) is the fastest race of the weekend! The $1 million race covers five furlongs on the grass, and it drew an intriguing field of domestic and international stars.
The race is always one of the best betting races of the entire Breeders' Cup. Last year, Glass Slippers became the first overseas horse to win it. She returns to defend her crown against an even deeper group. Can she become only the third horse to win it twice, after Stormy Liberal and Mizdirection?
Read on, find out, and also find out the best places to bet the Breeders' Turf Sprint online in Canada!
Betting the Breeders' Cup Turf Sprint Online
The Breeders' Cup Turf Sprint is a lot of fun to attend in person, but not everyone can fly out to California. The good news is, you can still get the best odds and bettor bonuses by playing the race from a top Canadian sportsbook!
Betting the Breeders' Cup Turf Sprint online is the most fun when you know you can maximize your profit. You can do that by making sure to evaluate your options and choose the right online sportsbook. Signing up for a sportsbook with a great user interface, reliable deposit and cash-out options, and lucrative bonuses is easy with our trusted, helpful reviews.
2021 Breeders' Cup Turf Sprint Odds And Information
Now that you have looked through the best online sportsbooks in Canada and made your account at the one that best fits your needs, it is time to meet the field for the 2021 edition of the Breeders' Cup Turf Sprint.
Breeders' Cup Turf Sprint Horses
This is the official field for the 2021 Breeders' Cup Turf Sprint including post positions, trainers, and jockeys:
Glass Slippers (Kevin Ryan/Tom Eaves) – 5/1
Emaraaty Ana (Kevin Ryan/Andrea Azteni) – 5/1
Golden Pal (Wesley Ward/Irad Ortiz, Jr.) – 7/2
Lieutenant Dan (Steven Miyadi/Geovanni Franco) – 6/1
Arrest Me Red (Wesley Ward/John Velazquez) – 12/1
A Case of You (Adrian McGuinness/Ronan Whelan) – 8/1
Charmaine's Mia (Phil D'Amato/Flavien Prat) – 30/1
Caravel (Graham Motion/Jose Ortiz) – 20/1
Kimari (Wesley Ward/Joel Rosario) – 6/1
Gear Jockey (George Arnold, II/Jose Lezcano) – 5/1
Fast Boat (Joe Sharp/Tyler Gaffalione) – 12/1
Extravagant Kid (Brendan Walsh/Ryan Moore) – 12/1
Bombard (Richard Mandella/Flavien Prat) – 20/1 – ALSO ELIGIBLE
The Critical Way (Jose Delgado/Luis Saez) – 15/1 – ALSO ELIGIBLE
Chaos Theory (Robert Hess, Jr./Kent Desormeaux) – 30/1 – ALSO ELIGIBLE
Beer Can Man (Mark Glatt/Juan Hernandez) – 20/1 – ALSO ELIGIBLE
Commander (Peter Miller/Florent Geroux) – 30/1 – ALSO ELIGIBLE
Hollywood Talent (Juan C. Vazquez/Ricardo Santana, Jr.) – 30/1 – ALSO ELIGIBLE
Bombard, The Critical Way, Chaos Theory, Beer Can Man, Commander, and Hollywood Talent are also eligible and will draw into the race in that order if up to six of their opponents scratch out of the race.
The morning line is Del Mar's best guess about the price on each horse come race day. However, if you bet the race at the track, you cannot lock in your price at all. If more people become interested in your horse closer to post time, your price goes down.
Betting the race at an online sportsbook is better because you can lock in your price. If you see an overlay on a horse you think can win the Breeders' Cup Turf Sprint, you can go ahead and get your bet in, and you lock in the price at the time you made your bet. They help you have as profitable a betting experience as possible!
Free Breeders' Cup Turf Sprint Handicapping
Now that you have seen the field and know about the best places to bet the race online, let's dive into the contenders in the Breeders' Cup Turf Sprint!
Breeders' Cup Turf Sprint Contenders
The best bet in the Breeders' Cup Turf Sprint is #4 Lieutenant Dan. He has sharp speed, important over firm Del Mar turf, and he is tractable enough to be able to stalk the pace if Golden Pal outjumps him. He is in his best form ever at this point in his career, and he is a true five-furlong sprinter who should be fit on the turnback from a downhill try at Santa Anita.
#3 Golden Pal will be the favourite. He toyed with his foes in his final prep, the Woodford, where he allowed himself to be headed in the upper stretch before shooting clear to win by daylight. His foes will be tougher in this slot, and he may be better at five and a half furlongs than a flat five. But, he has sharp speed in a race where few have the pace to go with him.
#10 Gear Jockey has been reinvented as a turf sprinter this year. Though he is untested at a flat five furlongs, he has the pace versatility to carve out a good trip and he should take well to the true California firm turf he will handle in this race. He has also been freshened into the Breeders' Cup and runs well off a break.
Breeders' Cup Turf Sprint International Contenders
#1 Glass Slippers attempts to repeat after her crown last year. Though the cutback to a flat five furlongs is not a deal-breaker, she is buried down on the fence and faces a field that is not only deeper than last year's edition but also does not have as much speed as she would like to see.
The more interesting international contender is her stablemate #2 Emaraaty Ana. He comes in off a win in the six-furlong Sprint Cup (G1) at Haydock but can shorten up effectively to five furlongs and should be able to sit closer to the pace than his stablemate. Especially over the ultra-short trip on firm turf, that should give Emaraaty Ana a better trip.
Breeders' Cup Turf Sprint Longshots
#12 Extravagant Kid must turn tables on Golden Pal from the Woodford last out, but he had some trip trouble, and it was his first start back in the USA after some successful international travel. The last time he cut back to a flat five furlongs he was a good third in the King's Stand (G1). Outside won't be easy, but he is tactical enough and already has a rapport with his rider Ryan Moore.
For deeper exotics, or tickets going narrow on top and broader below, give #11 Fast Boat a look as well. He shows up whether it is five furlongs or five and a half. Though he usually finds a couple too good at this level, it is not out of the question for him to run a race good enough to come late and round out a superfecta.
Breeders' Cup Turf Sprint Expert Picks
Now that you know where and how to bet the race online, here are the best bets for the 2021 Breeders' Cup Turf Sprint:
$20 Win: #4 Lieutenant Dan
$5 Exacta Key: #4 Lieutenant Dan with #3 Golden Pal, #10 Gear Jockey, #12 Extravagant Kid
$1 Trifecta Key: #4 Lieutenant Dan with #2 Emaraaty Ana, #3 Golden Pal, #10 Gear Jockey, #12 Extravagant Kid
$1 Superfecta Key: #4 Lieutenant Dan with #2 Emaraaty Ana, #3 Golden Pal, #10 Gear Jockey, #11 Fast Boat, #12 Extravagant Kid