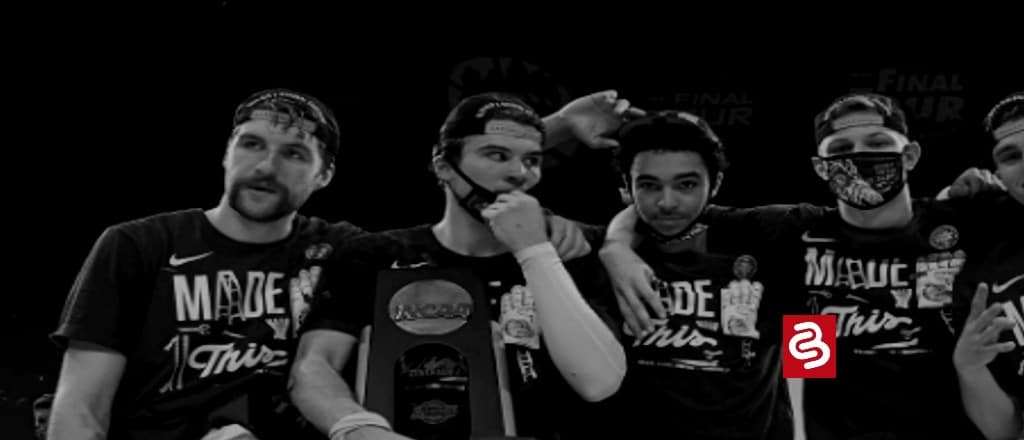 It's that beautiful time of the year where the best college basketball teams in the United States are ready to go dancing and March Madness is in full effect. The NCAA Tournament figures to be incredibly intriguing, with 68 teams ready to fight for their shot at the title. In this piece, we have March Madness 2022 first-round picks. Which teams will be on upset alert?
Gonzaga should cruise to a first-round win
It goes without saying, but Gonzaga should cruise to a first-round win later this week going up against Georgia State. The Bulldogs, who lost in the National Championship Game last year, earned the No. 1 overall seed during Selection Sunday over the weekend and they have the best NCAA basketball odds to win the title. This team has all the confidence in the world as they get ready for their tournament to start.
They'll take on No. 16 Georgia State, as the two are in the West Region. While we've seen a No. 16 seed take down a No. 1 before, it is incredibly unlikely that GSU is going to be able to get the job done here. Gonzaga is No. 1 overall for a reason: they've looked like the best team in the country throughout the year and Mark Few's guys will be ready to ball out.
According to the best rated Canadian sportsbooks, Gonzaga is a massive, 23.5-point favorite over Georgia State. This tells you that the oddsmakers not only believe that the Bulldogs are going to win, but they've got a great shot of winning by at least 20 points as well. Because of the talent on the roster, it's going to be tough for Georgia State to keep things close.
Guys like Drew Timme, Chet Holmgren and more will be ready to rock for Gonzaga, as they're going to want to send a statement with a head-turning first-round performance. The March Madness odds for Gonzaga to cover the 23.5 points has been set at 1.91. Georgia State has the same 1.91 odds to cover themselves. We don't see that happening, as we're going with Gonzaga to cover as our pick.
Michigan is hoping to take down Colorado State as a No. 11 seed
Elsewhere, Michigan is hoping to take down Colorado State as a No. 11 seed this week. Normally, you'd figure a powerhouse like Michigan from the Big Ten would be the higher seed in this case, but Colorado State is No. 6 for the South Region and the Wolverines are No. 11. It wasn't as great a year as Michigan was hoping for, but this team can still make plenty of noise.
Entering this matchup, the Wolverines are 2.5-point favorites over the Rams. This is expected to be a close matchup, with plenty of people out there predicting that CSU will find a way to beat Michigan. Each year, you see plenty of No. 11 vs. No. 6 matchups, but people think Colorado State will take care of business. Michigan head coach Juwan Howard is ready to see what his guys are made of.
"Our team is prepared for this moment," Howard said via a Zoom call with reporters as his team gets ready to try and take down Colorado State in the first round of the tourney. "We're looking forward to this moment. This is what they've worked extremely hard for. It's nice to get a chance to play in the NCAA Tournament."
From our chair, we're expecting this to be an incredibly close matchup. It really could go either way. Having said that, we're going to give the advantage to Michigan because they're used to such a strong schedule in the Big Ten. Colorado State will come out ready to win, but the Wolverines will edge them out. Michigan is our pick in this case.
Look for North Carolina to beat Marquette in the first round
Last but not least, look for North Carolina to beat Marquette in the first round when they meet on the hardwood. In the East Region, UNC has been given the No. 8 seed, while Marquette landed the No. 9 seed. These two squads are pretty evenly matched up, which should make this contest a close one. Which powerhouse will have the advantage?
For North Carolina, things are quite a bit different these days now that Roy Williams is retired. Williams helped power the Tar Heels to multiple National Championships, but the program has clearly taken a bit of a step back since he left town. Despite that, head coach Hubert Davis will look to his standouts to rise to the occasion in this one.
For UNC, the team has been led this season by the strong play of Armando Bacot, Caleb Love, Brady Manek, R.J. Davis and others. UNC's season very well may have been highlighted by the upset win over Duke in the regular-season finale, which spoiled Coach K's farewell to Durham. Now, UNC is hoping to go on a deep run. We think things will start with a win over Marquette in the first round.