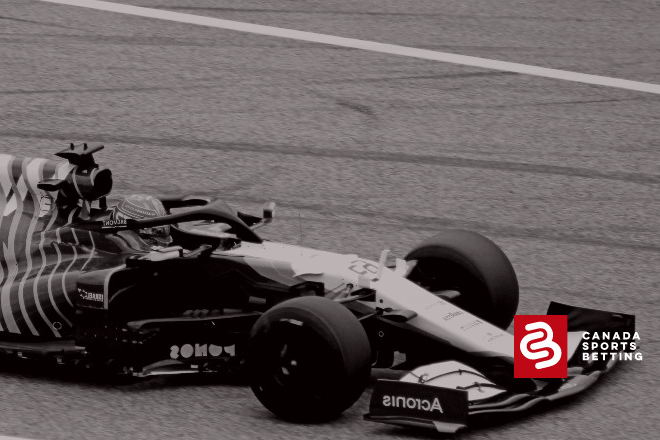 The fiercest Formula 1 title race in a decade is down to six races. The first of those six goes down in Austin, Texas. Here's a preview of the big race, plus our own pick to win the 2021 F1 United States GP.
Per the top Canadian sportsbooks, Hamilton is the ever-slight betting favourite on a course where he has a long and successful track record at. More on that below in our betting preview and prediction!
F1 2021 United States Grand Prix Preview
Another race, another lead change. Once again, there's a new leader atop the F1 standings and it's Verstappen retaking the lead. With a second-place finish at the Turkish Grand Prix, Max is now up to 262.5 points on the year— six ahead of Hamilton.
But dare we say, Verstappen should be disappointed with his run in Istanbul? He was second to Hamilton's teammate on Mercedes, Valterri Bottas, who won by a whopping 15 seconds. Bottas scurried up front early on and didn't let up the whole race.
Meanwhile, Hamilton placed fifth in Turkey after starting out in 11th due to a grid penalty (using a fourth engine this year, one over the limit of three). The seven-time world champion was vocal afterward, criticizing his own team for forcing him into a pit stop with eight laps remaining and Hamilton in third. Regardless, we feel the tide is turning and momentum is clearly on Mercedes' side now — not Red Bull as it has been most of the year.
The talk of sport currently is the noticeable improvements Mercedes has made to their engine mid-season. That was apparent in Istanbul. Get this, both Hamilton and Bottas were between 15 to 20 kilometres per hour faster than Red Bull in a straight line.
Heck, Red Bull's own boss Christian Horner noted that Mercedes has made "phenomenal" gains, which prompted them to raise questions to FIA about the new engine's legality. According to Horner, Red Bull was not alone in these inquiries. The FIA has said the Mercedes engine is perfectly legal, though.
Betting Pick To Win F1 2021 US Grand Prix
Plain and simple, Mercedes owns the Circuit of the Americas. Since 2007, Mercedes has won seven of the nine races held here. Hamilton is responsible for six of those victories — two of them while Mercedes-McLaren was a thing — and the other was Bottas (the most recent edition in 2019).
Mercedes has the history AND the momentum on their side here. The latter is especially important. Remember earlier in the season when teams were questioning if Red Bull's engine was legal? Oh, how the tables have turned in this critical juncture in the season.
With no grid penalty awaiting him this time around and a checkered history at the track, it's no wonder why Hamilton is the betting favourite. And for the first time all season, we do think Hamilton has the edge over rival Verstappen. He's our bet to win at the United States GP and possibly the rest of the season.
When teams think your engine isn't legal, you know you're doing something right. It appears Mercedes' championship experience is now paying dividends. They've course-corrected and have all the momentum going into the final stretch of the season. We suggest riding that momentum to the bank!
How To Watch F1 2021 United States Grand Prix
The upcoming race happening in the United States' own backyard promises to be a doozy and you probably don't want to miss it. Here's the schedule of events:
Friday, October 22 — Practice 1 (12:30 pm EST) and Practice 2 (4 pm EST)
Saturday, October 23 — Practice 3 (2 pm EST) and Qualifying (5 pm EST)
Sunday, October 24 — Race (3 pm EST)
You'll notice that, at last, F1 begins at a time that's not bright and early in the morning if you're in the United States. The mid-day race time the day of the event should suffice for most Americans. ABC will have exclusive TV broadcast rights in the United States. Though, it will also stream on the WatchESPN app. However, you'll need to have login credentials for a cable or satellite package that carries ABC to steam it.
How To Bet F1 2021 United States Grand Prix
You know what's at stake at the next race. You know how to watch it. And you know how to bet on it. So what else are you waiting for besides locking in a wager? If an online sportsbook is the answer, then turn your attention to the table outlined underneath.
You'll find up-to-date betting odds for the United States Grand Prix at the bookmakers listed below. Every driver has their own line available to bet on at these sites and each price is among the "best in the business."
But here's another HUGE reason to use these bookmakers to drop your F1 bet — the sign-up bonuses. If you've never wagered at these sites before, you could earn hundreds of dollars in free play through these bonuses. No strings attached either — real money in your hands!
Current deals being offered are listed in the table below. Find the one that's best for you based on the max bonus and match percentage. Then just hit the "play now" button next to the deal to begin redeeming. It takes a few short minutes to redeem the bonus, which can be used immediately afterward on an F1 bet or another sport of your choosing!
See below the top sportsbooks where you can wager online and choose the best one for you: