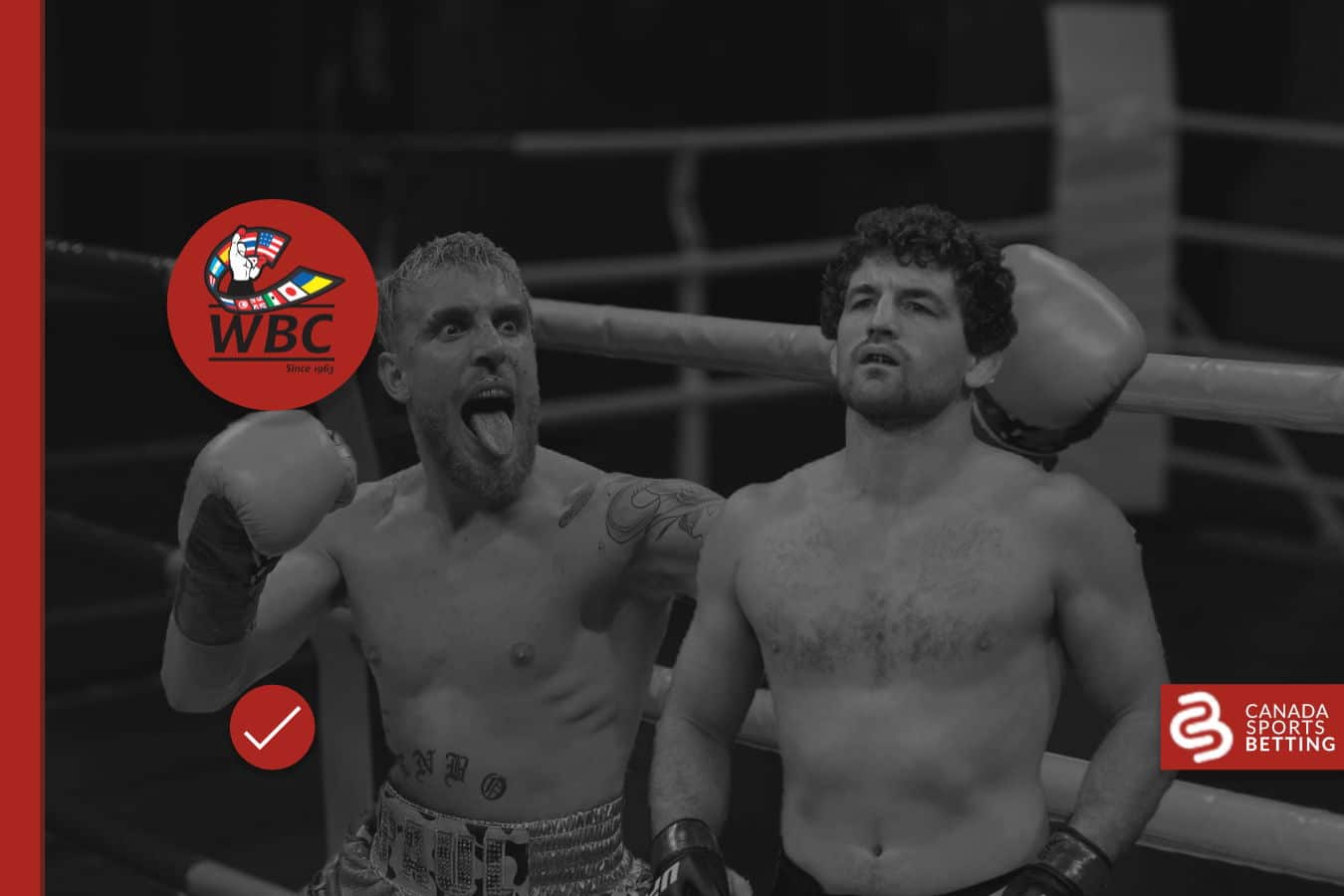 The boxing betting odds for the Jake Paul vs. Ben Askren Fight Club event have been released.
This exclusive pay-per-view event, hosted by the Triller Network, will take place on Saturday, April 17th. The Askren vs. Paul fight will happen at around 9 p.m. ET., with the festivities being coordinated by Emmy-winning director Bert Marcus.
If you're new to betting, be sure to check out our various sports betting guides before making any wagers.
Jake Paul vs. Ben Askren odds
Without further ado, let's take a closer look at the Jake Paul vs. Ben Askren odds. The odds were last updated on April 6th, 2021:
The Paul vs. Askren Triller Fight Club event will certainly be a spectacle to behold.
There are six other fights scheduled on the undercard, but many are simply tuning in for the main event as well as for the big-name artists that are slated to perform. Some of these acts will feature big names like Justin Bieber, Diplo, and the Black Keys.
While you're relaxing in front of some entertaining bouts and musical performances, why not make a wager to spice things up? Let's take a closer look at the boxer who might have the edge.
Jake Paul vs. Ben Askren Picks & Predictions
After months of verbal sparring, both on social media and face-to-face, the Jake Paul vs. Ben Askren fight is finally just over a week away.
Paul is certainly not shy when it comes to making the headlines. The 24-year-old from Cleveland, Ohio is both an actor and an internet personality who constantly stirs up controversy. His well-documented feud with Askren is simply his latest publicity stunt or so many think.
Perhaps Paul's ego will be his demise. He's only been on the boxing circuit for three years and has just two professional bouts under his belt. He's 2-0 with two knockouts, but those came against another YouTube personality and a former NBA player. His confidence heading into this fight is on-brand and unsurprising. In fact, he was originally hoping to fight Conor McGregor before setting for Askren.
Askren will be the first experienced fighter that Paul has ever faced. This is probably not a fight Paul should have picked, but making good decisions doesn't seem to be his style.
Askren is a 36-year-old wrestler and MMA fighter hailing from Cedar Rapids, Iowa. He actually announced his retirement from MMA competitions on November 18th, 2019. The fact that he's decided to re-enter the ring for this fight speaks volumes about his determination. He wants to put Paul in his place, at all costs.
Is this an easy win for Askren?
But is this fight an automatic win for Askren? Many believe so, considering he's only lost twice in 22 career matches. With that being said, those two losses came in his final two fights and ultimately led to his retirement.
Askren actually had a losing record (1-2) in his abbreviated UFC career. He was signed by the UFC on November 3rd, 2018. This was allowed thanks to the trade UFC and One Championship agreement, and he was acquired in exchange for Demetrious Johnson—a former UFC Flyweight Champ.
On the other hand, Askren's a former Bellator and ONE Welterweight Champion, so he comes with a substantial pedigree.
There's one area, however, where Paul will definitely have an advantage—youth. Askren is obviously a decorated fighter, but does he still have what it takes to get it done in the ring?
Askren did retire for a reason, and also underwent hip surgery in 2020. The surgery was a success, but will he still possess enough mobility and endurance to go for multiple rounds?
As previously mentioned, Askren's motivation for this fight is fueled by anger and hatred—culminating in an overwhelming desire to pulverize Paul. But can that make up for any potential physical limitations?
While Askren is right to be egotistical, that could also be his downfall if he chooses to take Paul lightly. In a recent press conference featuring the two, Askren tried to get under Paul's skin by making comments about his brother, Logan Paul.
Askren suggested that Jake has always been in Logan's shadow—calling Logan "more talented with a bigger following" and constantly referring to Jake as "Logan's little brother".
Both Fighters are Motivated
Askren's words seemingly did the trick as Paul was clearly aggravated, but Askren also seemed to be trying his best to hold it together. Towards the end of the presser, the two had a staredown—standing face-to-face with no more than two inches of space between them.
Most of the stare down consisted of Jake calling himself the champion, while Askren stood there smirking. At the very end, Askren did give Paul a shove. This prompted Paul to shove and punch in retaliation, as he challenged Askren to come back for more.
Paul has also created further animosity between the two due to his history with Askren's wife. Paul allegedly tried to hit Amy Askren over Instagram, and she even released an Instagram story where she stated that Paul had "weak pickup lines that needed work."
When it comes down to it, this fight will likely be won by the fighter who best keeps their emotions in check. Nothing is off the table with this pair—considering neither has hesitated to involve the other's family members in their insults.
Despite all of the factors at play, it would be very surprising to see Paul actually walk away with a victory. Bet on Ben Askren to win this fight.
Ben Askren vs Jake Paul Prop Bets
The main sportsbooks offer a handful of prop bets on this fight. Some of the main markets consist of which fighter will win each round, the method of victory of either of the fighters and if the fight will go the distance.