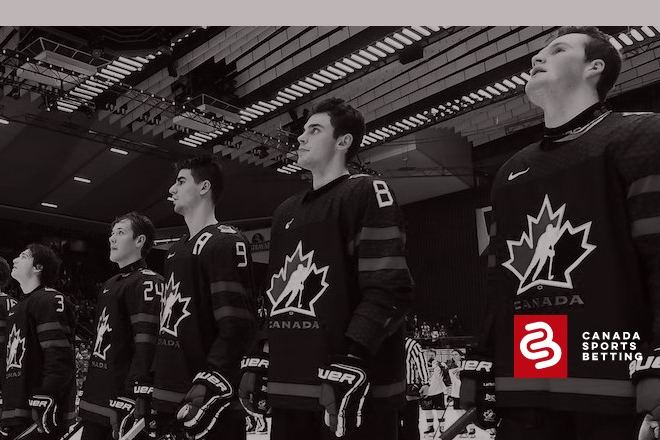 The IIHF World Junior Championships start on December 26th in Edmonton, Alberta. Ten teams compete for the title and we give out our picks here at CSB.
It is the most wonderful time of the year for hockey fans. The 2022 IIHF World Junior Championships are a ten-day bingeworthy tournament that one can bet on with reckless abandon. There are obvious favourites and we will give our picks on who is our Canada Sports Betting pick to win the gold medal.
2022 IIHF World Championship Number Time
The numbers for the 2022 IIHF World Championship are here below. Please note that the pre-tournament game schedule has been cut down to a bare minimum due to increased COVID protocols. 
One of the first things noticed in the odds is that divergent numbers that are out there. Some books like the American team for example and some think that certain doom is likely. There is little inbetween. After that, everyone seems to agree with Canada being the favourite. On the other hand, finding the darkhorse does not seem to be clear.
When it comes to betting on the 2022 World Junior Hockey Championships, expect some challenges. At least some of the numbers offer movement and potential. Let's quickly dive into the teams and give our title pick. 
2022 IIHF World Championships — Canada The Favourite
If there is an ice hockey tournament and Canada is not favoured, there is something wrong with your system. That just feels like a recurring pattern but in this tournament and the upcoming Winter Olympics, Canada is the top bet once again. The 2022 IIHF World Championships is no exception.
Canada's only question will always be goaltending. This feels like another recurring debate point. Last year, it was Canada's offense that dried up in the championship game as they lost to Team USA 2-0. This year, that does not expect to be the case. The Canadians return three players to the tournament including 2021 NHL number one draft pick Owen Power. Power will buoy an already strong defense that can turn the tables on offense.
Canada has 12 first-round draft picks on their roster. Cole Perfetti, Kayden Guhle, and goalie Dylan Garand will see increased roles again and be leaned on this time around. None of the other rosters boast this kind of firepower. It will come down to execution for Team Canada more than anything else. Chemistry is huge in these tournaments and that is something which cannot be taught. It has to be experienced.
Canada's depth and speed will be a big asset as the tournament goes on. With less pre-tournament action than usual due to COVID, teams will get worn out faster as the pace of play goes up expotentially especially when the quarterfinals start. Getting those "easier" matchups in the quarters could prove beneficial come the Final.
Canada Is Our Canada Sports Betting Pick
With their depth, speed, and overall abundance of talent on the roster, Canada is our pick to win the 2022 IIHF World Junior Championships.
What About Team USA In All Of This?
It does seem like the Americans are forgotten about a bit. Team USA can be a bit of all or nothing similar to Finland. However, the United States is a hair more consistent. They did win the Junior Championship last year against Canada 2-0. The US returns six players in all to the tournament including Matty Beniers. He had three points in seven games last year and figures to be leaned on more this time around.
The numbers for Team USA are all over the place partially because goaltending can be voodoo. The Americans got amazing goaltending last year and that shutout which everyone remembers. Can they do it again in the knockout stages of this tournament? Many have doubts that they can repeat. After all, not even Canada has since 2009. Also, Canada has not won since 2016. That may work against the Americans.
Luke Hughes and company feature a speedy and skilled roster that is capable of winning the whole thing again but could go out in the semifinals as well. The fact that there are at least four or five teams who could win this tournament is why some odds are being so far pushed out for Team USA. It is something to consider before the Christmas holiday but probably not after as odds could shorten.
Is There A Darkhorse In The 2022 World Junior Championship Mix?
Actually, there may be a few. Consider how the World Junior Championship works for a second. The semifinals often see some dramatic hockey. It all hinges on one or two moments and any of the four semifinalists this year could likely win it all. Though Finland is a total crapshoot, both Sweden and Russia feature teams that could pull off a surprise.
The problem may be their numbers. Because of COVID, the separation is not there. For example. Sweden is ranging from 6.00 to 7.01. Three countries on Sports Interaction are at 7.01. That should not occur this close to a tournament start. That being said, all three could shock the two top teams. So who is our darkhorse? Team Sweden has the depth, scoring balance, and goaltending to make life miserable for anyone.
A good plan may be to drop some money on our free sports picks after Canada and maybe Sweden. Good luck!