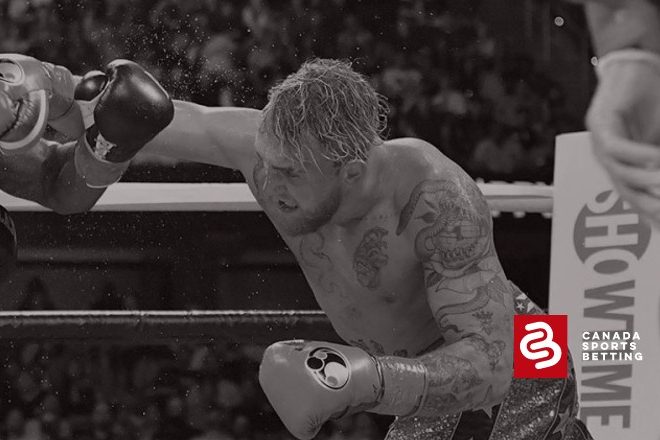 Jake Paul's next big fight is set for December 18 against Tommy Fury. Find out who will win here!
Jake Paul returns to the ring this December to face Tommy Fury – brother of heavyweight Tyson Fury. This face is the toughest test yet for Paul and the biggest stage for Fury in his young career. Will Paul – against an actual boxer – have his unbeaten snapped or will the YouTube personality finally garner the respect of the boxing community? Find out in our Jake Paul vs Tommy Fury Betting Preview.
Fury Opens as Slight Favourite Against Undefeated Paul
The best odds from boxing sportsbooks give the edge to Tom Fury over Jake Paul. Paul has yet to fight a professional boxer in his career – making this fight the biggest challenge of social media star has faced.
| To Win the Fight | To Win the Fight |
| --- | --- |
| Jake Paul | Tommy Fury |
Jake Paul Boxing Stats
Record: 4-0
Three wins by KO/TKO
Height: 6' 1"
Reach: 76 inches
Last fight: Win by split decision against Tyron Woodley (August 29, 2021)
Tommy Fury Boxing Stats
Record: 7-0
Four wins by KO/TKO
Height: 6' 0"
Reach: 76 inches
Last fight: Win by unanimous decision against Anthony Taylor (August 29, 2021)
Fight Details
Date: December 18, 2021
Location: Amalie Arena in Tampa Bay, Florida
Total Rounds: Eight three-minute rounds
Best Bet to Win the Fight
For the first time in his career, Jake Paul enters a fight as the underdog. As every other opponent he has faced is not a professional boxer, it makes sense that online sportsbooks are leaning – if not by a large margin – in favour of Tommy Fury.
Even if Paul's list of opponents is nothing special – he has taken care of business. He has two first-round knockouts, and a third career knockout in the second round. When Paul fought Tyron Woodley in August – his hardest test in the ring – he handled everything the former UFC Champion had – including a few blows that proved his toughness as a boxer.
Paul has some advantages in entering this fight that can help him pull off the upset. For one, Fury has never fought a fight longer than four rounds. It is hard to know for sure how good his stamina will be – but from what we have seen, he does look slower in round four than round one.
Also – even if Fury has fought actual boxers, the list of names is not impressive. Excluding Jordan Grant – who was 2-0 entering the fight against Fury – the combined record of his opponents is 12-175-5. It is hard to get excited about a 7-0 boxer when that's the record of his opponents.
Lastly, Tommy Fury is not renowned for his power. Anthony Taylor – Fury's last opponent before Paul – stated fury does not have knockout power. If Fury is to win, he needs to knock out Paul. Otherwise, it will be a long night of Paul using his speed and jabs to either open an opportunity for a knockout or win the fight by decision.
Undercard Fight Preview: NFL Legend Frank Gore takes on NBA Star Deron Williams
| To Win the Fight | To Win the Fight |
| --- | --- |
| Frank Gore | Deron Williams |
While, we do not have too much to go on in this fight – in terms of boxing skills and resume – if you are an NFL or NBA fan – or a fan of both sports, this fight is amazing.
While we do not have odds on the fight yet, we are betting Frank Gore – the third all-time leading – opens as an underdog to four-time NBA All-Star Deron Williams. Gore was perfectly built to have success as a running back in the NFL.
That means a stout stature, low centre of gravity, and used to taking plenty of abuse. That also means he is only 5' 9" tall and has a much shorter reach than Deron Williams (who has a 6' 6" wingspan).
Frank has been training in boxer for nearly a year now – taking up the sport seriously after he retired from the NFL at the end of the 2020 NFL Season. However, Williams has a lengthy history in combat sports. Williams won two Texas State wrestling championships in the 90s. Since retiring in 2017, Williams is heavily invested in the MMA world – training in it for the last four years.
Overall, Williams has more advantage in this fight and is our pick to win.
Best Online Sportsbooks to Bet on Jake Paul vs. Tommy Fury
We recommend you find and compare online sportsbooks before betting on Jake Paul vs. Tommy Fury. Once you find your ideal sportsbooks, sign-up through the links below receive an exclusive welcome bonus.