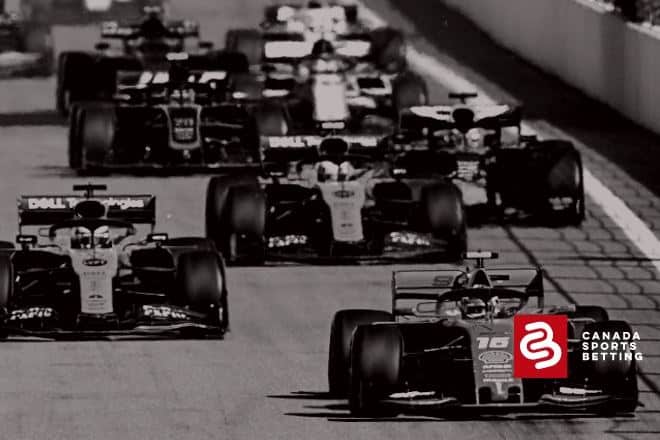 Formula 1 took another thrilling turn at the recent Italian GP. The fall out of that race will have huge ramifications for the next race — both for the two rival drivers atop the standings and bettors. We preview what's ahead and drop out F1 Russian Grand Prix predictions in this article. Read all the way through for expert advice!
We begin where we always start — the F1 betting odds. Online sportsbooks have released lines for the Russian GP race winner and it's all the usual suspects favoured to win again. Here are the top-five drivers with the best odds:
Lewis Hamilton hasn't been favoured to win this much by bookmakers since the early part of the season. However, his 1.71 line might actually be cheap considering the advantage he'll have in Sochi. Allow us to explain:
2021 Russian GP Race Preview
You can't preview the Russian competition without talking about the most recent Italian GP. This last weekend, bitter rivals Hamilton and Max Verstappen collided again for the second time this season. This time, both championship contenders — not just Max like the first fiasco at the British GP — were permanently knocked out of the race with DNFs.
Neither earned points for the drivers' standings. Therefore, Verstappen maintains a 226.5-221.5 edge over Hamilton for first place. However, the Red Bull driver has dug himself in a hole for the Russian Grand Prix.
Upon further review, the race stewards — F1's rotating referee crew, in simpler terms — blamed Verstappen for the crash, not Hamilton. According to them, Verstappen's move between Turn 1 and 2 was "attempted too late for the driver of Carr 33 (Verstappen) to have the right to the racing room." They used more language to essentially say that Verstappen should've avoided the accident.
So Verstappen is at fault for the accident and cause of that, he earned a three-place grid penalty from the stewards. If you remember correctly, Hamilton was slapped with a 10-second in-race penalty during the first crash. The difference between the two was Hamilton was able to race on then, while Verstappen was incapable of forging ahead in Italy.
That grid penalty for Verstappen will be enforced in Sochi. But that's not the end of Verstappen's troubles, not even close. Another crash means he'll need a new power unit, which exceeds the three-engine quota for the year. Cause of that, he'll earn a second grid penalty and fall further behind the starting line. Double ouch!
2021 Russian GP Betting Pick
Barring an absolute miracle, Verstappen isn't even sniffing the podium at the Russian GP. It gives Hamilton a wide-open path to first — which we're of the belief he'll seize with ease.
If we're being honest, Verstappen has outperformed Hamilton all year long. But four separate crashes for the Dutch driver has opened the door for Hamilton, and for an all-timer driver, that's one too many opportunities. Hamilton knows he can take a commanding lead with a first-place finish, which we're betting he indeed does.
Without the threat of Verstappen, there's really no one else to challenge Hamilton. Only three drivers — Sergio Perez, Estaban Ocon, and Daniel Ricciardo (winner of the Italian GP after the crash) — not named Hamilton or Verstappen have even won a single race in 2021.
Therefore, not only are we betting Hamilton to win, we're laying the hammer on it. It's the best betting opportunity we've gotten all season long and we're not cheaping out on it, especially not at a modest 1.71 price.
2021 Russian GP Race Preview
The bad blood between Hamilton-Verstappen rivalry is boiling and if you want to see it spill over, you'll need to wake bright and early for the Russian Grand Prix. For those in Canada, here's what to know about watching the race live on television:
What day is the race? Sunday, September 26
What time does the race start? 8 am EST
What channel is the race on? TSN and RDS
How To Bet 2021 Russian GP
Including the Russian Grand Prix, there are eight more races left in the 2021 F1 season — which thus far, is one of the most exciting in recent history. Eight betting opportunities for you to hit pay dirt on. Are you really going to miss out on this? We didn't think so, hence why we're dropping the top Canadian sportsbooks to wager on below!
Any and all F1 bets are available at these betting sites from now until the season finale. Beyond race winner wagers, there is also a bevy of props and futures on who'll win the world championship, for instance. These bets are offered at very respectable prices, too.
But that's not all, you could also score hundreds of dollars in free play by leveraging one of the site's bonus offers. These bonuses come in the form of sign-up (for new players only) and reload (for repeat bettors) deals.
The more lucrative of the two is the sign-up bonus. Offers currently available in that category are listed underneath. To claim your bonus — which takes just a few short minutes — hit one of the "play now" buttons in the table. This free play can be bet immediately on F1, so in theory, you'll be in the green before the Russian GP even starts!