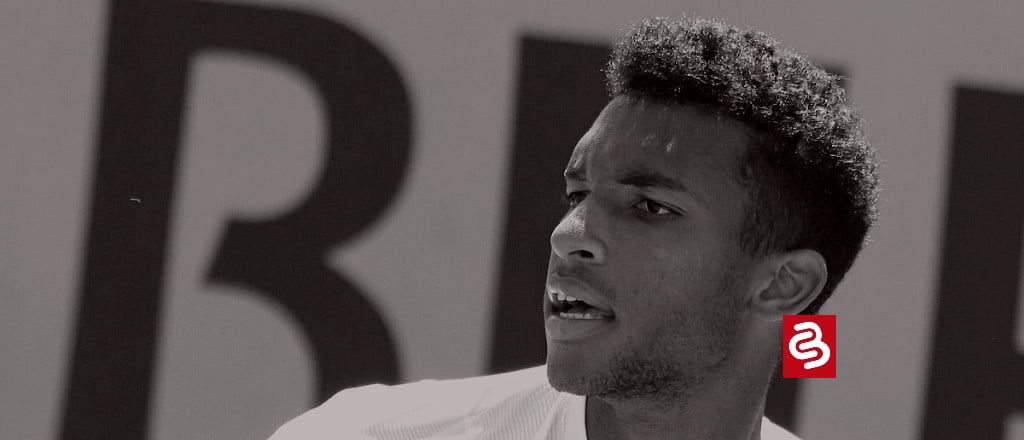 Novak Djokovic and Rafael Nadal are still the favourites this year, but outside of these two, we like Felix Auger Aliassime to make some noise in at least one of the next three majors. Check the latest tennis betting odds from the French Open to the US Open. Auger Aliassime has a well-rounded game that translates well on any court, but the oddsmakers favour him more on grass and hard courts.
Tennis Outright Picks: Auger Aliassime's Versus The Contenders
If you want to just bet on chalk, that's fine. Novak Djokovic is still in a class on his own and Rafael Nadal has not lost two consecutive French Opens. Ever. But should anything befall them i.e. Djokovic and COVID protocols, Nadal and injuries, the field will be wide open.
So how does Felix Auger Aliassime compare to his peers? Let's look at each of the three major men's tournaments this year and make our picks on who, outside of Djokovic and Nadal, can win the major. An early spoiler alert: we picked Auger Aliassime on one of them.
French Open 2022 Picks: The Next King of Clay?
Stefanos Tsitsipas is the outright favourite to win the French Open behind Nadal (2.08) and Djokovic (3.32). He was this close to beating Djokovic in last year's Final and was a semi-finalist in 2020. However, we like a somewhat forgotten contender to emerge here: Dominic Thiem (9.85). The Austrian can be had at 10-1 with some sportsbooks, which is a solid value if he is recovered.
Thiem was a two-time French Open finalist and has reached at least the quarterfinals since 2016. He was ousted in a major upset in the 2022 French Open's first round but this was likely due to his lingering wrist issue. When he's at his best, Thiem should be the favourite to win.
Auger Aliassime is a long shot in this tournament. He has a 4-6 record against top-ten calibre players in clay courts. He is 2-0 against fellow Canadian Denis Shapovalov but has not beaten any player ranked seventh or higher nor has he advanced past the first round. Given his recent run, he should snap this streak this year but winning the tournament is not in the cards.
Another player worth considering is Alexander Zverev (15.61) who has a win over both Nadal and Djokovic in clay and has a 37-24 record against top-ten players on this surface.
Wimbledon 2022 Picks: Making History
This is the major we, and the oddsmakers, believe Auger Aliassime has the best shot at winning. Daniil Medvedev (6.86) is the favourite to win the 2022 Wimbledon outside of Djokovic (2.19). But the 6'6″ Russian prodigy has not advanced past the fourth round and has a losing record (6-7) against top-ten players on grass courts.
Auger Aliassime, on the other hand, does his best work on this surface. He is 7-3 against top-ten players and has beaten the likes of Zverev, Tsitsipas, and the great Roger Federer himself within the last 12 months.
Wimbledon 2021 was also the major where Auger Aliassime had a breakout. He would win his section by ousting two-time champion Andy Murray and Roberto Bautista Agut, the top seed of the bracket. Matteo Berrettini (9.00) is behind Medvedev on the Wimbledon betting odds and was the one to eliminate Auger Aliassime in the quarters.
But if he gets a proper draw, Auger Aliassime may not even have to face him as he has a realistic shot at becoming the first male Canadian tennis player to win a major.
US Open 2022 Picks: An Encore
Medvedev (3.74) is once again second to Djokovic (2.31) on the outright US Open tennis odds of 2022 even if he did beat him last year. This is the Russian's only Grand Slam although he performs best here with a 77-44 record against top-ten opponents including a 72-31 record against those outside of the "Big Four" of Djokovic, Nadal, Federer, and Murray.
As far as "safe" bets go, Medvedev should dominate in this tournament. He has reached at least the semi-finals in his last three appearances and from the 2020 US Open onwards, has made the finals of the hardcourt major tournaments: two finals appearances in the Australian Open and a win in the 2021 US Open.
However, it is also worth noting that no player has won consecutive US Open titles since Roger Federer won five straight from 2004 to 2008. Thiem (10.00) is another former champion worth looking at here as well as Zverev (10.00), who was a finalist and has an even record against Medvedev (6-6) in hard court surfaces.
Auger Aliassime was a semi-finalist in last year's US Open, a match where he fell to eventual champion, Medvedev. He is 0-4 against the Russian in hard courts and has a 19-28 record against top-ten players. The young Canadian still has plenty of room to grow on this surface so this may be Medvedev's tournament to lose.
See below the top sportsbooks where you can wager online and choose the best one for you: