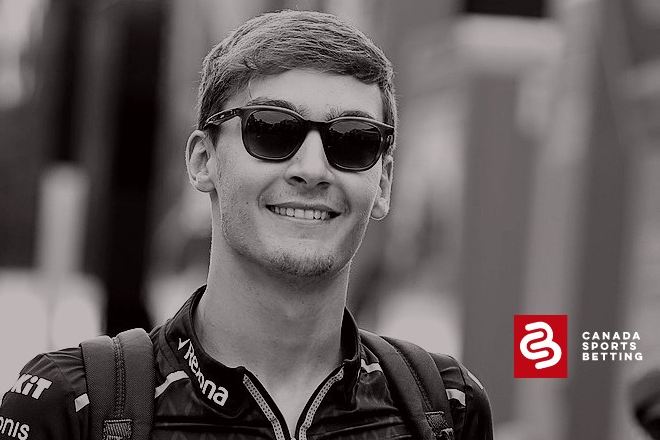 The new Formula 1 season starts in March, and here we look at George Russell's chances of breaking up the top two and give our verdict and betting picks on the new Mercedes driver's prospects in 2022.
Last season we saw Max Verstappen and Lewis Hamilton go toe-to-toe in a two-way fight, in what was the most exciting world championship battle in years.
This year there is a third name in the Formula 1 betting odds to win the world championship, and it's the name of George Russell.
The new Mercedes driver's move from Williams sees him almost overnight become a contender to win the world title.
Driving for Williams, the 23-year-old Brit was never in the running for a world title. But put him in a Mercedes, and it immediately becomes a possibility.
The so-called lesser teams – such as Williams – in Formula 1 seem to get used as stepping stones for aspiring drivers to make names for themselves.
If they can perform well in the less competitive cars, they are showing the bigger teams they are capable of challenging for world titles. And that's exactly what Russell has done in his three years driving for Williams.
Making the step up to a big-name team like Mercedes is a daunting task though. It's going to ask a lot of questions of not just Russell, but also Mercedes.
For example, what will Russell's role be in the team? Is he there to support Hamilton? Or is he there to make the world title a three-way fight?
And if Russell is pushing the top two, what impact will that have on the dynamics of the Mercedes team?
One thing that is for certain is that Russell will have to perform better than his predecessor, Valtteri Bottas. Finland's Bottas was effectively forced out of Mercedes for underperforming.
In fairness to Bottas though, Mercedes won the constructors championship for the previous five years that he partnered Lewis Hamilton. The team has now won the constructors' championship eight years in succession.
The signing of George Russell suggests that Mercedes aren't prepared to rest on their laurels, and risk standing still. Team Principal, Toto Wolff is well aware that in top-level sport, standing still is the equivalent of going backward.
Red Bull is proving to be a credible opponent, and this has prompted Wolff and Mercedes to act. So what are Russell's chances of success this season?
The Driver's World Championship seems out of range for Russell
It's a fair assumption to make that Russell will start the season as the number 2 driver at Mercedes. Whether that be officially, or unofficially!
If Hamilton is going for his eighth world title, I believe Mercedes will tell Russell to back off and prioritize Hamilton.
His job this season will be to ensure Hamilton stays ahead of Verstappen, not to attack Hamilton. Therefore I don't see Russell winning the title this season.
And if Hamilton does come back hungrier than ever, I don't see anybody stopping him this season.
So, my betting pick for the 2022 F1 Driver's Championship is Lewis Hamilton.
Don't miss our Betway Canada Sportsbook review for the best new customer offers.
Back Russell and Mercedes for the Constructors Championship
I can not only see Russell getting more podium finishes than Sergio Perez in the second Red Bull car, but I also see him beating Valtteri Bottas' haul of eleven top 3 finishes last season.
I also can't see the combination of Verstappen/Perez beating the Hamilton/Russell pairing across the course of the season.
Therefore, I'm happy to make George Russell and his Mercedes team my pick for the F1 2022 Constructors Championship.
Russell set to finish debut Mercedes season in Top 3
It's pretty safe to assume that Hamilton and Verstappen will occupy two of the podium positions at the end of the season, but who will get the third?
As third in the betting to win the world championship, Russell has to be the favourite to get the third position on the podium at the end of the season (there is no market yet).
At the bare minimum, I expect Russell to finish third. For me, it's more of a question of how close Russell can get to break up the top 2, not if he can make it into the top 3.
I have no hesitation in having George Russell finish in the top 3, as one of my F1 betting picks for 2022.
One final thought, Lewis Hamilton is still said to be smarting from the way the 2021 season ended.
Rumours were doing the rounds that the legendary British driver was so disillusioned he might quit F1 for good. Those stories have since quietened down, and I don't expect that to happen.
But if the season starts poorly for Hamilton, might his frustrations boil over, and prompt him to make a rash decision? Hamilton has achieved more than he could have ever imagined he would in F1.
If he can't see any light at the end of the tunnel, he may well walk. I don't see him fighting for places in the top 10 like Fernando Alonso and Sebastian Vettel.
Should Hamilton quit, that would significantly open the door to Russell to win the title. I'm not predicting this will happen.
But nothing surprises me in sport, and I wouldn't totally rule it out. It's certainly worth bearing in mind.
See below the top sportsbooks where you can wager online and choose the best one for you: