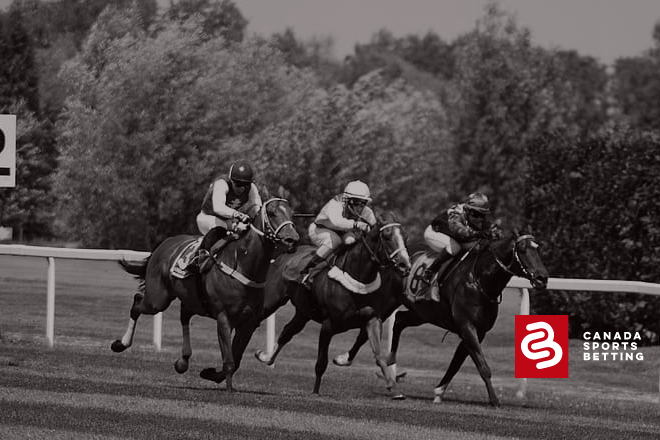 Let's have a look at the 2021 Canadian International Betting Picks.
Betting on the 2021 Canadian International
After a one-year hiatus due to the COVID-19 pandemic, the Canadian International (G1) is back on the Woodbine racing calendar! The one-and-a-half-mile race drew a truly international field of eight horses, including familiar locals as well as true globetrotters. One of them, British shipper Desert Encounter, will be going for his third triumph in this race.
The 2021 edition of the Canadian International will be run on Saturday, September 18. The race offers a purse of $600,000, and the winner's silks will be flown in the infield of Woodbine racetrack for the following year in honour of the achievement.
Though the Canadian International is one of the most fun races to attend live, not everyone can make it to the track on the big day. Fortunately, you can bet on horse racing online in Canada!
Betting the Canadian International is even more exciting when you know you are maximizing your chances of a great betting profit. This means thinking carefully and choosing the right sportsbook for placing your bet. After all, betting the race is even more rewarding when you play at a trusted sportsbook with the best odds and bonuses.
2021 Canadian International Odds And Information
Now that you have looked through the best online sportsbooks in Canada and made your account at the one that best fits your needs, it is time to meet the field for the 2021 edition of the Canadian International.
Canadian International Horses
This is the official field for the 2021 Canadian International including post positions, trainers, and jockeys:
Corelli (Jonathan Thomas/Kazushi Kimura)
Walton Street (Charlie Appleby/Lanfranco Dettori)
Desert Encounter (David Simcock/Daniel Tudhope)
Bluegrass Parkway (Michael Maker/Patrick Husbands)
Primo Touch (Harold Ladouceur/Daisuke Fukumoto)
Fantasioso (Ignacio Correas, IV/Joel Rosario)
Belichick (Josie Carroll/Luis Contreras)
English Conqueror (Darwin Benach/Antonio Gallardo)
As the race day draws closer, top online sportsbooks will begin to publish horse racing betting odds on the Canadian International. Your best bet is to follow the odds on the top sportsbooks, and get your bet down when you are confident in getting an overlay on the horse you like in the Canadian International.
Free Canadian International Handicapping
#3 Desert Encounter is certain to get a lot of interest because he has won the last two editions of the Canadian International. However, he has not won a race since that last victory at Woodbine, and that came two years ago. He has been getting close, and jockey Daniel Tudhope has been able to win when shipping to Woodbine, but he will be an underlay and he has recently looked like the epitome of a closer who doesn't quite get there.
#2 Walton Street is the more interesting overseas shipper. He has won three of his last five races, and he is a mile-and-a-half specialist. His tactical speed should get him a good trip near a pace that will not be terribly swift. Furthermore, his trainer Charlie Appleby is excellent at finding spots and preparing shippers.
#1 Corelli rallied from well off the pace in the Singspiel (G3), the local prep for this race. He won despite not getting a particularly fast pace to rally into, giving him a great chance to do well given how this race is likely to set up. Though he has yet to win at a mile and a half, he came close in a race at York. With a G1 placing last year, good local form and a sharp local rider, he should be well set at a square price.
The others coming out of the Singspiel are #7 Belichick and #8 English Conqueror.
Belichick has already won over course and distance, albeit against Canadian-breds in the Breeders' Stakes last year, and these foes are much tougher. He is in good form and has tactical speed, but will have to make a sharp move forward to be able to hold off these tougher older horses at this distance.
English Conqueror may not be as far back as Corelli, but found himself outkicked by that one going only a mile and a quarter. He has only tried this distance once, in the same Canadian-bred race Belichick won last year. English Conqueror consistently shows up, but also needs a significant step forward to be a win candidate.
#4 Bluegrass Parkway is an intriguing longshot. Though he has class to prove, he is trained by Mike Maker, who has built a career on moving long-distance turf routers up in class. He comes off a good finish in a Listed race at Ellis last month, and his allowance-level win at Gulfstream four starts back suggests the extra distance will be what Bluegrass Parkway wants. He also gets Patrick Husbands in the irons; Husbands has been winning big Woodbine races for years.
#5 Primo Touch and #6 Fantasioso complete the field. Primo Touch will probably be part of the early pace under smart local rider Daisuke Fukumoto, but is unproven at the distance and the class. Fantasioso has yet to win since moving to the United States from Argentina, but has closed well enough in turf routes to be interesting on exotic tickets that go narrow up top and spread in the lowest rungs.
Canadian International Expert Picks
Now that you know where and how to bet the race online, here are the best bets for Sunday's 2021 Canadian International:
$20 Win: #2 Walton Street
$5 Exacta Key: #2 Walton Street with #1 Corelli and #4 Bluegrass Parkway
$1 Trifecta Key: #2 Walton Street with #1 Corelli, #3 Desert Encounter, and #4 Bluegrass Parkway
$1 Superfecta Key: #2 Walton Street with #1 Corelli, #3 Desert Encounter, #4 Bluegrass Parkway, and #7 Belichick