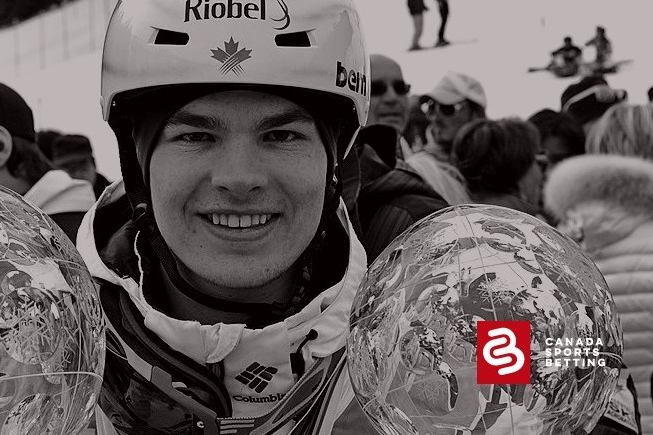 Mikael Kingsbury is one of Canada's golden boys. He has smashed records left, right, and center, and as a result, he is regarded as one of the best skiers of all time.
With the 2022 Winter Olympics approaching, we look at his chances of adding another Mogul Gold to his already impressive medal collection. Let's have a look at his betting picks.
Mikael Kingsbury is already widely regarded as the most complete and best mogul skier in the current field.
With a string of records to his name already, Kingsbury will be looking for his second Olympic Gold at Beijing, and with it, to confirm his legacy as the greatest mogul skier of all time.
At the age of 29, Kingsbury already has an Olympic silver medal from Sochi in 2014, and an Olympic gold medal from PyeongChang in 2018.
He is also the holder of 11 world championship medals. That's six golds, three silvers, and two bronze.
In 2009/10 he was the FIS World Cup Rookie of the Year award winner. Kingsbury is also a nine-time FIS Freestyle World Cup title holder in moguls and freestyle.
He also is the record holder for World Cup moguls victories with 71 career wins. I could go on, the list is just endless.
Quite simply, he is the greatest of all time.
So can Canada's golden boy really underline his superiority and add another gold medal to his collection?
Well, looking at the above, you would have to say, yes. But there is a rival to Kingsbury out there, and his name is Ikuma Horishima.
In the betting to win the men's Mogul Gold Medal, Horishima is the only guy the best sportsbooks are giving any chance to.
But as you will see in the betting below, it's like there are two different events taking place here. There are two guys fighting over gold and silver. With the rest of the field competing for bronze.
Men's Moguls Gold Medal Winner Betting
The best Canadian sportsbooks seem to have this down as a two-way fight between Kingsbury and Horishima.
At 1.83, Mikael Kingsbury is the favourite, with Ikuma Horishima the second favourite at 3.30.
After that, you can name your price in what looks like an open contest for the bronze medal.
When and Where are the Men's Moguls taking place?
First of all, the Olympics is taking place in Beijing, China from February 4th, 2022, to February 20th, 2022. A full 16 days of action-packed sporting theatre.
With us being a full 13 hours behind Beijing, the Olympics will already have started when we rise from our slumber on Friday, February 4th.
As for the Men's Mogul, there are two qualifying rounds, one of which is on February 3rd, prior to the official start of the games. The details for the main events are:-
Event – 2022 Beijing Winter Olympics – Freestyle Skiing Men's Moguls
Where – Genting Snow Park, A & M Stadium
Qualification 2 – Saturday, February 5th, 5 am ET
Final 1 – Saturday, February 5th, 6.30 am ET
Final 2 – Saturday, February 5th, 7.05 am ET
Final 3 – Saturday, February 5th, 7.40 am ET
It's an early start if you wish to get up to see how Mikael Kingsbury gets on!
How to bet on the Men's Moguls?
After a slow start, the top sportsbooks are now starting to make more and more betting events live.
We have a dedicated Olympic Sports Betting page to help you understand how to bet on the games.
Also, check out our best Canadian sportsbook reviews page. Here you will find details of all the best sportsbook sign-up offers, which you can then use for your Winter Olympics betting.
Men's Mogul Betting picks
Onto our betting picks for the men's Moguls, and how can you look past Mikael Kingsbury?
Yes, he does have a serious competitor in Ikuma Horishima, but it has to be Kingsbury. His track record shows he produces on the day.
He has 100 World Cup career podium finishes. He is the man to beat, and I don't see him losing.
Mikael Kingsbury is my betting pick to be the 2022 Olympic champion in the Freestyle Skiing Men's Moguls.
I'd also move quickly to get the current odds, as I can only see them getting shorter.
Please take the time to read our Sports Interaction Review. You can claim their new customer offer for any of your Winter Olympic bets.
Men's Moguls; Bonus Pick
Using one of our excellent sportsbook bonuses I would also look to make a second selection on this event.
With the odds being so long on everybody outside of Kingsbury and Horishima, I think a small saver bet is worthwhile, or even a bet on a podium finish.
Kingsbury and Horishima have won the last seven World Cup events between them, but finishing second on two occasions, and third, in the most recent event in Deer Valley, was Walter Wallberg of Sweden.
So I make Walter Wallberg my outsider betting pick to finish on the podium in the Men's Mogul.
See below the top sportsbooks where you can wager online and choose the best one for you: