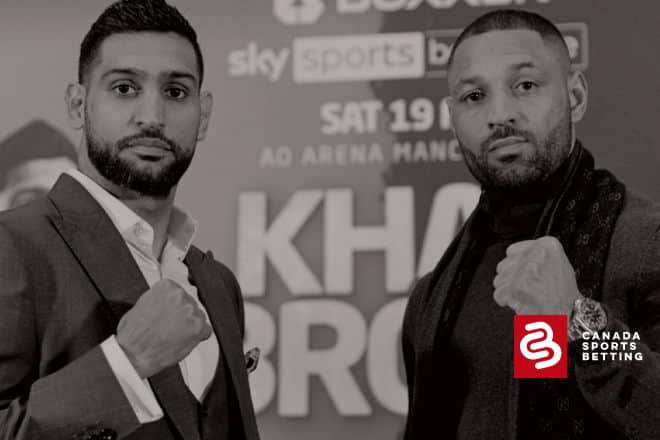 in this article let's have a look at the odds and picks for Amir Khan vs Kell Brook.
A long-talked-about fight between two of the top British boxers of the past 30 years finally takes place on Saturday, February 19 when Amir Khan and Kell Brook meet at AO Arena in Manchester, England.
Fight: Amir Khan vs. Kell Brook
Date: February 19, 2022
Time: 1 p.m. ET
Venue: AO Arena in Manchester England
Check out the best Canadian Betting Sites and take a look at the odds, pick and prediction for the upcoming Katie Taylor vs. Amanda Serrano fight as well. 
Ideally, this fight would have happened six or so years ago, but this is one of those better late than never matchups. The fight between these two should have taken place when they were both at top form, but this matchup still holds enough intrigue, and animosity between the two combatants to make it a fight worth watching.
In 2016, Khan was the WBC Silver welterweight champion with a 31-3 record. At the same time, Brook was 36-0 and held the IBF welterweight crown. Instead of facing each other in what would have been a blockbuster matchup at the time, Khan booked a fight against Canelo Alvarez for the WBC and The Ring middleweight belts and Brook signed on to face Gennady Golovkin for the WBC, IBF and IBO middleweight titles. Both men lost those fights via stoppage. One could argue neither fight has been the same since.
Khan is 3-1 since his loss to Alvarez with his loss being a 2019 TKO setback to Terence Crawford for the WBO welterweight crown. Brook is 3-2 since the GGG loss with a 2017 knockout loss to Errol Spence Jr. and a 2020 TKO loss to Crawford.
Khan last fought in 2019 when he earned a TKO over Billy Dib. Brook's most recent fight was the loss to Crawford.
Amir Khan vs. Kell Brook odds
Let's have a look at the Amir Kahn vs Kell Brook odds. More boxing odds can be found here.
Amir Khan vs. Kell Brook prediction and pick
Amir Khan and Kell Brook will both be 35 when they face off on February 19 in this 149-pound battle. Khan has a 34-5 record with 21 knockout wins. Brook's record stands at 39-3 with 27 KO victories. Khan is one inch taller than his opponent and has a two-inch reach advantage.
Khan has always had fast hands and with that, he has the ability to deliver combinations that are difficult for his opponents to react to. As for Brook, he might be a little slower (but not slow) with his punches, but he is an outstanding boxer and he can be an effective counter puncher.
One thing that is difficult to ignore in this fight is the knockout losses Khan has accumulated. All three of his most recent defeats have come by way of knockout. Yes, those stoppages have come over a span of 10 years (Danny Garcia in 2012, Alvarez in 2016 and Crawford in 2019), but they have come and with that Khan has gathered a reputation as having a "glass jaw." By the same token, all three of Brook's losses have come by knockout in the past six years (GGG in 2016, Spence in 2017 and Crawford in 2020), and he took a lot of damage in the GGG and Spence losses.
I believe both fighters will be very focused on this fight and I think the interest in the matchup and the personal aspect of the fight will be a bigger benefit to Khan, who has been criticized for being distracted or not invested in some of his more recent fights. 
The pick is Khan to outwork Brook and get the knockout in the second half of the fight.
What's at stake?
No one is going to argue that this fight will launch the winner back into a title-fight discussion, but what it could do is earn the victor a lucrative payday against another big-name competitor. One fighter who is keeping an eye on the matchup is the 36-3 Danny Garcia, who is coming off a December 2020 decision loss to Errol Spence Jr. 
See below the top sportsbooks where you can wager online and choose the best one for you: