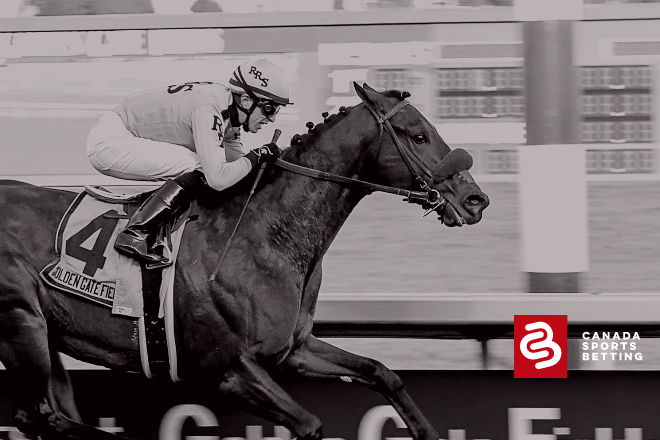 The way to the Triple Crown goes through the Bay Area on Saturday, February 10 for the El Camino Real Derby! The $100,000 race covers 1 1/8 miles on the Golden Gate Fields Tapeta surface, and drew a field of 11 to compete for purse money, and for a place on the roads to both the Kentucky Derby and the Preakness!
The race offers Kentucky Derby points to its top four finishers, apportioned 10-4-2-1. It also offers a free berth to the Preakness Stakes, something 2021 El Camino Real Derby winner Rombauer used to full advantage when he went on to win the Preakness last year!
Rombauer was not the first El Camino Real Derby winner to win the Preakness, either. 1985 Preakness winner Tank's Prospect and 1986 Preakness winner Snow Chief won the El Camino Real. And, 1994 El Camino Real winner Tabasco Cat went on to win both the Preakness and the Belmont!
Who will earn their chance to follow in their footsteps? Read on to find out!
Betting the El Camino Real Derby Online
Though a trip to California in the middle of winter sounds delightful, not all of us can do it. Fortunately, you can be a part of the action by betting the El Camino Real Derby online! It's easy and profitable when you sign up for the best Canadian sportsbooks. All of our recommended sportsbooks have great interfaces and trusted cash-out and deposit options.
Our expert reviews can also help you find which sportsbook has the best options for bonuses for your betting style. They will help you make sense of your choices, and get you more quickly to the fun part: cashing wagers on great horse races like the El Camino Real Derby!
2022 El Camino Real Derby Odds And Information
Now that you have created your online betting account, it is time to get to know the 2022 El Camino Real Derby runners and start handicapping the race!
El Camino Real Derby Horses
This is the official field for the 2022 El Camino Real Derby including post positions, trainers, jockeys, and morning lines:
Stormy Samurai (Jack Steiner/WIlliam Antongeorgi, III) – 8/1
Mackinnon (Doug O'Neill/Abel Cedillo) – 8/5
Unraptured (Tim McCanna/Armando Ayuso) – 10/1
Blackadder (Bob Baffert/Edwin Maldonado) – 7/2
Nuestro Engreido (Felix Rondan/Santos Rivera) – 20/1
Boise (Jonathan Wong/Evin Roman) – 9/2
Dr Pescado (Felix Rondan/Pedro Terrero) – 15/1
Meetmeattheclub (Daniel Franko/Silvio Amador) – 50/1
C'Mon Man (Bill McLean/Irving Orozco) – 15/1
Il Bellator (Jose Bautista/Alejandro Gomez) – 20/1
Del Mo (Doug O'Neill/Ruben Fuentes) – 10/1
This morning line is the track's best estimate of the odds come post time. However, since odds fluctuate in their pools until the moment the gates open, the morning line is no guarantee. Fortunately, you have a better option to guarantee the best odds on your El Camino Real horse.
You can lock in the odds the moment you bet when you play the race at a trusted online sportsbook. When you see odds that are more lucrative than a runner's true odds, you can go ahead and place your bet with confidence. You no longer have to worry about late odds changes, and you can get ready for a great profit when you are right.
Free El Camino Real Derby Handicapping
With your account set up at one of the best Canadian online betting sites, it is time to start looking at the race. Here is the information you need on the best horses in the 2022 El Camino Real Derby:
El Camino Real Derby Favourites
#2 Mackinnon will be the favourite for the El Camino Real Derby. He has tactical speed, and still ran a very good third in the Breeders' Cup Juvenile Turf despite having some real trip trouble. Even though he has never raced on Tapeta before, he has strong turf form, which tends to transfer well to this footing. He is the class of the field.
The most intriguing runner is #6 Boise. Though his maiden win came on the lawn, he has a stakes win going two turns on the Tapeta at Golden Gate Fields, so he is a proven performer on the footing. Though he disappointed last out at Santa Anita, the excellent fourth in a turf stakes on the Breeders' Cup undercard means that, on his best, he has the quality to do well against the Southern California shippers.
#4 Blackadder will certainly take money as well, being trained by Bob Baffert. But, there are reasons to be skeptical. He has only ever tried dirt, making him a completely unknown quantity on this synthetic footing. And, the maiden field he beat was a group of turf horses washed off to the dirt, so not as tough as a group originally intended for the main track.
El Camino Real Derby Price Horses
Consider these longshots to build tickets around Boise and Mackinnon.
#11 Del Mo, Mackinnon's stablemate in the Doug O'Neill barn, is facing winners for the first time. But, he should be a price, and he has strong local form. After a pair of seconds over the Golden Gate main, he finally got over the mark last time out. He is bred well for the stretch to a mile and an eighth, and he is versatile enough to handle the outside gate.
#1 Stormy Samurai is mired on the rail in a big field, which can be tricky, but he has won from the fence before. Though he has only ever sprinted he has some pedigree to stretch out, and he has the tactical ability to work a trip. He also has an allowance win to his name, meaning he has already proven he can beat winners.
For deeper tickets, consider #10 Il Bellator. He has not run since November, but trainer Jose Bautista is strong both with layoff horses and with horses coming straight in from maiden company. The maiden win came over the Golden Gate main in his first try at a two-turn trip, meaning this may be what he wants, and he has the tactical speed to stalk from outside.
El Camino Real Derby Expert Picks
Now that you know where and how to bet online in Canada, here are the best bets for the 2022 El Camino Real Derby:
$20 to win – #6 Boise
$1 exacta key – #6 Boise with #2 Mackinnon and #11 Del Mo
$0.50 trifecta key – #6 Boise with #1 Stormy Samurai, #2 Mackinnon, and #11 Del Mo
$0.20 superfecta key – #6 Boise with #1 Stormy Samurai, #2 Mackinnon, #10 Il Bellator, and #11 Del Mo