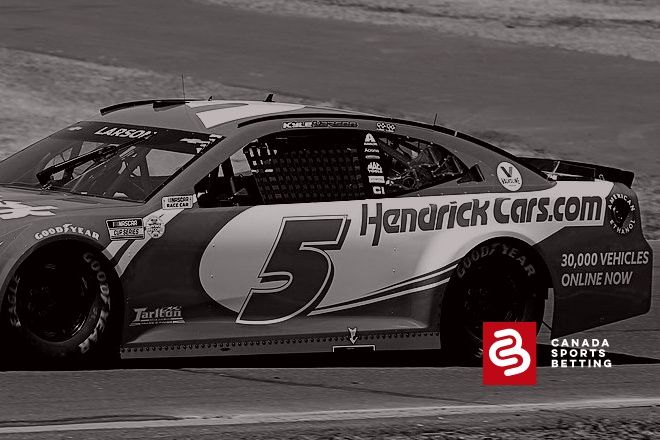 The 2022 NASCAR season gets underway in November, and here we look at Kyle Larson's chances of retaining the title he won in 2021 and also bring you our NASCAR futures picks.
It only feels like 5 minutes ago that Kyle Larson won the 2021 Nascar Series Cup Championship, and yet here we are about to start it all over again.
Yes, in just a few weeks the engines will roar again as the 2022 season gets underway.
The champion driver is Kyle Larson, and he – along with his Hendrick Motorsport Racing team – will be looking to carry on last season's form when it all gets underway.
I don't think anybody, even the most ardent Joe Gibbs Racing fans, could argue that Kyle Larson and the Hendrick team were the dominant forces last season.
Larson and his crew combined to win an amazing 10 races in the Chevrolet, and justice was served at Phoenix in November when Larson was confirmed as the 2021 NASCAR champion.
2022 NASCAR Cup Series Betting
So can Kyle Larson be successful again in 2022? Well, immediate history says it will be difficult. But the top sportsbooks in Canada all think it is possible, as, in the latest NASCAR odds for 2022, they make him their betting favourite at 3.75.
You have to go back to 2010 and Jimmie Johnson, to find the last time the championship was won by the same driver.
Back then, Johnson won it five years running, as he dominated NASCAR between 2006 and 2010.
I suspect you might be wondering what team Johnson was in, and what car he was driving? Yes, you've got it. Johnson was a Hendricks Racing driver, using a Chevrolet car.
Before Johnson's remarkable feat, you need to go back to the 90s to see back-to-back wins.
In 1997 and 1998, Jeff Gordon won his second and third titles driving a….. Chevrolet, and he was driving for….. yes, you've guessed it, Hendrick Racing.
Back to the betting, and I don't think you can look beyond Kyle Larson. He was streets ahead in 2021, and most worryingly for his opponents, he had the look of a guy who knew he was miles better.
I would go as far as to say that Larson and his Hendrick team look like they could be the team to beat for the foreseeable future. Maybe not to Jimmie Johnson levels, but certainly to be serious contenders for the title over the next two to three years.
At 3.75 with Sports Interaction, I have no hesitation in making Larson to win the 2022 NASCAR series cup my first pick.
Check out our Sports Interaction Review for the best new customer offers to use for NASCAR futures.
Nascar Futures; The Alternative Option
Moving on, you might have noticed I said first betting pick earlier, and that's because I have another one.
With heavy odds against bets, and using bonuses, I don't see any problem with having a saver bet on a second driver.
I'm tempted to go for Martin Truex Jr who had a strong season last year and is also a previous series cup winner. At 9.00, I think he's decent value.
But based on his – second only to Larson – consistency last season, I'm going to take a punt on Denny Hamlin at 7.00. The Joe Gibbs Racing driver finished in the top 5 on 18 occasions last season, and he has the look of a guy who wants to take Larson on.
Similar to Verstappen and Hamilton in F1 last season, I can see Larson and Hamlin slugging it out this season, and I make Hamlin my second betting pick to win the 2022 NASCAR series cup.
See below the top sportsbooks where you can wager online and choose the best one for you: