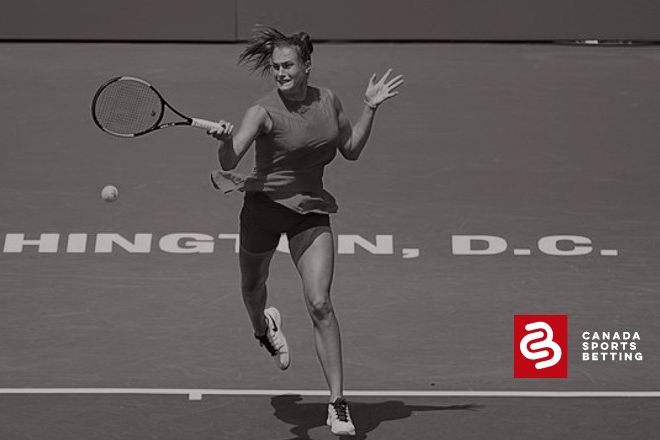 The best tennis players from 2021 are ready to compete at the 2021 WTA and ATP Tour Finals! Find the best bets to win the tournaments here!
The 2021 tennis season wraps up in November with the top eight women and men competing in the Tour Finals. Get ready for the event – and enjoy the best odds for tennis sportsbooks – with our WTA and ATP Tour Finals 2021 betting preview.
2021 WTA Tour Finals Details
Location: Guadalajara, Mexico (relocated from Shenzhen, China)
Date: November 10 to 17
Qualifiers: Eight players qualify (with two alternates)
Tournament Style: Round-robin (two groups, top two from each group advance)
Players to Withdraw: World no. 1 Ashleigh Barty
Best Bet to Win the 2021 WTA Finals
While Ashleigh Barty is out (as she recovers and focuses on the 2022 Australian Open), the tournament still features eight of the best women on the tour in 2021. Although the odds on winner are not yet available – the talent should make it close between the eight players – making a great betting opportunity for tennis fans.
| To Win the 2021 WTA Tour Finals | |
| --- | --- |
| Aryna Sabalenka | TBD |
| Barbora Krejcikova | TBD |
| Karolina Pliskova | TBD |
| Maria Sakkari | TBD |
| Iga Swiatek | TBD |
| Garbine Muguruza | TBD |
| Paula Badosa | TBD |
| Anett Kontaveit | TBD |
Anett Kontaveit Playing Great Heading into the Finals
The biggest surprise to make the WTA Finals is Anett Kontaveit. However, Kontaveit is on a tear since August and is someone no one wants to face at the tournament.
Since August, Kontaveit has had four tournament wins – winning Cleveland, Ostrava, Moscow, and Cluj-Napoca 2. While no one will mistake those tournaments with Grand Slams – she beat some quality opponents during her run – including Garbine Muguruza and Maria Sakkari. In 2021 – she has four wins against top-ten players (ranking at the time of playing, not yearend rankings).
Kontaveit's success has come mostly on hard courts – the same surface as the Finals. While it does not give her a big advantage (as most tournaments take place on hard surfaces) – it could help her if she draws favourable against the players who made the WTA Finals from wins on grass and clay.
Overall, she is a bit of a long shot – but in a weird year in tennis – anything can happen. And no one is playing better right now than Anett Kontaveit.   
2021 ATP Tour Finals Details
Location: Turin, Italy
Date: November 14 to 21
Qualifiers: Eight plays qualify (with two alternates)
Tournament Style: Round-robin (two groups, top two from each group advance)
Players to Withdraw: No players (as of November 4) have withdrawn
Best Bet to Win the 2021 ATP Tour Finals
The men's side is loaded with great players – including the reigning ATP Tour Finals champ Daniil Medvedev and world no. 1 Novak Djokovic.
| To Win 2021 ATP Tour Finals | |
| --- | --- |
| Novak Djokovic | TBD |
| Daniil Medvedev | TBD |
| Stefanos Tsitsipas | TBD |
| Alexander Zverev | TBD |
| Andrey Rublev | TBD |
| Matteo Berrettini | TBD |
| Casper Ruud | TBD |
The final player to qualify for the tournament is TBD. Will be finalized after the Paris Masters or the Stockholm Open.
Novak Djokovic to End 2021 on Top
Although Novak Djokovic failed in his quest for the Golden Slam and the Calendar Slam, he can still cap off an amazing 2021 with the ATP Tour Finals title.
Despite winning the ATP Tour Finals five times in his career – Djokovic has not won the event in six years. Djokovic does have four straight wins at the event (winning each tournament from 2012 to 2015). He also has two Finals appearances in the last five years – making it in 2016 and 2018.
Not winning the event since 2015 means Novak Djokovic only has one year-end no. 1 finish since 2015 (claiming the top spot on the tour in 2020). However, Djokovic has some motivation to win the event this year and claim a second straight year-end no. 1 finish.
After finishing last year's ranking number one, Djokovic entered this year tied with Pete Sampras for the most year-end finishes at no .1. Djokovic is on record stating Pete Sampras is his childhood hero. The chance at breaking Sampras' record gives the passionate Djokovic motivation to be on his A-game at the Finals.
He also is the best player in the world. One loss at a Grand Slam should not shake a bettor's faith in Djokovic winning the 2021 ATP Tour Finals.
Best Online Sportsbooks to Bet on Tennis
Find the best online sportsbooks to bet on the 2021 WTA and ATP Tour Finals below. New users who join through the links underneath can receive an exclusive welcome bonus – which you can use to bet on futures and matches at the Tour Finals!