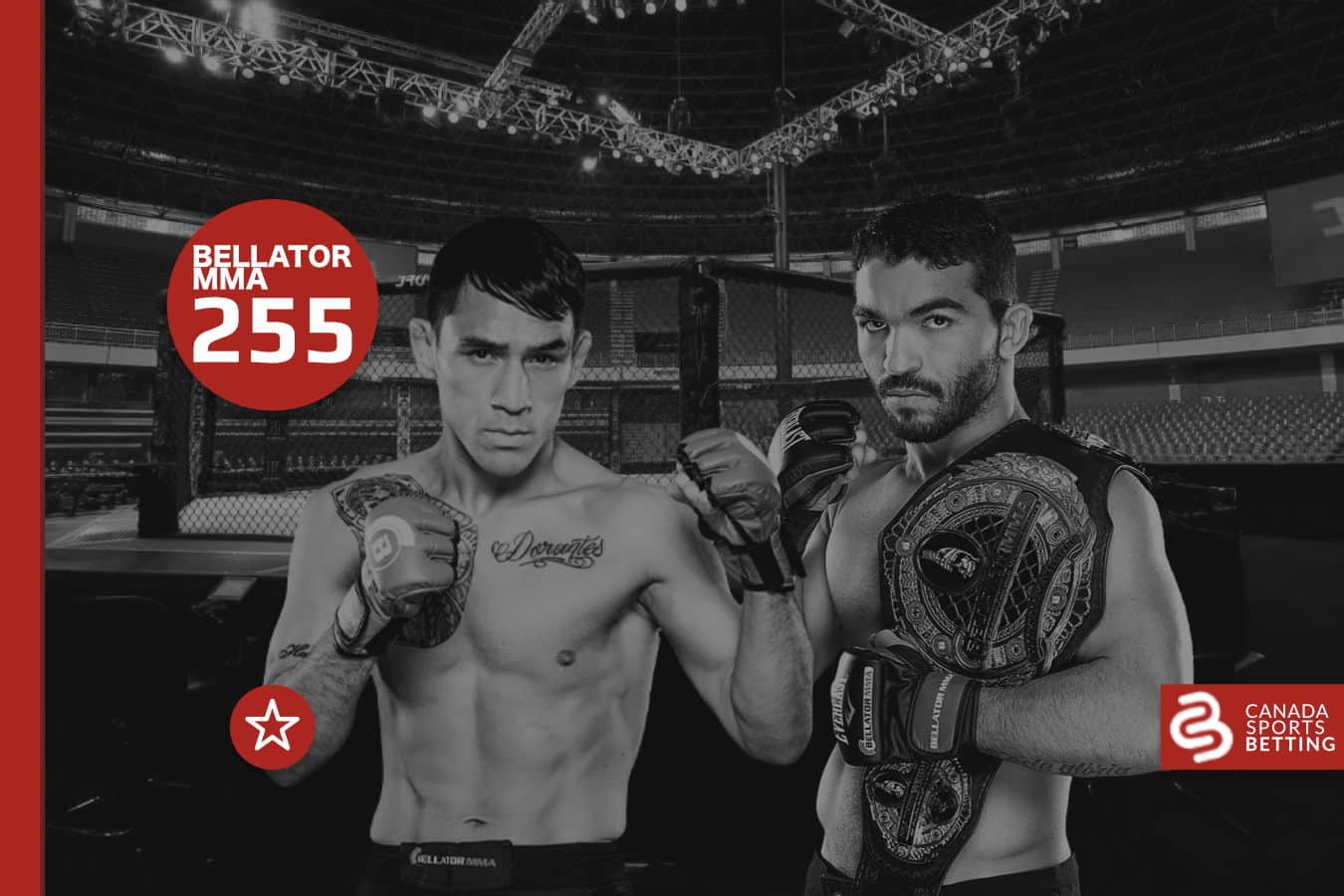 This weekend marks the first time we've had a Bellator event since the end of last year. Now, it feels like things are finally starting to return to 'normal', with many major sports events now starting up once again.
It's great to finally see the Bellator rosters back on our screens and we start things off at Bellator 255 with an excellent bout between one of MMA's best, the Brazilian Patricio "Pitbull" Freire and Emmanuel Sanchez.
We have the odds for the main fight, as well as two other bouts that are sure to explode on the night, including the UFC's Khabib Nurmagomedov's cousin Usman fighting against Mike Hamel to defend his unbeaten record.
The event will take place on Friday, April 2, at the Mohegan Sun Arena in Connecticut. Tune in for the prelims as of 6:00 pm (EST) with the main card starting at 9:00 pm (EST).
Our In-house MMA experts have analyzed the betting odds from the top online sportsbook providers and will provide some free picks for the main fights. So, let's get stuck into it.
The Pitbull to win via KO/TKO
The main fight of the night. Both fighters hold excellent records, with Patricio "Pitbull" Freire's record showing he's got more experience inside the cage and will be defending his FWGP title this weekend.
The champ holds a fighting record of 31-4-0, while the challenger Emmanuel Sanchez holds a record of 20-4-0. Sanchez is fighting out of the USA and has shown he has a great range of striking, which he will look to use against his shorter opponent.
Sanchez may have the height and reach advantage, but Pitbull is named as such for a reason. He is extremely high energy and has the ability to overwhelm his opponents with his movement and high-intensity fighting style. Expect to see this in full-force this Friday night.
Mike Hamel to lose to an unstoppable Nurmagomedov
This one will be the USA vs Russia bout, as another member of the Nurmagomedov family shows their ability to dominate the MMA game. Khabib's younger cousin Usman Nurmagonmedov holds a record of 11-0-0 and has looked unstoppable in recent fights.
Mike Hamel has had a much tougher road in MMA and starts out as the clear underdog. We expect this to go exactly the way the oddsmakers predict, with Usman adopting much the same fighting style as his older cousin and arguably one of the greatest pound-for-pound fighters of all time.
Hamel holds a record of 7-4-0 and has a disadvantage in reach and height. While it doesn't look all that good for the American, there's always a chance in the sport of MMA and certainly in Bellator bouts.
Tyrell Fortune to take the win
The final fight of our Bellator 255 picks is the heavyweight bout between Tyrell Fortune and Matt Mitrione. Mitrione is no new blood to the MMA circuit and holds a record of 13-8-0. While he was once beginning to look like a force in Bellator, times have changed.
Tyrell Fortune is a younger fighter, by some 12 years, and has the hunger you'd expect from any fighter in their prime. Expect to see this youth showing through during the bout.
Mitrione has a slight height and weight advantage over Fortune, but there's very little in it. Fortune hasn't lost since a shock knockout in February 2020, since then he's fought twice and looked solid. Take the younger fighter to win this one.
See below the top sportsbooks where you can wager online and choose the best one for you: