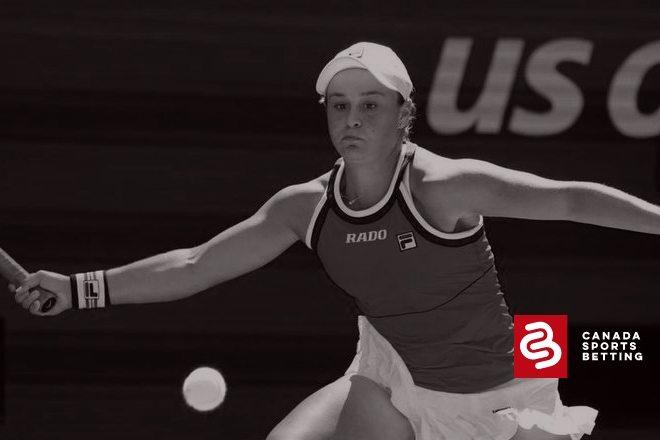 The Australian Open this year will be held in late January in Melbourne. Will Ashleigh Barty or Naomi Osaka take home the trophy? We dig into the futures!
The Australian Open gets underway in a little less than four weeks. There is a good deal of drama on the ladies' side already. Ashleigh Barty and Naomi Osaka are the two favourites. However, there is news with Serena Williams and it is not good. The three storylines have altered the tennis futures at least somewhat. Needless to say, this tournament expects to feature a good deal of fireworks and upsets.
The opening grand slam is going to be a hot time on and off the court. That seems to be the most certain thing here.
Australian Open Women By The Numbers – The Barty/Osaka Battle?
Right now, all signs point to a battle between Ashleigh Barty and Naomi Osaka for the title. Last February, Osaka slugged her way through the tournament and won the title. The tournament, with much stricter protocols again, expects to take place from January 17th to the 30th. This will be one crazy Australian Open and here are those Futures once again.
With the women's tennis odds being updated, there are some numbers that one may not expect. Also, one inevitable issue may be the rise of COVID in the sports world. This is just something that will get discussed no matter what.
The COVID Issue and the Australian Open
Again, it seems like a familiar theme but here we are. COVID and the Australian Open will be an ongoing issue. Vaccinated or unvaccinated, the variants are still out there. Players will test positive inevitably. That just seems like how it will go.
Australia, particularly the Melbourne area in Victoria, has an extremely strict policy and protocols to go with it. Remember last year, there were no fans for stretches of the grand slam. While some sports, like the NFL, are starting to relax their protocols a bit, others like tennis are not.
With an increased amount of cases, this tournament will still have a bubble sort of feel to it like last year. There will be differences but nothing drastic. It will not be like what most see in North America. Now, how does that impact the futures and the favourites? Yes, there are other factors but this is significant.
Ashleigh Barty's Home Country Chances
It does not hurt that Ashleigh Barty, an Australian native, has been used to this way of living for so long. The mental toll it may take on others does not bother her nearly as much. 2021 was quite the up and down year for Barty who did not play any of the year-end tournaments after losing in the third round of the US Open. This is where trying to gauge the favourites is far more challenging.
Barty will enter as the number one seed based on last year's ranking. After that, it is anyone's guess about form. She battles back through injury and COVID issues several times winning Wimbledon but honestly suffering through mostly a down year by Barty's standards. There was no Aussie Open title or Olympic medal even.
As we have seen with Barty, anything is possible. She can win on almost any surface — even clay and grass. She is one that you cannot count out for the 2022 Women's Australian Open.
Naomi Osaka's Australian Open Defense Has Questions
Everything started out so great last year for Naomi Osaka. Even with COVID and all the regulations, she won the Australian Open with relative ease dropping just one set. It was the fourth grand slam title of her career and the tennis player looked poised to take over the number one ranking. Then, it all unravelled beginning with a surprise upset at the Miami Open.
At the French Open, she withdrew after the first round citing mental issues. She took Wimbledon off and did participate in the Olympics. She lost there and then in the third round of the US Open. That three-set loss triggered another break which lasted until the present.
Osaka has won all four of her grand slams on hard courts. The surface is tailored made for her power game. However, what is her tennis mental state at this point? That is quite the unknown. She could enjoy a deep run or be knocked out early. There is no automatic in this year's tournament. Her prop ranges right around 6.50 or so.
Who Else Can Step Up And Win The Australian Open?
Again, there are several players who can pull off a win at the Australian Open. One that comes to mind is Gabrielle Muguruza Bianco. Muguruza Bianco nearly beat Osaka last year in the tournament before Osaka rallied late. She is at 11.00 odds to win and could be a decent medium shot. Also, Emma Raducanu, who won the US Open, will be in the field.
However, Raducanu just tested positive last week for COVID and though appears to be asymptomatic, it may affect her preparation. After that, there are Iga Switek and Simona Halep who both can win majors. This first major is quite a bit more wide open. Keep in mind, Raducanu came through qualifying to win that US Open. That being said, Muguruza Bianco may pull this off from the field.
Bettors have quite a few options for Australian Open betting odds to peruse through as Christmas approaches.
Who Is Our CSB Pick To Win The Australian Open?
Our pick to win the Australian Open is Ashleigh Barty.
As always, there are a slew of ways to strategize specifically for making the best prop bets, so do not be afraid to look at those as well.