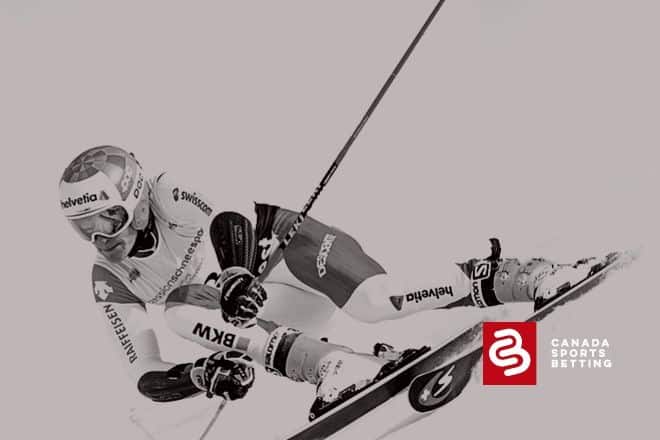 When it comes to Winter Olympic gold medal prospects, a name that jumps out is that of Switzerland's Marco Odermatt. The 24-year-old is the outstanding candidate to win the Men's Giant Slalom, and here we look at his chances of claiming Olympic gold.
The Giant Slalom is one of the highlights of any Winter Olympics, and with one of skiing's elite athletes going for gold in Beijing, this year's event is going to be no different.
Going for gold is Switzerland's, Marco Odermatt. The young Swiss will be competing at his first games, and he is up against the likes of Henrik Kristofferson and Alexis Pinturault who took silver and bronze (respectively) in this event at the Pyeongchang 2018 Winter Olympics.
2022 Giant Slalom Betting Odds
Marco Odermatt is just 2.10 in the latest Olympic sports betting to win gold in the men's Giant Slalom.
One of his closest rivals in the eyes of the sportsbooks is Alexis Pinturault, who took bronze in 2018 and is 11.00 third favourite.
As you can see from the betting, there is not much separating Pinturault from Odermatt's other three main rivals in the betting.
Manuel Feller is at 10.00, with Luca De Aliprandini at 11.00, which is also the same price you will get on 2018 silver medalist, Henrik Kristofferson.
When and Where is the 2022 Men's Giant Slalom
The 2022 men's Giant Slalom race is due to take place at the Xiaohaituo Alpine Skiing Field in the Yanqing District of China.
The event is on February 12th, with the opening run scheduled to start at 9.15 pm ET. This time is subject to change. The second and deciding run is three and a half hours later, so will require a late night if you wish to stay up and watch.
Why is Marco Odermatt such a hot favourite to win?
The facts are that Odermatt has been outstanding this season. In his first five Giant Slalom races, he won four of them. In doing so, Odermatt joined an elite group of racers.
This is because he is only the fifth man after Jean-Claude Killy, Ingemar Stenmark, Ted Ligety, and Marcel Hirscher to win four of the first five Giant Slalom races in a World Cup season.
His most recent win came at Adelboden in early January, where he became the first Swiss winner (to win a Slalom) at the event since Marc Berhod in 2007.
The fact that Odermatt is now mentioned in the same breath as the elite company above shows what a world-class performer he has become.
In the Giant Slalom Odermatt didn't win this season (at Alta Badia, Italy, a week before Christmas), he came second. For the record, Henrik Kristoffersen won that day.
What or who can stop Odermatt from claiming Gold?
Before looking at his main rivals, it has to be noted that this is Marco Odermatt's first Olympic games.
He did win five gold medals at the Junior World Championships in 2018. But he will never have experienced Olympic-style pressure at World Cup events.
With the added pressure of expectation on his shoulders, will this all be too much for the Swiss skier?
Also, a possible distraction for Odermatt is his involvement in other events. Odermatt also has medal prospects in both the super G and downhill events.
And what of his rivals?
Manuel Feller
Austria's Manuel Feller sits in (a distant) second place in the current World Cup standings behind Odermatt (480 points). In the five races this season, Feller has managed one second, and two-thirds.
The 29-year-old has a silver medal to his name from the 2018 Olympics and can't be discounted. I believe Feller is a good selection for a place on the podium.
Henrik Kristofferson
Kristofferson is the only other man to win an event in this year's World Cup Giant Slalom events. The Norwegian also sits third in the table on 253 points, just behind Fuller (261).
Back in 2018, Kristofferson won the silver medal in this event. So like Feller, he isn't burdened by the additional pressure of not having an Olympic medal already to his name.
Henrik is part of a Norwegian side expected to dominate this Olympics. So don't be surprised to see him get swept along by the feel-good factor that will no doubt infect the team.
The name of Henrik Kristofferson is another I wouldn't be surprised to see on the podium.
Please check out our Sports Interaction Review and score yourself a great bonus now.
Ultimately, it's going to take a brave person to back against Odermatt. On the current form, you just have to go with the Swiss.
The only thing that can stop him from winning is a mistake or some serious misfortune. So I make Marco Odermatt my betting pick to win the men's Giant Slalom at the 2022 Winter Olympics.
Check out our best Canadian Sportsbook Reviews for all the best new customer offers to use on the 2022 Winter Olympics.
See below the top sportsbooks where you can wager online and choose the best one for you: