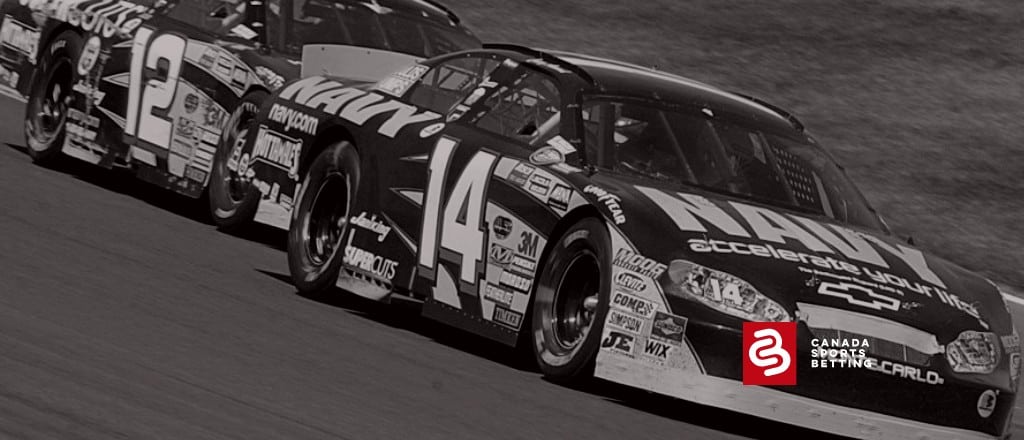 Kyle Larson has endured a tough start to the 2022 NASCAR season, here we look at the latest NASCAR betting on him to win the 2022 NASCAR Cup Series, and make some betting picks for the upcoming Toyota Owners 400 race this weekend.
Hendrick Motorsports' driver Kyle Larson hasn't enjoyed the sort of start to the 2022 season that he would have been hoping for.
The Cup Series defending champion has so far only won once this season, the WISE Power 400. Larson currently sits in 16th place in the Driver's Championship, a full 59 points behind early frontrunner Chase Elliott.
Worse still for Larson, is he's been in woeful form in the majority of his six races this season. Finishing in 29th or worse position in four of his six races to date. Despite this, the top sportsbooks are still standing by him, with Sports Interaction making Larson their NASCAR betting odds favourite to win this season's title.
Latest NASCAR Cup Series Winner Betting
As we've already alluded to, the sportsbooks haven't yet abandoned Larson, with Sports Interaction making him their 4.00 favourite to win the 2022 driver's championship.
Larson's biggest rival seems to be his teammates, with fellow Hendrick Motorsports drivers Chase Elliott at 6.00, and William Byron at 8.00.
They are followed by the Joe Gibbs Racing duo of Kyle Busch at 9.00 and Denny Hamlin at 10.00.
Personally, I think it's too early to write Larson off, and I still think he will come good yet this season.
How To Bet On NASCAR
The most popular bet on NASCAR is the 'Odds To Win' market. This is simply a bet on who will get to the finishing line first. You can bet on this market up until the start of the race. Once the race has started, most sportsbooks will let you bet on it in-play!
Other popular NASCAR betting markets are Driver Head-To-Head, Pole Position, or Top Three Finish.
The Driver Head-To-Head market is simply a bet on who will finish first out of two drivers. So it could be that the bookmaker offers you a bet like Kyle Larson @ 1.50 Vs Martin Truex Jr @ 2.25. You decide if you think Larson will finish ahead of Truex Jr and if you think the betting odds are good enough value to place a wager on.
Pole Position betting is simply a bet on who will be the fastest driver in qualifying and start the actual race in Pole Position. While Top Three Finish is a bet on a driver to finish in the top three, it can also be known as Podium Finish Betting.
Toyota Owners 400 Betting Picks
What; Toyota Owners 400
Where; Richmond Raceway, Richmond, Virginia, USA
When; Sunday, April 3rd, 2022
Time; 3.30 pm ET
Starting with the 2021 Cup Series winner, let's have a look at this weekend's race and try and find some good value picks
Kyle Larson @ 7.00
Despite his poor form, the sportsbooks are still favouring Kyle Larson to win this weekend in the Toyota Owners 400. The problem is, Larson has no recent form on this circuit, or on the whole this season.
Would I be surprised to see him win? Not really, Larson is a top-class performer. But although I still think he will win the Cup Series, I can't be wagering on Larson this weekend.
Martin Truex Jr @ 9.00
Truex Jr did well on the Richmond Raceway circuit last season, where he dominated large spells of this race 12 months ago. And he also won at this circuit last September in the Round of 16 playoffs.
This season, Truex Jr sits 7th in the driver's championship table. But he is the only guy in the top 13 who hasn't had a win or a top 5 finish. I'm not sure he will win this weekend, but I am happy to wager on the veteran driver to finish in the top 3.
Sports Interaction is offering each-way odds on this race, so I think Truex Jr is worth the risk, as with the each-way side of the bet paying 1/5 of the odds, we will be covered if he finishes on the podium.
Please visit our Sports Interaction Sportsbook Review page for more information about how to claim their great new customers betting bonus. This offer can be used to bet on this race and NASCAR Cup Series Futures.
Alex Bowman @ 15.00
Finally, last year's winner, Alex Bowman. The Hendricks driver has had a decent start to 2022, sitting fourth in the championship with one victory to his name, the Pennzoil 400 in Las Vegas at the beginning of March.
In this race last year, Bowman received a tire penalty and still managed to win a race that in the main had been dominated by the Joe Gibbs Racing pair of Denny Hamlin and Martin Truex Jr.
Given his sprightly start to the season, I wouldn't be against placing a wager on Bowman at odds of 15.00 to win again.