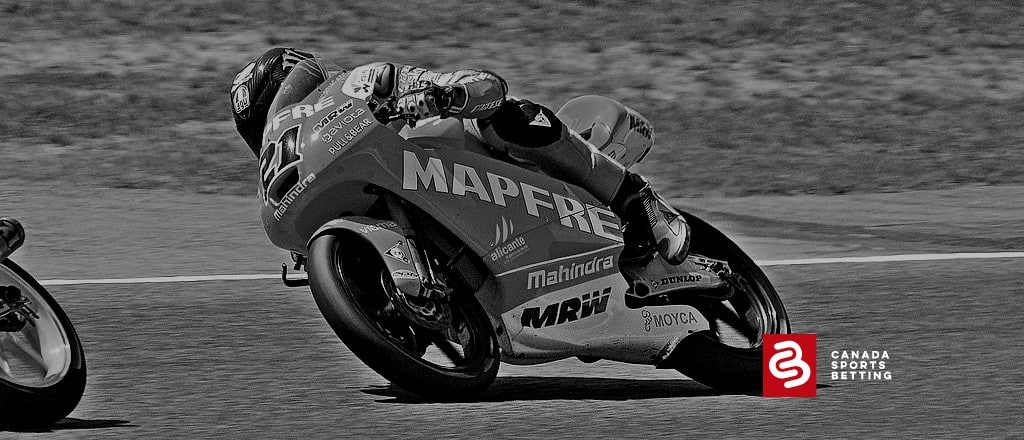 The wait is nearly over for the return of motorbike racing, so it's time for our 2022 Qatar MotoGP Betting Picks.
Yes, the first race of the season is this weekend, and motorbike racing enthusiasts can finally breathe easy and sit back and watch the Qatar MotoGP on Sunday.
The 2022 season promises to be an exciting one. In the truncated five days of testing available prior to the start of the season, no outstanding candidate emerged.
Hopefully, this will lead to an action-packed season with plenty of different winners. Which in turn brings us plenty of MotoGP betting opportunities.
Fabio Quartararo; Defending Champion Disappointed With This Season's Bike
The main stories to come out of testing are that the 2021 world champion, Fabio Quartararo, is less than happy with the performance of his Yamaha bike.
The Frenchman is quoted as saying "to be honest, I don't know where we can improve," after practice had finished.
Those words are hardly going to inspire gamblers to be following him. They also go some way to explain his overall 2022 championship-winning odds of 5.50, which makes third betting favourite.
The big winner out of the testing season seems to be Pol Espargaro. The Spaniard recorded the fastest time at the three-day testing event at Mandalika, in Indonesia. And after finishing last season with a 2nd, 6th, and DNS, in the last three races, he has shown promising signs of late.
2022 MotoGP World Championship Winner Betting
Before we get onto our Qatar MotoGP betting picks, let's have a look at the betting to win this season's World Championship.
What I didn't mention about testing is that only one second covered the top 19 drivers, let's hope that means a competitive season.
Out of all that, the betting favourite to win this year's world championship is 6 times MotoGP World Champion, Marc Marquez at 2.25.
He is followed by Italian wonder kid and last year's runner-up, Francesco Bagnaia, who is 3.00 to go one better this season.
Bagnaia won four of the last six races last season and is many people's tip to continue that form in 2022.
The third betting favourite is last season's top rider, Fabio Quartararo. Having already expressed his dissatisfaction with his Yamaha, Quartararo is available to bet at 5.50 to win again in 2022.
Retaining the title will be difficult. But if his Yamaha gets sorted out, he could end up being great value at those odds.
How To Bet on 2022 Qatar MotoGP
This year's race from Qatar is under the floodlights of the spectacular Lusail circuit. With it being held at night in Doha, the time difference works in our favour, with the race starting at 10 am ET on Sunday.
Event; 2022 Moto Grand Prix of Qatar
Where; Lusail International Circuit, Doha, Qatar
When; Sunday, March 6th, 2022
Time; 10am ET
Our MotoGP Betting Odds page has more help and advice for betting on all of this season's races. It includes team news, season schedule, and it also tells you the best riders to look out for.
It's also worth paying a visit to our Sportsbooks Reviews page, here you will find hundreds of dollars worth of the best betting bonuses, all of which can be used to bet on the Qatar MotoGP and numerous other events this season.
2022 Qatar MotoGP Betting Picks
Last season this race was won by Maverick Vinales riding a Yamaha. The Spaniard held off the challenge of the two Ducatis, with Johann Zarco finishing second, and Francesco Bagnaia finishing third.
Bagnaia was also fastest in qualifying here last season. And with this course known to suit the Ducatis, he is also expected to do well this weekend.
Bagnaia Favored to pick up where he left off last season
All this has seen Bagnaia installed as the short-priced favourite to win in Qatar this Sunday. The Italian is just 2.25 to win the first race of the season.
It's difficult to know what to expect on Sunday, as in the two testing sessions, we don't know if teams were slightly holding back.
For example, Marc Marquez finished in 14th at Mandalika, and he is the favourite to win the title.
What we do know for sure though is that Bagnaia finished last season extremely strongly. And he is well fancied to follow on that form this year.
At 2.25 he might be a touch short with the uncertainties that surround the opening race of the season, but wagering on him using one of the betting bonuses I alluded to earlier might be wise here.
A great bonus to use is the one found on our Sports Interaction Review, using this offer I would have a small wager on Francesco Bagnaia to win the 2022 Qatar MotoGP.
As is always the case when I'm betting on open fields, I like to have – what I call – a saver bet.
For this bet, I'm looking at Spain's Pol Espargaro. His confidence will be sky-high after topping the times in testing.
Espargaro is 21.00 to win on Sunday, and even though that makes him a big outsider, I believe he is worth a few dollars of a betting bonus to win the race, or at the very least finish on the podium.