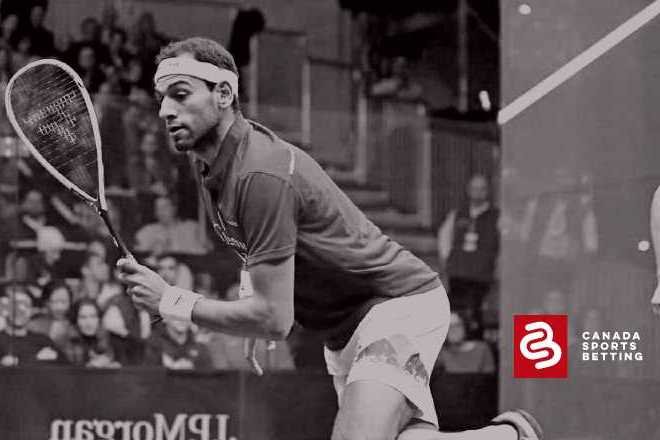 What: The 2021–22 PSA Men's World Squash Championship
Who: The top four contenders to take home the Men's singles title
Where: TBD location (was last held in Chicago, United States in 2021)
When: TBD time and date (was last held July 14-22 of 2021)
Recognized as the highest individual honour in the game of squash, the 2022 men's world title will be on the line to determine the best in the sport. In last season's edition of the tournament, Ali Farag was able to knock off Mohamed El Shorbagy, three games to one, to secure his second world championship. In the semi-finals of the tournament, El Shorbagy defeated New Zealand's Paul Coll 3-1 and Farag was able to outlast fellow Egyptian Tarek Momen in five games.
Presumably in the middle of summer later next year, the new world squash champion will be crowned. Will Farag be able to lock down his third-world title? Check out the breakdown below to find out!
The Number One Contender: Ali Farag (Odds: TBA)
The 2018/2019 and 2020/21 world champion, Farag aka "Mr. Fantastic" is truly a fantastic athlete in the sport of squash. After defeating Momen in 2019 final to secure his first world crown, he has gone to establish himself as one of the premier competitors in the game and is recognized as the No. 1 player in the world. Since he turned professional in 2009, he was also a two-time national champion at Harvard, he has locked down 22 titles and counting. Farag has also had success at the World Team Championships with two gold medals (2017 at Marseille and 2019 in Washington D.C.).
Number Two: Mohamed El Shorbagy (Odds: TBA)
A former world No. 1 competitor, El Shorbagy boasts an impressive 43 PSA titles to his name, good for fifth all-time on the squash win list. Known for his consistency and powerful play, El Shorbagy is a three-time World Open champion (2012, 2014 and 2017) and won the World Championship back in 2017. The "Beast of Alexandria" has certainly lived up to his name with a plethora of titles and Tour finals (65 and counting). The No. 2 player in the world, he most certainly will have a strong claim to the title in 2022, that is if he can get past Farag.
Number three: Tarek Momen (TBA)
The winner of the 2019/20 world championship, Momen is another Egyptian that is looking to add to his impressive trophy case. The oldest competitor on this list at 33 years of age, Momen has racked up a couple of impressive major victories, including the 2019-20 World Open. In addition to his success on the men's singles side of the sport, he also has claimed World Team Championships in 2019 (gold) and 2013 (silver). With eight (8) titles to his name, could Momen knock off some of the younger players on this list? It would not be out of the realm of reason for the crafty vet to do just that in 2022.
Final contender: Paul Coll (TBA)
The only non-Egyptian player on this list, Coll is the current British Open champion and ranked as the World No. 3 as of September 2021. A silver medalist at the 2019/20 World Championships in Doha, Coll is one of the best players in the world and is known as "Superman" on the court. A native of Greymouth, New Zealand, Coll has also won medals at the Commonwealth Games in both singles (2018, silver) and mixed doubles (2018, bronze). After capturing the British Open championship earlier this year, he became the first New Zealander to win the British Open title.
Prediction: In what should be another showdown between Farag and El Shorbagy for the title, the clash of titans winner will also crown who will be the 2022 world champion. Repeating in squash is a very difficult feat so look for El Shorbagy to win his second world title in 2022.
How To Bet on Squash Online?
When you are ready to place your bets on the 2022 Men's World Squash Championship, you won't find a better spot to do so than one of the best-rated sportsbooks (with all odds available) for any kind of competition listed here and below. Here, you will find a wide variety of betting lines for all events pertaining to the World Championship or any other squash event. You can find a plethora of these sportsbooks here too that suit your needs, in fact, check out our reviews here. Any one of these sites could instantly be your one-stop source for wagering on the various handball tournaments and finding the best bang for your buck. What's more, there is a ton of information regarding predictions and picks for other sports too that you can utilize for your wagers just like the article above.
There's another big reason why you should be using these sites to place bets — free money! For instance, if you're a new bettor, you could earn hundreds to thousands of dollars in free play through sign-up bonuses. The current deals available are detailed in the underneath table. Pick one and redeem it by clicking the "play now" button next to it. Make sure to do this now and your next sports bet could have even more free money coming your way!