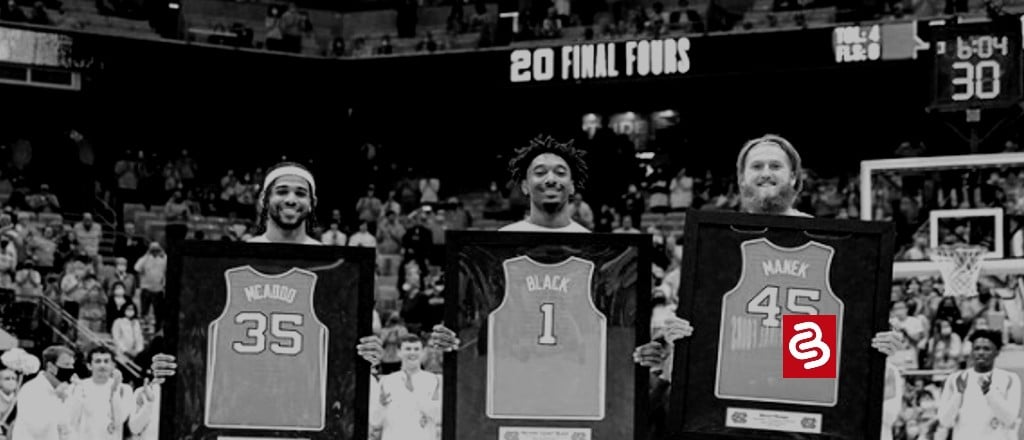 After a thrilling first two rounds of action in the NCAA Tournament, things are going to continue this week with the Sweet 16. Soon enough, the field will dwindle down to right, but there are some amazing matchups on the way. In this article, we have March Madness Picks for the Sweet 16, which includes North Carolina against UCLA. Will the Tar Heels record another upset?
UCLA is a slight favorite going up against UNC
Due to them holding a better seeding, it's no surprise UCLA is a slight favorite going up against UNC when they meet on Friday. The Bruins are in the middle of an impressive year, and they entered the tourney as a No. 4 seed. For North Carolina, they're the No. 8 seed and they're entering the matchup with UCLA with all the confidence in the world.
In case you missed it, North Carolina recorded a monster upset in the second round, as they took down No. 1 seed Baylor. In that contest, virtually everyone had picked the Bears to record a win. Countless people had Baylor reaching the Final Four and potentially winning the National Championship for the second consecutive season. UNC made sure that didn't happen.
"They were a No. 1 seed and they are absolutely unbelievable," UNC coach Hubert Davis said after the win. "And you just had two teams that were fighting and scratching and kicking and clawing on every pass, every rebound, every cut, every shot, every free-throw. And when that happens, at times, physicality happens. But it was a very competitive game, physical game, and two great teams played today."
According to the best rated Canadian sportsbooks, UCLA has been given 1.72 March Madness odds, while North Carolina has been set at 2.15. This one should be another close battle, but it's going to be tough for UCLA to handle the Tar Heels. We're going with UNC to keep things going with another upset. Agree? Check out our betting sites and place a wager.
Kansas will have its hands full against Providence
Also on Friday, Kansas will have its hands full against Providence. Kansas is the No. 1 seed for this one and Providence is No. 4. Despite that, don't think for a second that Providence won't be able to keep things tight. With the way North Carolina took down Baylor, that gives Providence hope that they can take down a top seed as well.
In the second round, Providence matched up against Richmond. People thought this would be a see-saw battle, but the opposite was the case. Providence went on to dominate Richmond with a 79-51 victory. Providence looked fantastic from start to finish in that victory, which has given them plenty of confidence with the Jayhawks up next.
"They're the blue bloods of all blue bloods," Providence coach Ed Cooley said of KU. "Coach Self is a Hall of Famer. Great players. Ochai Agbaji, he can play anywhere at any level. Dvid McCormack — we're learning more about them as we haven't had to study them. We haven't played them. The fact that we have an opportunity to play someone like that to survive and advance, the opportunity awaits itself.
Per the oddsmakers, Kansas holds the much better odds at 1.28. Providence is a big-time underdog at 3.80. Despite those odds, we think that Providence will keep things right and really make Kansas earn things the hard way. In the end, though, we're going to pick the Kansas Jayhawks to win a close contest and move on to the Elite Eight.
Miami should be able to beat Iowa State on Friday night
In another monster Sweet 16 game, Miami should be able to beat Iowa State on Friday night. The Hurricanes shocked everyone out there when they beat No. 2 Auburn in the second round. Similar to Baylor, a lot of people had Auburn potentially reaching the Final Four. Miami made sure to end their tournament much earlier than expected.
"Honestly, we have great respect for Bruce Pearl and the Auburn program," Miami coach Jim Larranaga said. "They've had a phenomenal year. I can't be happier for my guys. They did such a fantastic job of executing the game plan. Our defense is about pressure, keeping pressure on the opponent and trying to force turnovers. These guys did a fantastic job of doing that."
Larranaga and Co. will now shift their focus to a primetime game against Iowa State. The Cyclones themselves have impressed early on in the tournament and plenty of hoops fans think they can record an upset of Miami. This battle will also be great, and it will most definitely be must-see television. Who will come out on top?
Per the sportsbooks, Miami holds 1.71 odds to win this one, while Iowa State has been placed at 2.16. The Cyclones fans are hoping for an upset to be on the way, but we just don't see it happening. We're going with Miami to keep riding high and be the winner for this showdown. Miami will be moving on to the Elite Eight.