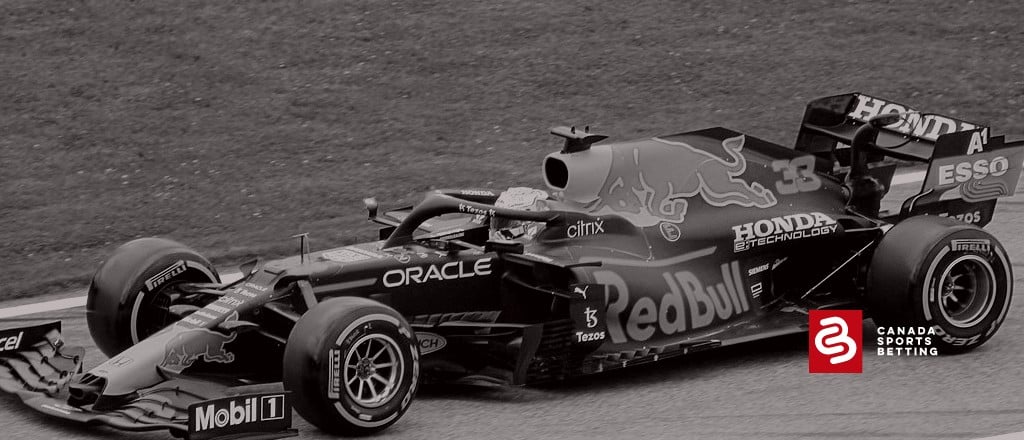 The wait is almost over, as this weekend we see the return of Formula 1, so here are our free 2022 Bahrain Grand Prix betting picks.
World Champion Max Verstappen gets his title defense underway this weekend when the Bahrain Grand Prix kicks off the 2022 Formula 1 season.
This season's championship is much anticipated after the dramatic end to the 2021 season which saw Verstappen pip rival Lewis Hamilton to the title in the last race of the season.
There has been plenty of fallout from what happened that night in Abu Dhabi, not least with race director Michael Masi losing his job over the incident.
That's all history now, and Bahrain is the start of the process to find out who will win this season's driver's championship.
The best Canadian sportsbooks have it down as a two-horse race between Verstappen and Hamilton, and there's little between them in the latest betting odds to win this year's title. Hamilton is favorite at 2.35, with Verstappen at 2.85.
How To Bet on Formula 1
The 2022 Formula 1 season starts this Sunday, March 20th, and runs until November 20th. There are 22 races in total.
Formula 1 futures bets are on the Driver's Championship, where Lewis Hamilton is the favorite, and on the Constructors Championship, where Hamilton's Mercedes team is the favorite.
For any F1 futures bets, I would recommend using one of the excellent new customer betting bonuses found on our sportsbooks reviews page. This avoids you having your money tied up for the next eight months, waiting for your bet to settle.
For the individual 22 races, you can bet on various markets like who will finish on pole position, who will finish on the podium (top 3), and you can bet on the race winner.
Bahrain Grand Prix Betting
In the race-winner betting, it appears to be first blood to Red Bull and Max Verstappen. The bookmakers have the Dutchman as their favorite to win the opening race.
Where; Bahrain International Circuit, Sakhir, Bahrain
When; Sunday, March 20th, 2022
Time; 11 am ET
Sports Interaction makes Verstappen their 2.79 favorites to take top position on the podium. Lewis Hamilton isn't too far behind at 3.08, and then it's Charles Leclerc at 6.65.
Leclerc's short odds highlight the belief that Ferrari has made major progress in their development and is regarded as being ahead of both Mercedes and Red Bull in their car development at this early stage of the season.
2022 Bahrain Betting Picks
As mentioned above, in the latest Formula One betting odds, Max Verstappen is the favorite to win the Bahrain Grand Prix when battle commences this weekend.
I find this odd when his Red Bull team has already been complaining to the FIA about the Mercedes car, stating it has an unfair design advantage that goes 'a step too far.'
This is concerning the much talked about Sidepods, and how Mercedes managed to seemingly gain an advantage in testing last weekend.
There is also the statistic that says that Lewis Hamilton has won here across the previous three years.
None of this is going to inspire any confidence in Red Bull and Verstappen, and it does make me think Hamilton could be the bet here.
At 3.08, Hamilton is a short price, but he does have a good record here. Although his winning run here will end one day!
I am making Hamilton my pick, but he is a lukewarm favorite for me. I would also only be betting on him using small stakes or one of the betting bonuses mentioned earlier.
Leclerc and Russell; The Value Picks?
It doesn't take a genius to predict a win for either Hamilton or Verstappen. Finding the value picks is where the skill is required.
At 6.65, I feel that Leclerc could be a good bet. His Ferrari team wrote off the back end of the 2021 season to start research and development for the 2022 season.
As a result, the Tifosi are expecting a better season for Leclerc, and this belief was further strengthened by a solid showing by both car and driver in the first testing session at Barcelona.
And what of George Russell? Well if Mercedes are performing well, the 11.00 available on Russell to win his first-ever F1 Grand Prix has to be tempting.
Although it probably feels like his Mercedes debut, it isn't. Russell stood in for Lewis Hamilton at the Sakhir Grand Prix in 2020, following a positive covid diagnosis for the champion.
Russell looked up to the job back then, and it will be interesting to see how he settles in at Mercedes, and if he can be the ideal teammate to Hamilton like Valtteri Bottas was. As opposed to Hamilton's previous Mercedes teammate, Nico Rosberg, who turned out to be a title rival, and had a frosty relationship with the Brit.
I suspect Russell's primary job will be to support Hamilton, but if he's performing and directly ahead of Verstappen on the circuit, he may be given the green light to go for it and take points off Hamilton's main rival.
It's also only a matter of time now until Russell wins his first-ever Grand Prix, so why not here?