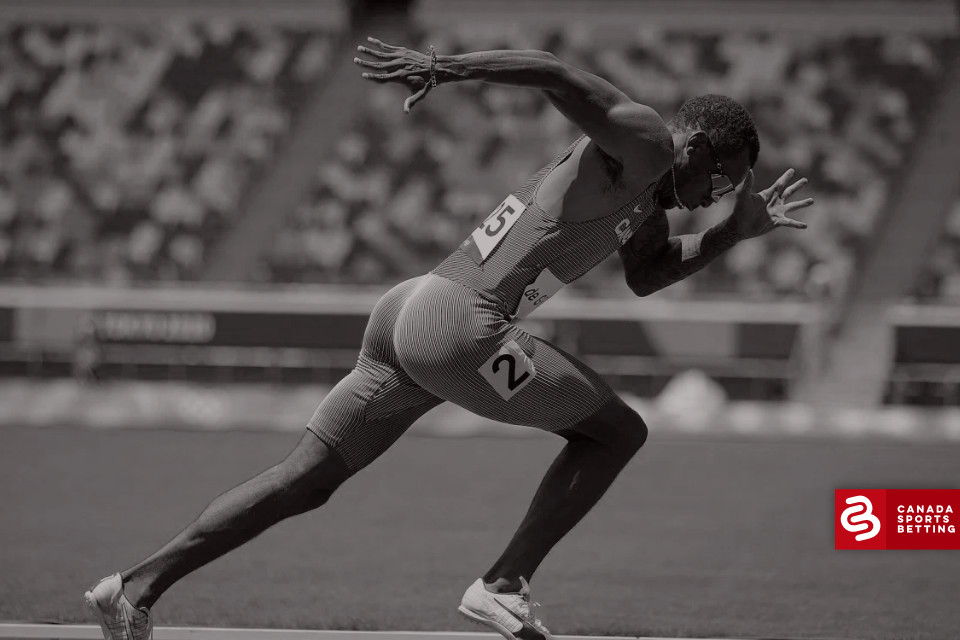 Canada's Andre DeGrasse is the 2.75 favourite in the Olympic odds to win the gold medal in the men's 200-metre final at the Tokyo Summer Olympic Games. DeGrasse won the silver medal at the 2016 Rio de Janeiro Summer Games. He's already won a bronze medal in the 100 metres at the Tokyo Games. Overall, he's won four Olympic medals so far during his career. His three medals in Rio were a Canadian Olympic track record.
Betting on the 200m Dash
Canada's Andre DeGrasse is favoured to win the Tokyo Summer Olympic Games men's 200-metre race on Wednesday, August 4
He ran a Canadian-record time of 19.73 seconds in the semifinals
DeGrasse is seeking his fifth Olympic track and field medal
Andre DeGrasse is what's best described in sports as a big-game player. When the biggest moments arrive, he's always on top of his game. Such has again been the case at the Tokyo Summer Olympic Games.
DeGrasse was considered to be outside of the medal contenders in the Olympic betting odds for the men's 100 metres. However, when the final was run, DeGrasse brought his A-game. He delivered his second straight Olympic bronze medal performance, finishing third in the race.
Oddsmakers are expecting DeGrasse to accomplish something in the Olympic men's 200 metres that he's never achieved at the Summer Games. DeGrasse is the 2.75 gold medal betting favourite in the race.
DeGrasse will be seeking his fifth Olympic medal when he goes to the starting line for the 200 metres. A medal-winning performance would extend his own record for medals won by a Canadian male track and field athlete at the Olympic Games.
Canadian Olympic Legend
De Grasse first came to international prominence when he won bronze medals in the 100 metres and the 4×100-metre relay at the 2015 World Athletics Championships in Beijing. He also won the bronze in the 100 metres and the silver in the 200 metres at the 2019 World Athletics Championships in Doha.
De Grasse is the first Canadian sprinter to win three medals in a single Olympics. His feat bettered the two medals in a single Olympics that were won by Canadian sprinters Donovan Bailey and Percy Williams.
He's seeking to become the first Canadian since Williams in 1928 to win the gold medal in the Olympic men's 200 metres.
DeGrasse Medal Props
If you're fairly certain that DeGrasse will come away with a medal from the 200 metres but aren't certain that it will be a golden moment for him, well there's a prop for that.
Bet99 is offering a top-three finisher prop wager on the men's 200 metres final. That means a wager on DeGrasse will pay off as long as he finishes the race in first, second or third place. DeGrasse is available in this prop offering at a betting line of 1.25.
If you want to place a wager on a Canadian at longer odds, there is also a betting line in this prop on Aaron Brown. He's the fifth betting choice in this market at odds of 5.50.
Men's 200 Metres Matchup Props
Another betting option available from Bet99 is a series of head-to-head matchup wagers on the men's 200-metre run. This bet pits two runners in the race against each other. Bettors opt to wager on one of the two runners offered in the prop.
Degrasse is set against American runner Noah Lyles. He's offered at odds of 1.833. Lyles can he had for a betting line of 1.909.
Brown is also available in a matchup prop. He is in the competition with Liberia's Joseph Fahnbulleh. Whichever runner you opt to play in this prop wager, the odds are an identical 1.87.
Where to Bet On The Tokyo Summer Olympic Games?
There are a number of leading online betting sites that will provide bettors with the chance to place a wager on the Tokyo Summer Olympics, whether it be a win total wager, a future book bet, a racing wager, or an event or athlete prop wager. The best bet you can make is to shop around in advance and seek out the right deal before joining one of these sportsbooks. Check out Sports Interaction and Bet99 as examples.
The signup bonus offers that are in place at all of these recommended sites will prove advantageous to the bettor. And since you'll get a good deal wherever you go, why not check out several sites and find the ideal fit for your needs?
Do you want a risk-free first bet as a signup bonus? Perhaps you find a no deposit bonus to be enticing. Or maybe you simply like the feel of cold, hard cash in your account and you want to go for a matching first deposit bonus. Whatever option you choose, you're already a winner.
Remember that new players and returning customers are eligible for better bonuses when they deposit using Bitcoin. As well, take advantage of the betting advice offered at these sites to help newcomers acclimatize to sports betting.
PowerPlay Special Offer
For every medal Canada wins, PowerPlay clients get a $5 free bet and 10 free spins. Check it out now by clicking here.
See below the top sportsbooks where you can wager online and choose the right one for you: