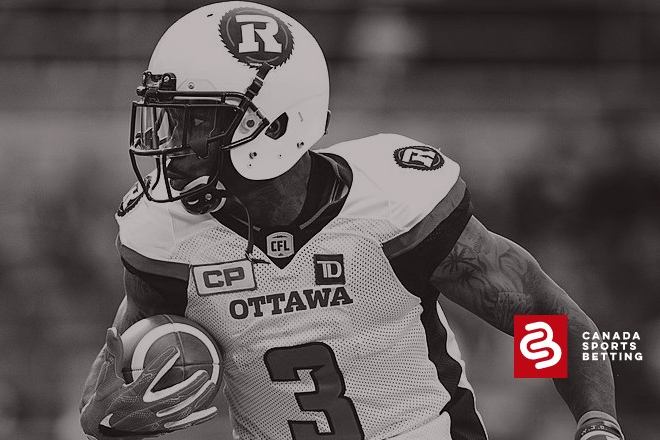 Week 10 of the CFL season is all about the pivotal East Division showdowns on Thanksgiving – which we focus on in our betting predictions this weekend.
It is Thanksgiving in Canada this weekend – meaning a full afternoon of football on Monday. For our Week 10 CFL betting predictions we preview both matches – featuring all four East Division teams duking it out on Thanksgiving Monday.
Ottawa Redblacks vs. Montreal Alouettes Betting Picks
In our first betting prediction of Week 10 of the CFL season, we cover who will win the 1:00 PM Monday duel between the Ottawa Redblacks and Montreal Alouettes.
The lowly Ottawa Redblacks sit last in the CFL this season. They lost to Toronto Argonauts to move to 2-6 this season – four points behind Hamilton for second in the East Division (and a guaranteed spot in the 2021 CFL Playoffs).
There is not much to like about Ottawa. Their rookie quarterback – Caleb Evans – followed up his three-touchdown debut against Edmonton with a three-interception performance against the Argonauts on Wednesday. Ottawa is also the only team entering the weekend to concede over 200 points this season (238 in eight games). Montreal's offence will run all over the Redblacks on Monday. Bet the Alouettes to win the game.
Ottawa Redblacks vs. Montreal Alouettes Over/Under Prediction
Our favourite bet this week is the over on the Alouettes and Redblacks game. The two clubs played in the highest-scoring game this season – combining for 80 points. Ottawa's defence is arguably the worst in the CFL this season. The Redblacks allow the yards (398.1) and points per game (29.75) this season. The unit struggling even more lately, with opponents topping 400 yards in four of their last six.
Montreal put up 471 yards in their Week 5 win against Ottawa. Montreal's defence was not much better, allowing a season-high 314 yards passing yards to Ottawa. Montreal's defence has allowed teams to score at least 27 points in five of their last six games. It is hard to put any faith in either team stopping each other on Monday. Bet on the over in this one.
Toronto Argonauts vs. Hamilton Tiger-Cats Winner Prediction
The final match of Week 10 is arguably the most important – with Hamilton sitting one win behind Toronto for first place in the East Division. The two teams split their first two meetings this season – with the home team winning both. So, is Toronto or Hamilton the better bet to win the rubber match?
Toronto looked good on Wednesday night, even if it was against the Ottawa Redblacks. Their quarterback – McLeod Bethel-Thompson – was efficient in the win, going 15/21 with 181 yards and two passing touchdowns. However, it was Toronto's defence and special teams that the big story – returning two picks and a punt for touchdowns.
While Hamilton is out of their early-season funk, they still are not close to playing at the level we expected from the preseason favourite to win the 2021 Grey Cup. The quarterback carousel continues in Steel City. Jeremiah Masoli returned to starting duties last week. While the results were better than the guy who tossed four picks on 66 passes to start the season, they were hardly anything to get excited about.
Hamilton's biggest advantages in this game are their defence (allowing the second-fewest points per game at 17.75) and home-field advantage. However, that does not feel like enough this time to overcome the disparity at quarterback between the Lake Ontario rivals.
Toronto Argonauts vs. Hamilton Tiger-Cats Over/Under Prediction
Whether it is Hamilton's offence playing poorly or their defence stepping up to make stops – no team this season is hitting the under more frequently than the Hamilton Tiger-Cats. Seven of eight Hamilton games this year have gone under the total. The only one that did not was their Labour Day showdown against the Toronto Argonauts.
Hamilton's offence is playing better now. After putting up 14 combined points in their first two games, the team has topped 23 points in four of their last six games. That stretch includes a season-high 32 points against the Argonauts.
Toronto's total has hit the over in five of their last six games. During that six-game stretch, Toronto and their opponents are averaging just over 48 points combined.
Offensively, the Argonauts play much differently on the road than they do at home. The Argonauts have hit 30 points or more in three of their four home games this season compared to only one game over 20 points on the road (a 23-20 win against Calgary). That game did feature McLeod Bethel-Thompson tossing a season-high 354 yards.
Overall, it is a close call on this game total. However, with Toronto's big-play capabilities the last few games and Hamilton putting up a season-high 32 points in their last home game against the Argos – we are betting one the over.
Best Online Sportsbooks to Bet on the CFL
Find the best online sportsbooks to bet on every CFL game below. Join through the links underneath for an exclusive welcome bonus, which you can use to bet on upcoming Canadian Football League games!