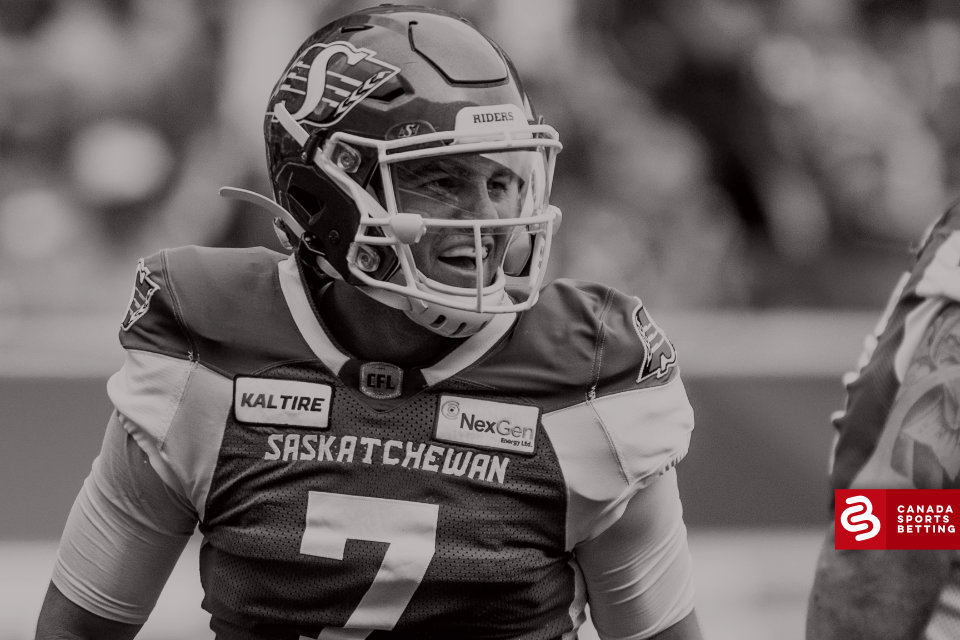 The list of past winners of the CFL's Most Outstanding Player reads like a who's-who of three-down football legends. Doug Flutie won the award a record six times. Anthony Calvillo was a three-time winner and Dieter Brock took it home twice. Future NFL Hall of Famer Warren Moon was also a CFL MOP before heading south. The odds on the 2021 contenders for the award include the past four winners.
CFL 2021 Most Outstanding Player Picks
Saskatchewan Roughriders quarterback Cody Fajardo is the 2.10 favourite to be the 2021 CFL Most Outstanding Player
Two-time winner Bo Levi Mitchell of the Calgary Stampeders is a co-second betting choice at 3.15
Edmonton Elks QB Mike Reilly, the CFL MOP in 2017, is listed at odds of 6.30
Cody Fajardo was the breakout star of the 2019 CFL season. He came off the bench to replace an injured Zach Collaros at quarterback in Week 1 of the CFL regular season and led the Saskatchewan Roughriders to a first-place finish and their best season since 1970.
Fajardo finished as the CFL's passing yardage and passing efficiency leader. He also impressed the oddsmakers along the way. Fajardo has been established as the 2.10 betting favourite to win the CFL Most Outstanding Player Award in 2021. Below you'll find the latest CFL betting odds.
There's plenty of familiar names who figure to challenge Fajardo for this honour. Two-time winner Bo Levi Mitchell of the Calgary Stampeders is the co-second betting choice at odds of 3.15. Reigning CFL MOP Brandon Banks of the Hamilton Tiger-Cats is at a betting line of 4.20. And CFL bettors can access odds of 6.30 on Edmonton Elks QB Mike Reilly. He was CFL MOP in 2017.
Fajardo The Favourite
In 2019, the Riders were Fajardo's third team in as many seasons. He was expected to ride the bench but found himself quickly pressed into action. And he delivered the goods.
Fajardo passed for 4,302 yards and a passer efficiency rating of 105.2, both league-leading totals. In fact, efficiency was the name of his game. Fajardo averaged 9.1 yards per completion and completed 71.5 percent of his passes. His interception percentage of 1.7 was the second-lowest among CFL QBs.
Saskatchewan finished atop the West Division with a 13-5 record. It was the first time the Riders topped the division since 2009. The 13 wins were the most posted by the team since a 14-2 campaign in 1970.
Mitchell Seeking Rebound
Mitchell earned his first CFL MOP while leading Calgary to a 2016 Grey Cup appearance. He added his second CFL MOP two years later as the Stampeders won the Grey Cup.
A pectoral injury cost Mitchell seven games during the 2019 campaign. He'd missed just one game during his first seven CFL seasons. Mitchell's been one of the starting QBs in four of the past six Grey Cup games. He's the only Stamps QB to start and win multiple Grey Cups.
Don't Bank On Banks
History and the odds are against Hamilton's Brandon Banks. Just three players have won consecutive CFL MOP honours since the award was introduced in 1953 and all were QBs. Flutie did it twice and Calvillo and Brock each once.
In fact, Banks was just the eighth wide receiver to win the award since its inception and only the second to do so since 1989. In 2019, the Tiger-Cats wideout led the CFL in receptions (113), receiving yards (1,550) and touchdown catches (13).
Betting On the Defense
As rare as it is for a receiver to snare the CFL MOP, the chances of a defensive player doing so are even more remote. In fact, until 2014, when BC Lions linebacker Solomon Elimimian won the honour, no defensive player had ever accomplished the feat. And none have done it since.
However, there are two defensive players who are prominent in the 2021 CFL MOP odds. Winnipeg Blue Bombers defensive lineman Willie Jefferson is the co-second betting choice with Mitchell at 3.15. Right behind them, Toronto Argonauts linebacker Henoc Muamba is given a betting line of 3.65.
In 2019, Muamba was second in the CFL with 93 tackles. He also forced two fumbles. Jefferson topped the league with six forced fumbles and was third with 12 QB sacks. 
Where to Bet On The CFL?
There are a number of leading online betting sites that will provide bettors with the chance to place a wager on the CFL, whether it be a moneyline or point spread wager, a future book bet, a parlay wager, or a player or team prop wager. The best bet you can make is to shop around in advance and seek out the right deal before joining one of these sportsbooks. Check out Sports Interaction and Bet99 as examples.
The signup bonus offers that are in place at all of these recommended sites will prove advantageous to the bettor. And since you'll get a good deal wherever you go, why not check out several sites and find the ideal fit for your needs?
Do you want a risk-free first bet as a signup bonus? Perhaps you find a no deposit bonus to be enticing. Or maybe you simply like the feel of cold, hard cash in your account and you want to go for a matching first deposit bonus. Whatever option you choose, you're already a winner.
Remember that new players and returning customers are eligible for better bonuses when they deposit using Bitcoin. As well, take advantage of the CFL betting advice offered at these sites to help newcomers acclimatize to sports betting.
See below the top sportsbooks where you can wager online and choose the right one for you: