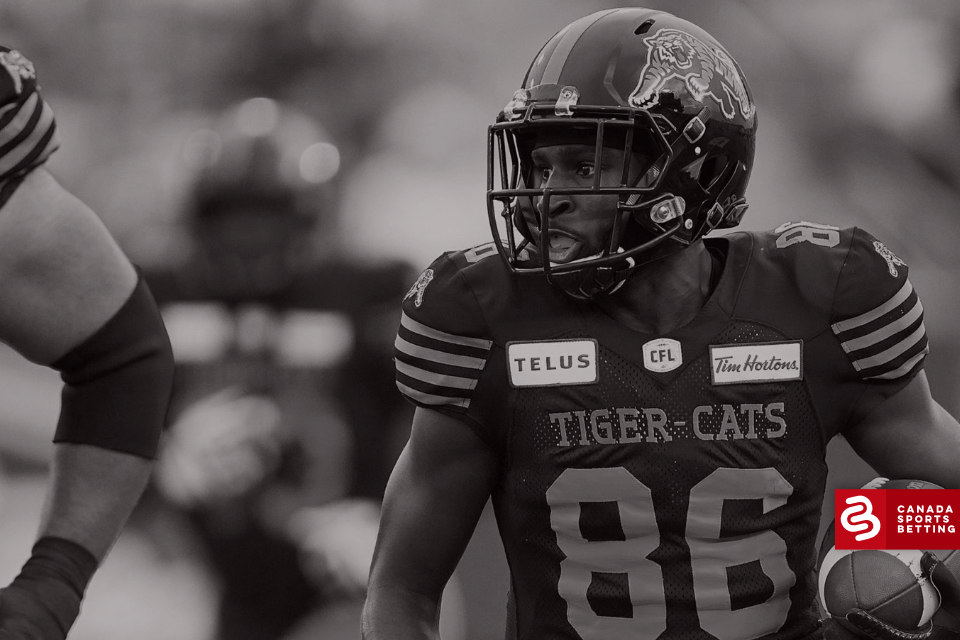 Simoni Lawrence of the Hamilton Tiger-Cats is the 1.70 betting favourite to win the 2021 CFL Most Outstanding Defensive Player Award. Winnipeg's Willie Jefferson, who won the award in 2019, is the second choice in the opening line betting odds. Winnipeg players have won this award in each of the past two CFL seasons. An East Division player hasn't won the CFL Most Outstanding Defensive Player Award since the 2013 season.
CFL Most Outstanding Defensive Player 2021 Predictions
Hamilton Tiger-Cats linebacker Simoni Lawrence is the 1.70 favourite to be named CFL Most Outstanding Defensive Player in 2021
The last six CFL seasons, this award was split between players from the Winnipeg Blue Bombers (twice) and B.C. Lions (four times)
The CFL MODP hasn't gone to a player from the East Division since 2013
Two of the top three contenders for the CFL Most Outstanding Defensive Player Award are linebackers. That's not the least bit surprising. Linebackers have captured this honour in seven of the past eight seasons and 24 times overall since it was first presented in 1974.
The other contender among the top three is the only non-linebacker to win the award since 2012. That would be Winnipeg Blue Bombers defensive end Willie Jefferson. He was CFL MODP in 2019, the previous year in which there was a CFL season. The 2020 campaign was wiped out by the COVID-19 pandemic.
Jefferson of the reigning Grey Cup champion Bombers is the only player upon which there are being odds offered who's won the award in a prior season. Five players have won the CFL MODP in successive seasons and the last player to do so like Jefferson, was a defensive end. That was Cameron Wake of the B.C. Lions in 2007-08.
However, it's Hamilton Tiger-Cats linebacker Simoni Lawrence who is being pegged as the 2021 betting favourite to carry of CFL MODP honours. He's the 1.70 betting choice. If he does so, he'll end a drought. No player from one of the CFL's East Division teams has won the award since Montreal Alouettes linebacker Chip Cox in 2013.
Sizing Up The Chalk
Lawrence was a dominant force for the CFL's best defense in 2019. The linebacker was second in the league with 98 tackles. He also picked off three passes and sacked the quarterback four times.
The last Hamilton player to be CFL MODP was linebacker Markeith Knowlton in 2010.
Jefferson A Big Play Type
Awards voters tend to cast their ballots for flashy players rather than steady defenders. That's why an interior defensive lineman hasn't won the CFL MODP since Calgary Stampeders defensive tackle Joe Fleming in 2003.
Jefferson is the type of defensive player who turns heads. In 2019, he led the CFL with six forced fumbles and was third overall with 12 sacks.
Muamba A Disruptive Presence
Moving to the Toronto Argonauts from Montreal, Henoc Muamba is a force to be reckoned with. He was fourth in the CFL in 2019 with 93 tackles.
Playing at middle linebacker, he's always in the thick of the action. He forced two fumbles and collected a sack.
Hughes A QB Hunter
Another newcomer to Toronto, in 2019 with the Saskatchewan Roughriders, defensive end Charleston Hughes assembled a league-leading 16 sacks in 17 games during the 2019 season. He also forced four fumbles and scored a touchdown.
The 37-year-old veteran is a six-time CFL All-Star selection.
Lee Facing Long Odds
On paper, B.C. Lions defensive back T.J. Lee is listed at a betting line of 5.25 to be named the CFL's MOPD in 2021. In reality, he faces much longer odds than that.
In the 45 times that this award has been presented, just once has it honoured a DB – Winnipeg's Jovon Johnson in 2011.
Where to Bet On The CFL?
There are a number of leading online betting sites that will provide bettors with the chance to place a wager on the CFL, whether it be a moneyline or point spread wager, a future book bet, a parlay wager, or a player or team prop wager. The best bet you can make is to shop around in advance and seek out the right deal before joining one of these sportsbooks. Check out Sports Interaction and Bet99 as examples.
The signup bonus offers that are in place at all of these recommended sites will prove advantageous to the bettor. And since you'll get a good deal wherever you go, why not check out several sites and find the ideal fit for your needs?
Do you want a risk-free first bet as a signup bonus? Perhaps you find a no deposit bonus to be enticing. Or maybe you simply like the feel of cold, hard cash in your account and you want to go for a matching first deposit bonus. Whatever option you choose, you're already a winner.
Remember that new players and returning customers are eligible for better bonuses when they deposit using Bitcoin. As well, take advantage of the CFL betting advice offered at these sites to help newcomers acclimatize to sports betting.
See below the top sportsbooks where you can wager online and choose the right one for you: