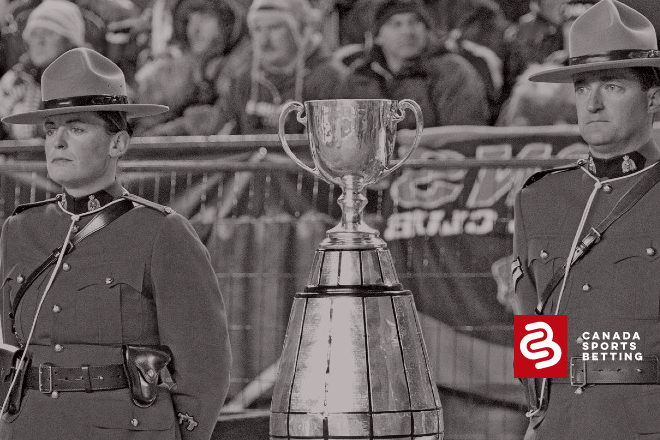 At long last, we have made it back to the Grey Cup as the Canadian Football League's ultimate prize awaits. Playing for the 108th edition of the championship is the Winnipeg Blue Bombers and the Hamilton Tiger-Cats, the latter who hosts this game. This will also be a rematch of 2019, which Winnipeg dominated despite being the underdog.
With this in mind, we preview the latest Grey Cup odds this 2021. Find the moneyline, point spread, and over/unders in this table as we break down the best prop bets for each team. 
Date/Time: Sun, Dec. 12, 6:00 PM ET
Location: Tim Hortons Field, Hamilton, ON, Canada
Network: TSN, ESPN+ (United States)
108th Grey Cup Props: Betting Winnipeg or Hamilton
Winnipeg may have owned Hamilton the last time these teams met, but we can expect a much closer game this time. The Bombers did not have their best performance against Saskatchewan but still won while the Tiger-Cats have been the best CFL team in the last two months.
What edge does each team bring to this championship game? Let's look at the best props available with these 2021 CFL football betting odds:
Winnipeg Blue Bombers Props: Smashmouth Football
How did Winnipeg beat Saskatchewan despite turning the ball over five times in the first half? Two answers: a) Andrew Harris; and b) the defence. This has been Winnipeg's bread-and-butter and it will be here. Winnipeg has allowed just 13.7 points all season.
The Bombers' defence, which ranks first in almost every major category, will find a way to stall the Tiger-Cats. However, Winnipeg's offence has not been at its best and has averaged just 15.7 points in their last three outings. Zach Collaros was visibly rusty against Saskatchewan.
With Hamilton also peaking defensively, allowing just 11.3 points in its last three, we can expect a low-scoring and grind-out affair from the get-go. These teams' previous games totalled an average of 14.5 points in their first half. Bet on the under 21.5 points to start this game.
Winnipeg has been dominant for most of the season, but it has been vulnerable lately. The Bombers edged Saskatchewan but missed its 8.5-point spread. The team has dropped four straight spreads and is just 4-3-1 for the season as a road team.
With a 3.5-point spread, there is decent value to bet the Bombers to beat the "Ticats" by four or more points. However, this will be a one-score game, especially with Collaros struggling. Winnipeg will turn to Harris, who has returned with a vengeance. 
Winnipeg rushed for 149 yards in its season opener against Hamilton. It won 19-6. While the Bombers can replicate this game plan, the Tiger-Cats are much improved and healthier. There is sizable value in betting on Winnipeg to win by less than a touchdown.
Hamilton Tiger-Cats Props: Starting Fast
Winnipeg wasn't the only team to overcome a slow start. The Tiger-Cats had to get over a 12-0 deficit in the first half to edge their archrivals, the Toronto Argonauts. Coach Orlondo Steinauer swapped quarterback Jeremiah Masoli for Dane Evans, which proved to be a shrewd move as the QB would throw a complete 16-of-16 and score three touchdowns to lead the comeback.
Evans will return to start for Hamilton, which needs to start fast against Winnipeg. The Bombers' strength is their defence and running game so putting the onus on Winnipeg to rely on Collaros could help the Ticats' defence, which tied for the most interceptions with 17 in the regular season.
Hamilton is 6-2 at home and has averaged a +12.5 point differential. The Ticats should be able to hold the Bombers scoreless to start the game, at least until they punch in their first points. Bet on Hamilton to go up first.
The Ticats will not only score first but enter the second-half with a lead. It may not be a big lead, but Hamilton's more productive offence should move the chains and put points more than Winnipeg's does. The Tiger-Cats are also allowing the fewest rushing yards in the CFL.
If they can impede Harris, it will force Winnipeg to throw more, which plays right into their defence's hands. The consensus is that Winnipeg will not turn the ball over five times in the half again. But they don't have to. Hamilton will pick off Collaros at least once and force a few more turnovers to go up on Winnipeg.
And on offence, Evans and the "Tabbies" are ranked first in the NFL in first-quarter scoring and second in second the second quarter. At a slightly better payout than their full game moneyline, betting on Hamilton to win the first half is key.  
Best Online Sportsbooks to Bet on the CFL Grey Cup
Check out our Sports Interaction sportsbook review to learn more on how you can bet on the CFL and the Grey Cup. You can also avail of deposit bonuses and other promotions. But also be sure to review the other top sports betting sites for Canadians here.