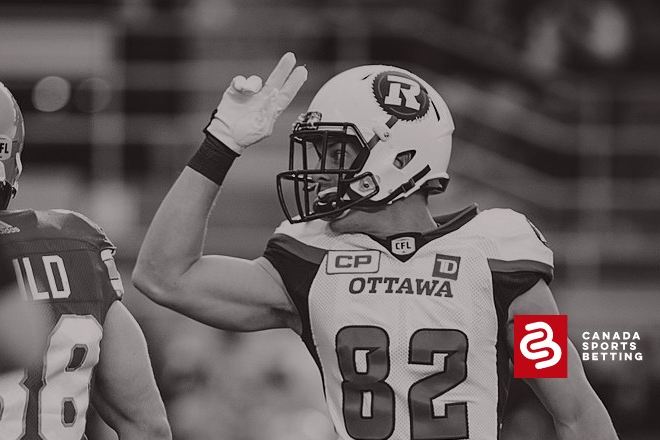 Get ready for Week 11 of the CFL season with our betting preview and predictions.
Can Edmonton put up a better effort in Week 11 against Winnipeg? Will Montreal improve to 3-0 this season against the last-place Ottawa Redblacks? Will the battle between BC and Calgary be a battle of the defences or feature some fireworks? Find out in our CFL Week 11 betting preview.
Winnipeg Blue Bombers vs. Edmonton Elks Betting Predictions
The Winnipeg Blue Bombers travels to Edmonton for a rematch of Week 10 against the Edmonton Elks. The Elks were thoroughly embarrassed against Winnipeg, losing 30-3. Edmonton is making the switch at quarterback in week 11 – with veteran Trevor Harris moving to the bench in favour of Taylor Cornelius.
It is hard to see the move helping Edmonton win in Week 11. Cornelius is a rookie and is playing like one. He has twice as many interceptions this season (six) to passing touchdowns (three).
Edmonton's struggles passing the ball allow teams to zero in on running back James Wilder Jr. (who is their best offensive player this season). Edmonton is also running the ball less – as they are trailing in most games (giving up at least 30 points in four straight).
Winnipeg is the best team in the CFL. They are complete and competitive. We saw it last week when they took away Edmonton's best player and forced them to pass. It failed Edmonton last week. It is hard to see them employing a strategy – with their personnel – that will change the end result this week, even if they can make it a closer contest this Friday.
Montreal Alouettes vs. Ottawa Redblacks Betting Predictions
Ottawa and Montreal surprised many last week when they duelled in a low-scoring defensive battle on Thanksgiving Monday. Montreal managed to win the game, thanks to a touchdown from Cameron Artis-Payne with only 42 seconds left.
Ottawa's defence looked much better in Week 10 compared to their first meeting against the Als in Week 5. Montreal put up 471 yards in 51 points in the first meeting – but was met with much more resistance last week and barely could score 20 points.
Montreal still ran the ball well against the Redblacks – which remains Ottawa's Achilles heel this season. It limits Ottawa's chances on offence, which is why they are averaging the fewest points in the Canadian Football League this season (17.00).
Ottawa covered the 9.5 points on the road last week – and nearly won the game. But they are erratic this season. They will go from winning as +8.0 underdogs to losing by three touchdowns in the span of a week. It is hard to put faith in them – especially with Montreal playing well this season and surprising most with their balanced offence and better than average defence.
Calgary Stampeders vs. BC Lions Betting Predictions
Just two weeks ago, Calgary looked dead in the water. However, they are coming off consecutive wins against Saskatchewan and are now only half of a game behind the BC Lions for a spot in the playoffs. The BC Lions are coming off a much-needed bye week – after losing two straight to fall to 4-4 on the season.
The Lions won the first meeting this season 15-9. The Stampeders clamped down in the red zone, allowing only 15 points despite the Lions picking up 439 yards.
Of the three games in Week 11 – this game feels the most difficult to predict the outcome. The teams both average 269 passing yards per game. Calgary's defence is more efficient, while the Lions are scoring more points and have the better point differential (0.22 for Calgary, 2.75 for the Lions).
The best bet on this game is the over. These teams are playing at a high percentage of unders this season – which means the line is opening lower. BC is 14-4 on the under dating back to 2019, while Calgary has four unders on their last five road games.
It is a very high rate of the under hitting – and eventually, the bookmakers will adjust the CFL betting lines to reflect it. It is probably moving a little slower this year due to the lack of the 2020 season but this week feels like they have it right.
Best Online Sportsbooks to Bet on the CFL
Find the best online sportsbooks to bet on the Canadian Football League below. New users who join through the links underneath can receive an exclusive welcome bonus, which you can use to bet on Week 11 of the CFL season.