How Does Yahoo Fantasy Work?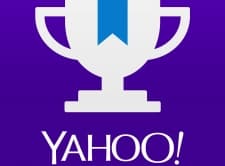 Internet darlings, just hours prior to the new millennium, the price of Yahoo on the NASDAQ market hit an all-time high of $108.17 on December 31, 1999. While the overall company has seen their share of bumps in the road, the Yahoo fantasy sports platform is quite extensive as it is home to season-long, weekly and daily fantasy sports contests. As long term industry players – let's review how the Yahoo Fantasy website works.
Yahoo Fantasy Login
It is only fair to advise our readers that, at the time of writing, Yahoo is recovering from a major cyber breach and their $4.83 billion acquisition by Verizon Communications is being renegotiated. Though business as usual, as is the case with the FanDuel – DraftKings merger, the Yahoo fantasy platform may see radical changes in 2017. We'll keep posted as things play out. In the meantime, Yahoo remains as a major player on the season long, weekly and daily fantasy sports landscape.
Like it's been since they first hosted full season drafts, almost two decades ago, Yahoo fantasy login is quick and easy. For bettors who are not a Yahoo member, registration requires a simple seven answer sign up process that every sports handicapper has filled out at some point previously. Once registered and logged in, players can fund their bankroll with the big four credit card options or PayPal. We found each step, from registration to account funding, to be a very seamless process.
Yahoo Fantasy App
Whether playing NFL, NBA, NHL, MLB action, or one of many soccer offerings, logging in with the Yahoo fantasy app takes players directly to the games lobby – no clutter – just contests. From there, bettors click on the sport they are interested in and a list of contests, that is often too numerous to count, appears. We found it somewhat annoying that the same "Let's get started" and "Build your Lineup" messages appear each time we entered a contest but two simple clicks gets rid of them.
We performed this review just prior to Week 17 of the 2016 NFL season and we were slightly put off by the fact that some players, who had no chance of playing, were ranked high on the player selection lists. That included WR Antonio Brown and RB Le'Veon Bell who topped their respective lists even though they were listed as OUT for their contest vs Cleveland. Buyer beware eh? That said, the Yahoo games list is impressive, contests are heavily populated and Android, BlackBerry and iOS (iPad, iPod Touch, iPhone) devices can all be used to access the Yahoo daily fantasy sports app.
Yahoo Fantasy Tips
If you plan on doing your daily fantasy research directly at the Yahoo website, be prepared for a video overload as they appear on just about every page. While it is a personal opinion, we would rather poke forks into our forehead than listen to the Yahoo fantasy "experts". Once we pause the videos though, an extensive list appears and each player has a "player card" beside their name so bettors can quickly and easily see their recent trends. We do advise that players watch where they click though as some links open a new window that connects players to other outside websites.
As is the case with most daily fantasy websites, up to date player info can be found right on the contest pages. This is a preferred research option as it allows bettors to preview each players recent and season long history before adding them to their squad. As always, performing proper player assessments and playing within a budget are our top two Yahoo fantasy tips. Adding a third, we suggest taking the contrarian route from time by staying away from high priced superstars and digging a little deeper to uncover lessor drafted players who may be diamonds in the rough.
Yahoo Fantasy Bottom Line: All levels of experience participate at this daily fantasy website.