How Does FantasyDraft Work?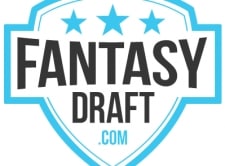 Advertised as "Where The Pros Play" due to their partnership with athletes such as New Orleans Saints QB Drew Brees and Los Angeles Dodgers stud Clayton Kershaw, FantasyDraft arrived on the fantasy sports scene in December 2014. FantasyDraft offers action for beginner, intermediate and experienced players alike. A couple rungs below the industry heavyweights, let's have a look at how FantasyDraft works.
FantasyDraft Login
With a North American Big Four and golf focus, FantasyDraft offers daily and weekly contests on the NFL, NHL, MLB and NBA games, plus PGA golf tournaments. Registration at FantasyDraft was a smooth experience as we filled in a seven question sign up form and received a "Registration Success" email just seconds after hitting the blue SIGN UP button. We like the "Remember Me" FantasyDraft logon feature as a click on a reCAPTCHA button sends players directly to the contest main page that is packed with action. Getting into the game is quick and easy at FantasyDraft.
FantasyDraft App
Advised that it is in a developmental stage, thanks to a very quick reply from customer service, the FantasyDraft group does not offer a App at this time. We were informed that an App is currently in BETA testing and should be released in the near future. That said, whether you are playing from a computer, phone, or tablet, access to the FantasyDraft website is quick and seamless. After we registered with our Apple laptop computer, wanting to get in on some of the thrilling NFL 2017 playoff action, we switched over to an iPad to safely fund our bankroll with an initial deposit.
Deposit limits at FantasyDraft are set at a $10 minimum and a $600 maximum per transaction. The minimum is a little more than the $5.00 we paid at DraftKings but it is still reasonable for any budget. Account funding, depending on where players reside, is available with major credits cards and PayPal. We found it interesting (strange) that credit card transactions need to flow through a PayPal account in order to complete them. We decided to skip the middleman and went directly to PayPal to fund bankroll. The process was very quick and the funds were in our account in seconds.
FantasyDraft Tips
Similar advice, to keep in mind at any fantasy sports site, our FantasyDraft tips include paying close attention to the scoring system being used. While we were doing our research for this review, the Green Bay vs Dallas contest was turning into a scoring bonanza. Due to the point system, of the winner take all contest we entered, we paid a little more attention to the running backs and wide receivers than we did to the quarterbacks. At halftime of the Packers vs Cowboys contest, with QB Aaron Rodgers & Co. up 21-13, WR Dez Bryant is the top scorer and RB Ty Montgomery is second.
We also decided to stray off what we figured would be the very beaten running path and selected Montgomery over Ezekiel Elliott. The dough we saved on Elliott ($6,100) allowed us to stack QB Ben Roethlisberger, RB Le'Veon Bell and WR Antonio Brown for the Pittsburgh vs Kansas City clash. At the time of publishing (15/01/17) we don't know the results but we like the Steelers terrific trio at Arrowhead Stadium during their NFL Divisional Playoff match against the Chiefs. Once you have selected your Fantasy teams, look to our top rated sportsbooks and used your knowledge to bet on the games. The list above contains the best of the best bookmakers available online today.
FantasyDraft Bottom Line: This is a nice mid-size addition to the Fantasy Sports landscape.