Going super fast for a really long time, while making a ton of left hand turns, is not everyone's idea of a good time. However, for the fantasy NASCAR betting fans – it's the only way to roll. From the Daytona 500 in February, which is the start of the NASCAR season, to final battle of the ten-race Sprint Cup Chase For The Cup in November, NASCAR has a place in the wallets of fantasy players and online handicappers alike.
---
Fantasy NASCAR Sign In
Just as racing is easy to understand, go fast, don't crash, and reach the finish line before the rest of the pack, Fantasy NASCAR sign in is just as simple. Surf over to a NASCAR fantasy site, like racing royalty DraftKings, open a betting account and you're off to the races. Remember, top rated online sportsbooks have NASCAR fans cover from the green flag to the checkered flag all season as well.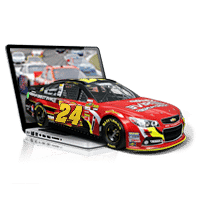 Daytona 500 NASCAR Fantasy Auto Racing
Respectfully known as the Great American Race, the Daytona 500 was first run on February 22, 1959, the same year that Daytona International Speedway in Daytona Beach, FL, opened. There are a couple tune-up races in early February, prior to the running of Super Bowl of Stock Car Racing, but the Daytona 500 is recognized as the official opening of the annual stock car season. Fantasy contests, as well as online betting options, are always plentiful for NASCAR's most prestigious event.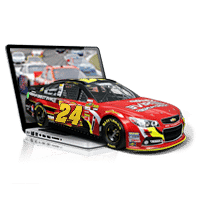 Brickyard 400 NASCAR Fantasy Auto Racing
Raced at the one of the most famous tracks on the planet, the Indianapolis Motor Speedway in Speedway, IN, the Brickyard 400 is a younger event on the NASCAR slate. This sprint boosts the second largest NASCAR purse – behind the Daytona 500. Jeff Gordon won the inaugural Brickyard 400, on August 6, 1994, and then the Rainbow Warrior Crew followed that up four more victories. Through the 2016 season, Gordon's five checkered flags are still the most in Brickyard 400 history.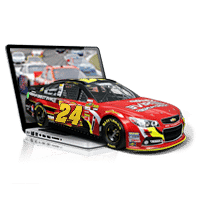 AAA Texas 500 NASCAR Fantasy Auto Racing
Another NASCAR youngster, the first green flag dropped on AAA Texas 500 back on November 6, 2005, on the Texas Motor Speedway asphalt in Fort Worth, TX. Sponsored by the American Automobile Association, auto racing legend Jimmie Johnson won five of the first eleven races and four straight from 2012 through 2015. NASCAR fantasy fans, along with online sports bettors everywhere, have made a ton of dough when "Superman" climbs into car #48 for the Texas 500.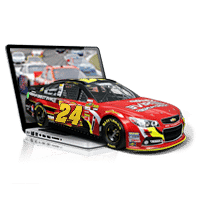 Coca-Cola 600 NASCAR Fantasy Auto Racing
Raced 600 miles at Charlotte Motor Speedway in Concord, NC, and complete only after the winner has made 1,600 left hand turns, the inaugural Coca-Cola 600 was contested in 1960. As the longest race on the NASCAR circuit, the Coca-Cola 600 often begins under brilliant sunshine, heads into twilight about 200 miles in, and then finishes under the Charlotte Speedway lights. Contested every US Memorial Day weekend, fantasy players and online sports bettors alike love this marathon.
Fantasy NASCAR Draft Strategy
Auto racing, whether it's NASCAR or Formula One, has been on a bumpy road in the world of fantasy sports betting. So rough in fact that FanDuel doesn't even offer auto racing on their fantasy menu. FanDuel CEO Nigel Eccles recently stated, "NASCAR doesn't provide a lot of stats that you could construct a fantasy game around, and so any game quickly resembles sports betting. Unless that changes I can't see us offering fantasy NASCAR." Knowing that, and since the line between fantasy games and sports betting is a fine one, our number one fantasy NASCAR draft strategy is to make sure the laws in your jurisdiction recognize NASCAR as a legal fantasy sports entity. So, that basically leaves DraftKings as racetrack royalty when it comes to NASCAR fantasy contests. Being as DraftKings views NASCAR as a legit fantasy sport – our second NASCAR draft strategy is to get your auto-racing fantasy fix at DraftKings who offer contests on every race throughout the season.
While it's important to understand, enough of the legal mumbo-jumbo already – let's discuss the exciting world of fantasy stock car racing shall we? Similar to Fantasy Golf DraftKings offer a very simple and straightforward NASCAR fantasy playing platform. Players draft five drivers, using a $50,000 salary cap, and the average cost is $10K per driver. That said, a racing stud like Kyle Busch, who won the 2015 and 2016 Brickyard 400, is going to cost you more than the "average" driver. Points are awarded for finishing positions, from 46 points for winning a race, all the way down to one point that's given for a 43rd place finish. Additional plus/minus points are doled out for Place Differential (the difference between the drivers starting and finishing positions) plus Lap Leads and the Fastest Laps. In NASCAR fantasy wagering, starting positions matter a lot, as does a drivers racetrack history and whether they enter the race on a hot or cold streak. Take all those factors into account to construct as winning NASCAR fantasy racing team. The research is easy – Just do it.
NASCAR Online Betting
Free of any legal tangles, bookmakers in Las Vegas and the United Kingdom have been posting auto-racing odds for decades. Top rated online sportsbook added a National Association for Stock Car Auto Racing wagering component to their betting boards at the same time as they launched on the internet. Bet99 is a prime example of that as they offer a wide variety of NASCAR wagering options. From futures markets, where bettors predict the outright winner of the Sprint Cup Series, to who will win and who will finish second in individual races, to prop bets like head-to-head driver wagering, there is never a shortage of wagering lines during the 36-race NASCAR season. Motor sports contests are very simple to understand from a betting options and odds standpoint.
Sprint Cup futures bets, which need to be placed prior to the Daytona 500 each year, are exactly the same as selecting who will win the NFL Super Bowl or NHL Stanley Cup. The individual race winner and runner-up odds are normally posted in a money line format and they can also be used in each-way parlays. NASCAR head-to-head prop bets pit one driver against another and whoever finishes the race in the higher position is the wager winner. It's all easy peasy as well as being secure and safe. Just as it is when registering and funding a personal betting account at bet99 our any of the trusted bookmakers we recommend here at Canada Sports Betting. Entry to NASCAR's Victory Lane is just a few simple steps away so rev up your engine and race down the chute to bet99.