The UFC odds for each main card and undercard fight have officially been released ahead of UFC 262.
This pay-per-view event is set to take place on Saturday, May 15th at the Toyota Center in Houston, Texas. The night will be headlined by the Lightweight Title Bout between Charles Oliveira and Michael Chandler.
The odds for UFC 262 are available below at the best UFC betting sites and were last updated on April 14, 2021:
| 1st Fighter | | | 2nd Fighter |
| --- | --- | --- | --- |
| Charles Oliveira | 1.73 | 2.10 | Michael Chandler |
| Tony Ferguson | 2.37 | 1.57 | Beneil Dariush |
| Katlyn Chookagian | 1.67 | 2.20 | Viviane Araujo |
| Shane Burgos | 1.67 | 2.20 | Edson Barboza |
This should be a very exciting card. Be sure to clear your Saturday night so you don't miss a thing! While you're taking in the action, why not spice things up a bit with a wager or two?
Our in-house MMA betting experts are eager to share their picks, so let's dive right into it.
But before we do, we'd like to issue a friendly reminder to ALWAYS check UFC news as often as you can leading up to the cards.
Precautionary measures do not eliminate the possibility of illness or injury, especially in wake of COVID-19. Better safe than sorry.
Click here to see a schedule detailing UFC 262, and other upcoming UFC events.
UFC 262 Picks & Predictions
Let's kick things off by taking a quick look at ALL of the scheduled fights for UFC 262. Remember, this fight schedule will be accurate when this article is released but news changes early and often. Visiting the UFC's Twitter page is a good way to stay up-to-date.
UFC 262: Scheduled Fights
Main Card Fights:
Charles Oliveira (29-8-0, 1 NC) vs. Michael Chandler (22-5-0)
Leon Edwards (18-3-1) vs. Nate Diaz (20-12-0)
Tony Ferguson (26-4-0) vs. Beneil Dariush (20-4-1)
Katlyn Chookagian (14-4-0) vs. Viviane Araujo (10-2-0)
Shane Burgos (13-2-0) vs. Edson Barboza (21-9-0)
Prelims:
Jacare Souza (26-8-0, 1 NC) vs. Andre Muniz (20-4-0)
Jack Hermansson (21-6-0) vs. Edmen Shahbazyan (11-1-0)
Alex Perez (24-6-0) vs. Matt Schnell (15-5-0)
Andrea Lee (11-5-0) vs. Antonina Shevchenko (8-2-0)
Early Prelims:
Lando Vannata (11-5-2) vs. Mike Grundy (12-2-0)
Jordan Wright (11-0-0, 1 NC) vs. Jamie Pickett (11-4-0)
Rafael Alves (19-9-0) vs. Damir Ismagulov (18-2-0)
Gina Mazany (7-4-0) vs. Priscila Cachoeira (9-3-0)
Kevin Aguilar (17-4-0) vs. Tucker Lutz (2-0-0)
Joel Alvarez (17-2-0) vs. Christos Giagos (17-8-0)
Charles Oliveira (1.72) vs. Michael Chandler (2.10)
The main event, Charles Oliveira vs. Michael Chandler, is the only title fight scheduled for this card.
The UFC Lightweight Championship title, previously held by Khabib Nurmagomedov (who retired on October 24th, 2020), was officially vacated as of March 19th, 2021. Both fighters will surely be at the top of their game given what's at stake.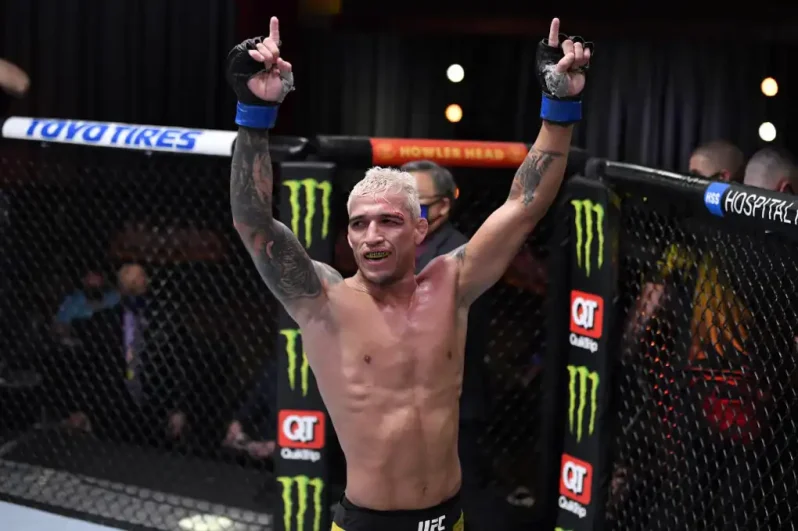 Oliveira enters as the favourite, given his track record of success. He currently holds quite a few UFC records including most submission wins (14). This comes as no surprise given his ability to execute some of his signature chokehold moves including the guillotine choke and the rear-naked choke.
He also hasn't lost a UFC fight in over three years with his last loss occurring against Paul Felder at UFC 218 (December 2nd, 2017). Oliveria can also boast 10 'Performance of the Night' honours which is, as you've probably guessed, another UFC record.
On the other side of the ring stands Chandler, who is still relatively new to the UFC scene after competing in Bellator MMA events for just over a decade.
In fact, Chandler's only UFC fight to date was against Dan Hooker at UFC 257 back on January 24th of this year. He only needed two minutes and thirty seconds to win via TKO (punches), earning him 'Performance of the Night honours.
Interestingly enough, Chandler has never lost a fight via submission. Three of his losses came via TKO, while the other two came down to a split decision. Chandler may be new to the UFC, but he's not new to winning.
Oliveira has only won five fights via TKO throughout his career, with four of those bouts occurring in 2008 or earlier. So it's been a while. He certainly isn't incapable, but it seems like his best path to victory.
One thing seems certain—this fight is unlikely to go the distance. It should be a close one in every regard, but take Charles Oliveira to win the fight.
Katlyn Chookagian (1.66) vs. Viviane Araujo (2.10)
This Flyweight Bout between Katlyn Chookagian and Viviane Araujo, two fighters hungry to make an impact at Flyweight.
Chookagian opens as the favourite which makes sense given that she's currently #2 in the UFC women's flyweight rankings.
She had a chance to compete for the Women's Flyweight Championship title during UFC 247 against Valentina Shevchenko but suffered a knockout during the third round. Coincidentally, this event was also held at the Toyota Center.
One thing Chookagian has over Araujo is UFC experience. She's been in the UFC since 2016, whereas Araujo didn't participate in her first UFC fight until UFC 237 back on May 11th, 2019.
With that being said, Araujo is 4-1-0 in her UFC career and has no problem going the distance. In fact, both fighters are perfectly happy with playing out every round, which will only add to the intrigue of this bout.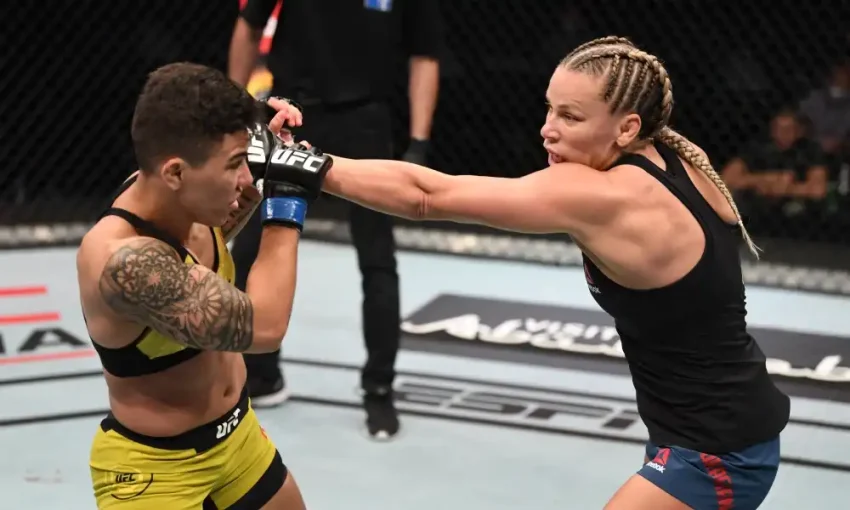 Chookagian would appear to have the physical advantage as she's five inches taller than Araujo with a much longer leg reach, but Araujo seems to be the better fighter from an analytical standpoint.
In fact, Araujo has the edge when it comes to multiple statistics, including significant strikes landed per minute (4.51). She's also a much better grappler, which could really improve her chances.
This will be another bout that comes down to the wire and could very well be decided via unanimous decision. Take Viviane Araujo to win the fight.
Tony Ferguson (2.20) vs Beneil Dariush (1.67)
Rewind a year and Tony Ferguson is lining up to fight arguably the greatest UFC fighter of all time Khabib Nurmagomedov. However, the fight never happened and since then Tony has lost two bouts.
Ferguson lost out to the current lightweight champion Charles Oliveira in his last bout, after a unanimous decision by the judges.
Before that it was Justin Gaethje who lay waste to Ferguson, delivering a beating that will be remembered for years to come. The fight was stopped late in the 5th, with Tony looking beaten and bruised.
Beneil Dariush is a very exciting fighter in this division. Looking for his 7th consecutive win here, Dariush has shot up in the lightweight rankings.
He possesses an excellent ground game, as well as he has a range of strikes at his disposal. Within his last 5 fights he's won 2 with spectacular knockouts.
Tony Ferguson really hasn't looked himself in recent fights and we expect to see more of that in this one. Dariush will come out firing and end this one in the first.
Andrea Lee (2.60) vs Antonina Shevchenko (1.50)
Right now, Valentina Shevchenko is the most exciting fighter in women's UFC—no disrespect to Rose Namajunas—and a big part of why she's the beast she is today, is due to her sister and mentor Antonina.
Moving towards the latter stages of her career, the 36-year old will want to finish her career on a high.
She has a professional MMA record of 9-2-0 and has won 3 of her last 5 fights. Andrea Lee is a younger fighter and will pose a different challenge to the veteran fighter.
Lee is fighting out of Louisiana U.S., with a record of 11-5-0. She has lost her last 3 professional fights via decision.
Antonina is a steely fighter and has shown that with a third of her wins coming via KO/TKO, which is relatively rare within the early days of womens' UFC. Expect her to come out strong and put this fight to bed in the first couple of rounds.
Thank you for tuning into our free picks for UFC 262! Be sure to find the top available sportsbook that works for you before placing any bets. Good luck!