The biggest basketball league in the world also features one of the busiest schedules of any sport. With every team playing 72 games in roughly five and a half months, there is usually at least one game being played every day. Keep track of the entire league schedule right here and never miss that highly anticipated NBA Finals rematch, a chance to watch the top Canadian players or just a great game during the week.
NEW DATES FOR THE NBA 2020/21 SEASON:
October 19,2021: Start of regular season
April 10, 2022: Regular season ends
April 12-15, 2022: Play-In Tournament
April 16, 2022: Playoffs begin
June2, 2022: NBA finals start
June 19, 2022: Game 7 of NBA finals
June 23, 2022: Drafts
The NBA Draft will not start until later in the year.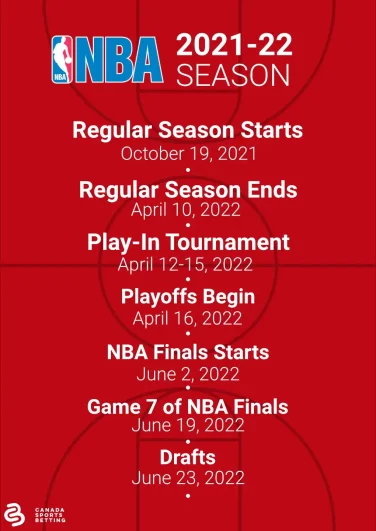 NBA Schedule 2021
NBA Schedule Today
Outside of American Thanksgiving, Christmas Eve, March Madness Finals and the All-Star break there are NBA games every single day between late December and May On most weekdays, games start as early as 7 PM EST and as late as 1030PM EST. Weekends feature afternoon matchups – something that becomes more common after the NFL season is over in February. The season progresses organically, with games and matchups becoming determined by a mixture of court availability, logistical planning and prime time scheduling.
Schedule Release
Fans and bettors will find the full NBA schedule released in August – roughly two and a half months before the start of the season. The season will start with the reigning champions playing on their home court and a few other games before driving right into a full slate of games the day after. When the schedule is released, there is often an overview of the season with the most anticipated games of the year being highlighted. The biggest games of the season are most commonly broadcast on Wednesday and Thursday by ESPN and TNT.ESPN and TNT.
How does it work?
Now it is time to break down the schedule. Every team plays each team in their division the most as they play each other 4 games every season. The remaining teams in their conference are played either three or four times per season, depending on the rotation schedule. The remaining 30 games of the season are played against non-conference opponents.
Tip off in October
Tipping off in late October, the NBA regular season schedule runs just under six months. With so many games it can be easy to lose track of who and when everyone is playing, but with this convenient printable schedule every game is easily accessible in one place.
Marquee games on TV
Every team has one home and one road game against every non-conference opponent. Marquee games – determined by the NBA and its broadcaster partners – get the primetime treatment. The NBA broadcasts big games every year on Christmas and does not broadcast games on American Thanksgiving, Christmas Eve and the down of the NCAA College Basketball Finals.
NBA TV Schedule
NBA fans in Canada get treated to a wide array of NBA games, almost every day of the week. Every Toronto Raptors game is broadcast – by either TSN or Sportsnet, with the two broadcast giants splitting regular-season games evenly down the middle.
Big-time games and popular are commonly shown on TSN and people who subscribe to NBA TV will get a few primetime games each week. Fans who want more NBA are able to subscribe to NBA League Pass to catch every game not broadcast on TSN or Sportsnet.