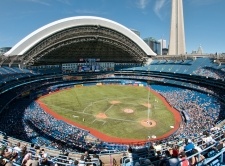 Originally known as the "SkyDome", the Rogers Centre is Toronto's famed multi-purpose stadium that primarily hosts the Toronto Blue Jays. It is situated just southwest of the CN Tower. When it opened in 1989, it revolutionized ballparks by being the first to have a fully retractable motorized roof, as well as for the 348-room hotel attached to it with 70 rooms overlooking the field.
It was also the last North American stadium to accomodate both baseball and football games.
Rogers Centre Seating
The Rogers Centre features the first fully retractable roof. It rises to a height of 86 meters, high enough for a 31-story building at centre field. The roof is made up of four sections, which open in a smoth, circular motion. The north panel remains stationary while the other three retract. The stadium also features LED displays capable of displaying 4.3 trillion colours.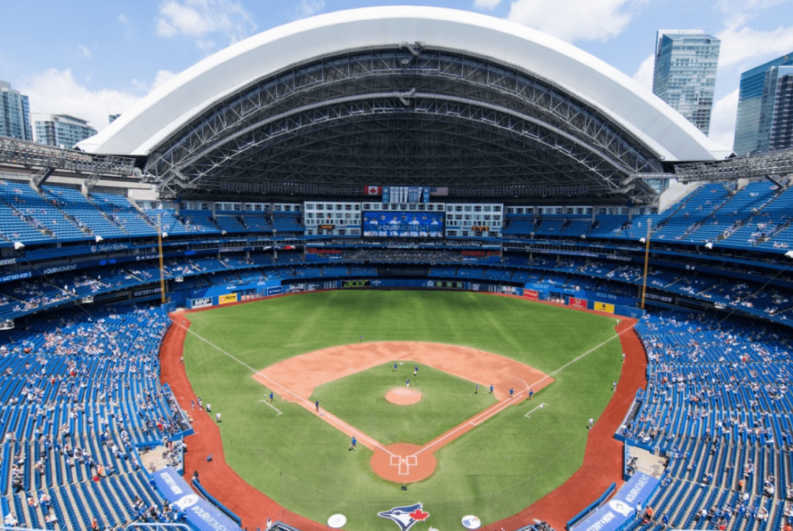 Toronto Blue Jays Home Schedule
Following the relocation of the Montreal Canadiens, the Toronto Blue Jays became Canada's sole MLB team. Founded in 1977 to join the American League, the Blue Jays play in the AL East, baseball's most historic division featuring the New York Yankees and Boston Red Sox. They won back-to-back World Series titles in the early 90s and were the hottest sports team.
After two decades of struggle, the Jays have finally returned to championship form and look to bring back home a third World Series title.
Hotels Near Rogers Centre
The Rogers Centre is a prime attraction in Toronto and situated beside over a dozen hotels from different price ranges. The closest is the Renaissance Toronto, which is attached to the Rogers Centre. In certain floors, you can catch the baseball game from the comfort of your hotel room. The SoHo Metropolitan is a comfortably small luxury hotel just a few blocks from the stadium.The Residence Inn Toronto is right by the entertainment district and is perfect for families with its friendly staff and spacious rooms.