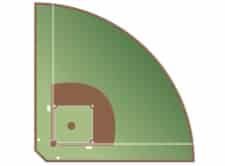 Knowledge is King and there is more to Major League Baseball handicapping research than casual bettors may realize. That is especially true when it comes to baseball stats as the numbers go beyond batting and earned run averages. While stats have been around since the "Father of Baseball" Henry Chadwick introduced "box scores" over 150 years ago, advanced MLB defensive sabermetrics really began to take hold in the 1970's.
Ultimate Zone Rating
Defence wins championships. But what does team defence mean? Why is it such a predictor of success? And what stat should you be looking at during your research?
Well beyond standard batting, pitching and fielding measurements, advanced sabermetrics track every occurrence during a MLB match. Although the genius of a mathematician is often required to understand some of that number crunching, Ultimate Zone Rating (UZR) statistics are fairly simple to decipher as illustrated in our informative video. UZR is calculated for teams, plus individual players, and simply stated it is an indicator of how successful players are at recording outs on balls that are hit into their area of the field. Run saving plays are good – missed plays that produce runs are not.
Baseball Defensive Stats
While we understand that chicks dig the long ball, what's not to like about blasts that majestically soar into the upper deck, successful baseball betting requires an understanding of teams defensive prowess as well. Basic statistics can be found at a multitude of generic "big league" websites and statistics like fielding percentage and errors committed must be considered. Stats from the 2016 season point to that as the nine worst fielding teams finished the year at least 17.5 games behind MLB World Series Champion Chicago Cubs in the overall standings. When Houston finished 46 games out of first, with a 51-111 record in 2013, the Astros lead the league with 125 total errors.
Poor fielding and errors often lead to runs and those stats can be quickly uncovered at a site like Baseball Reference or the official MLB website. When it comes to advanced stats, like ultimate zone ratings, heading to sabermetrics focused websites are a researching best bet. For that, we turn to a site like FanGraphs, which is an advanced MLB stats specific site. There we found that the Chicago Cubs sported a plus 73 UZR rating during their 2016 Championship season, which was 23.3 points better than the San Francisco Giants who finished second with a 47.7 UZR. Of the ten teams that advanced to the 2016 MLB playoffs – six of those were top ten squads on the UZR ranking list.
Baseball Defensive Strategy
Understanding that there is a place for the glut of sabermetrics and advanced stats available today, hardball handicappers are advised that statistics only go so far when it comes to cashing winning tickets. While it's always wise to be armed with as much information as possible, prior to placing bets at an MLB expert like Bet365, don't forget that concentrating on the "here and now" is very important when betting on sports. It's also wise to remember our number one baseball defensive strategy tip – the best pitchers are always a teams best defense. That is especially true when an ace with a high strikeout total heads to the bump. Find the best MLB bookmakers in our table below.
Having a variety of baseball information websites is a good idea and a key component of a proper betting research path. While we wish the information was a simple click away, and all in one place, it's not and some sites are better than others when harvesting statistics. For instance, we prefer CBS to the official MLB website when it comes to probable pitcher projections. Here at Canada Sports Betting, we are proud to present LIVE odds, scoring and standings updates on each of our 30 MLB team pages – like the one for Canada's own Toronto Blue Jays. Void of any animated annoying advertising clutter, bettors receive a quick view of how teams are performing with one click. When it's time to wager – the windows are always wide open at these top rated online sportsbooks.