Horse Racing Calculator Explained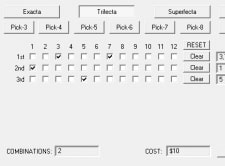 From handicapping to following the ever-changing odds and betting pools on the tote board, there's a lot going on at the racetrack. Too many distractions can cause sensory overload, so that's why it's a good idea to download a horse racing calculator on your smart phone. Some players have a mathematical bent and possess the ability to tabulate the cost of exotic tickets, but the rest of us might need a little help.
Horse Racing Wager Calculator
There's nothing more embarrassing – or costly – than stepping up to the window or frantically placing an online bet just before post time only to realize you've miscalculated the cost of your bet. It truly happens more than you think… So how does it work?
Most of the apps and online racing calculators are easy to use. You simply choose the wager type and amount before selecting the horses to be used in each slot of the bet. While calculating the cost of multiple race bets such as the double, pick 3, pick 4, pick 5 and pick 6 involves rudimentary multiplication (number of horses used in each race times the base cost of the bet), it can be a bit trickier for many players to quickly and accurately calculate the cost of a single race bet like the trifecta, superfecta or Super High 5 when multiple horses are used in the various rungs of the bet.
The Smarter Way To Play
The value of having a simple app like a horse racing calculator on-hand lies in the ease, convenience and fool-proof way to manage a bankroll and avoid missing out on the action. Veteran racegoers have all experienced the embarrassment of walking to the window minutes before a race only to realize that their superfecta or Super High 5 costs $36 more than they figured.
The same thing happens to online bettors resulting in missing the race entirely or making a last-minute decision to play the bet even though it's pricer than expected. These kinds of decisions can be ruinous to a player's bankroll and sanity. Afterall, there's nothing that can unhinge a player quite like missing a bet that ends up cashing for big money.
Many online racebooks offer betting calculators and others are offered via free or cheap downloads. While the apps are a great idea for all players, they are particularly essential for novice players, many of whom struggle to fully grasp the full menu of wagers available. While there aren't very many no-brainers at the racetrack, taking advantage of a horse racing calculator is just that.