Winnipeg Blue Bombers Stadium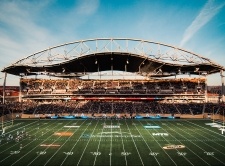 The Blue Bombers became the envy of the CFL world when the state-of-the-art Investors Group Field was completed. Replacing the Canada Inns Stadium, the IGF contains a corrugated metal roof, a restaurant, 52 suites, a walk of fame and other amenities. It opened in 2013 and is right beside the University of Manitoba's University Stadium.
The field has since hosted a bevy of internationally-acclaimed acts like music power couple Beyonce and Jay-Z and Taylor Swift.
Investors Group Field Seating
Outside having a spacious stadium with plenty of space between seats, the Investors Group Field features plenty of new features like their two HD video boards, 30 by 123 feet. There are more than 250 TV monitors with enhanced game day experience. It is also the largest canopied structure in the country, offering coverage over approximately 80% of the seats. This canopy bounces the "13th player" noise back onto the field inspired by Seattle's CenturyLink Field and their "12th man".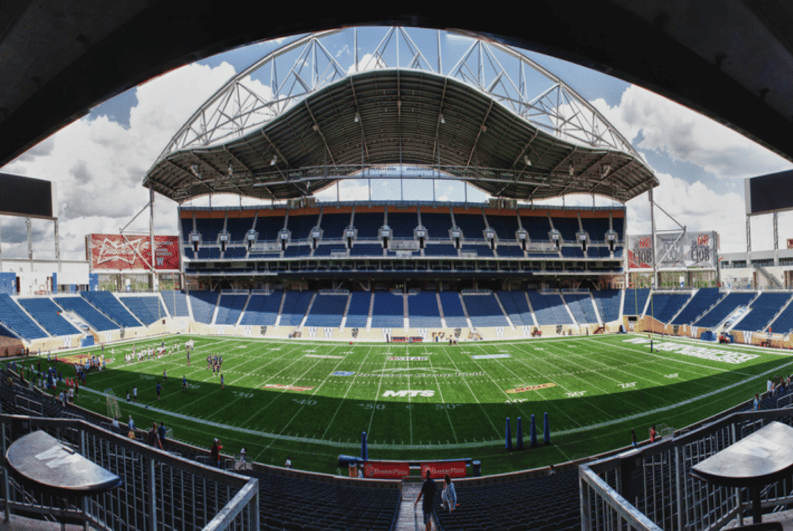 Winnipeg Blue Bombers Home Schedule
The Winnipeg Blue Bombers have the third-most Grey Cups with ten but lost the championship game 15 times (they have the most appearances in the league with 25). They presently have the longest Grey Cup drought of any team having won their last title in 1990. They are one of a few pro sports clubs without share capital and without a singular owner. The last decade has been rough on the franchise despite getting a state-of-the-art new facility. With that behind them, the Bombers will look to end their title drought.
Hotels Near Investors Group Field
The Canad Inns Destination Centre was the premiere hotel for tourists especially when the Bombers still played at the iconic Canad Inns Stadium. The Destination Centre is eccentric and features a mini waterpark with a casino and free parking. A great value for anyone looking to have extra fun on their stay. The Queen Bee Hotel is the closest to the stadium and is rated highly for its simplicity, cleanliness and friendly staff. The Best Western Plus Pembina Inn & Suites is fantastic for its great staff and free breakfast and at a mid-range price, it's a popular pick among tourists.