How To Obtain Your Referral Code at theScore
It is an extremely exciting time for fans of sports betting in Ontario. Online sportsbooks are getting ready to launch in April. One of the very first online sportsbooks to launch will be theScore Bet. This iconic Canadian sports media brand is a favourite among sports fans in the province. Recently, they even became the Toronto Blue Jays' exclusive partner in the betting industry, guaranteeing tie-ins between the two sides until at least 2032.
In this article, we'll look at what we know so far about what theScore Bet offers, and how to use our theScore Bet referral code to get set up.
Create a free account.
Opt into theScore referral codes.
Choose from multiple referral codes offered.
Sports betting prestigious bookie
Outstanding array of daily odds
Access to many sports betting markets
theScore Referral Code
Canadian members access a a full range of theScore referral codes!
Sign up Now
Create a free account.
Opt into theScore referral codes.
Choose from multiple referral codes offered.
Sports betting prestigious bookie
Outstanding array of daily odds
Access to many sports betting markets
theScore Referral Code
Canadian members access a a full range of theScore referral codes!
Sign up Now
theScore Sign Up Referral Codes
Signing up with the theScore Bet referral code
For those people who love theScore's sports media app, there is a good chance that they will also have an interest in creating an account with theScore Bet. Thankfully, the registration process takes little to no time at all. You can be placing bets before you know it.
To get started, you will have to download theScore Bet app. This is available on iOS and Android, so you will not be missing out. Once you download theScore betting app, you can begin the signup process. There are just a few key steps you need to follow. This includes setting a password and username, as well as filling out your contact details and some personal information.
At this point, if you have any sort of promotional code to enter, you can do so. Your final step will be ticking the boxes stating that you are old enough to use the platform and that you are happy to agree to theScore Bet's terms and conditions.
Quick review
theScore Bet obviously carries theScore branding, which is Canada's number one sports media app. You can get access to all of the latest sports news through this offering. It launched theScore Bet in the United States market, pairing the media offering with this sportsbook.
Last year, the major casino company Penn National Gaming bought theScore Bet. The sportsbook still has an office in Canada and knows exactly what Canadian sports fans will want in this type of platform.
You have more than a dozen sports to choose from when looking to place a bet. There is a very smart design to the app, with each and every section clearly displayed. There are plenty of live betting options, with live streams of these events sometimes being an option.
Both complete beginners and experienced sports bettors alike will have a great time using this app. The integration with theScore media app is the icing on the cake. This allows you to get the latest information about teams and athletes to help you make betting decisions as necessary.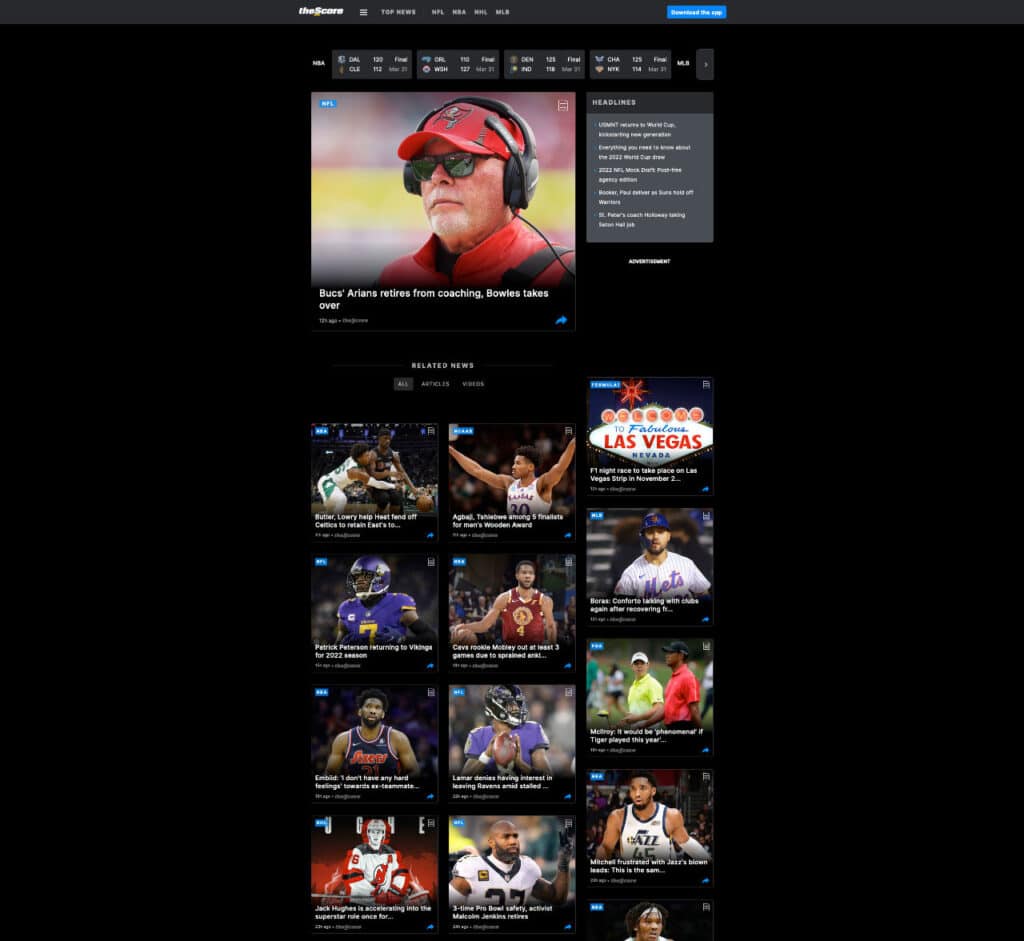 Banking methods
theScore Bet Sportsbook has a great range of different deposit and withdrawal methods that you can use. This gives you a great amount of flexibility. For adding funds to a theScore Bet account, you will have debit cards, credit cards, e-wallets, prepaid cards, and bank transfer options to choose between. Most of these methods will also be withdrawal options.
theScore Bet does not charge you for making a withdrawal and there are decent transaction limits in place. The withdrawal speeds will depend on the payment option you choose, but they generally are nice and fast, particularly when you choose an e-wallet.
How to build a bet
Creating a bet couldn't be easier thanks to theScore Bet Sportsbook offering. There are many different markets to check out. Once you see something that piques your interest and you decide you want to place a bet, you simply need to click on the odds of the given selection.
You will then see it added to your betslip. The odds will be clearly displayed. Once you enter a stake, you will see what the return will be if the bet is a winner. You can check the status of your bets by clicking the 'My Bets' section. Many markets will have early cash out as an option.
Any differences between theScore Bet Canada and Other theScore Platforms?
The main differences are mostly in emphasis on the sports that are most popular in Canada, as well as promotions relevant to these sports. theScore Bet Canada's platform is otherwise identical to what they've already been providing in the United States.
theScore Bet Sportsbook Promotions Review
With single-event sports betting getting rolled out across Ontario, it is very exciting. Many people love the brand that powers theScore Bet, so it is natural that many bettors will flock to this offering. And what better and easier way to sign up than with our theScore Bet Sportsbook referral code?
Visit theScore and see for yourself…
Create a theScore account
FAQ
What promotions are theScore Bet Sportsbook currently offering?
Having just launched in Canada, theScore bet will likely be experimenting with new promos and incentives over the next little while. Your best bet is to check the app to see what they're currently running.
What are the new user promo playthrough requirements?
Typically, sportsbooks require you to play through any promotional incentives you may get from them once set up. Expect theScore Bet to be no exception here. Currently, it takes one cycle of use for any promotional credit to become cashable. This is always subject to change, though, so double check the terms and conditions of any offers you consider.
How long will I have to clear it?
At this time, theScore Bet requires you to cycle through your incentives within seven days. This could change with future incentives – check the terms and conditions of your offer to verify where you stand.
Are any other good promos going on?
From time to time, theScore Bet will likely have other types of promotions up and running. These theScore promotions will likely reward users for their loyalty. The most common type of promotion you will find will be boosted odds offers.
---