Spreads.Ca Casino & Sportsbook Review 2023
SIGNUP BONUS: 100% Match Up To $250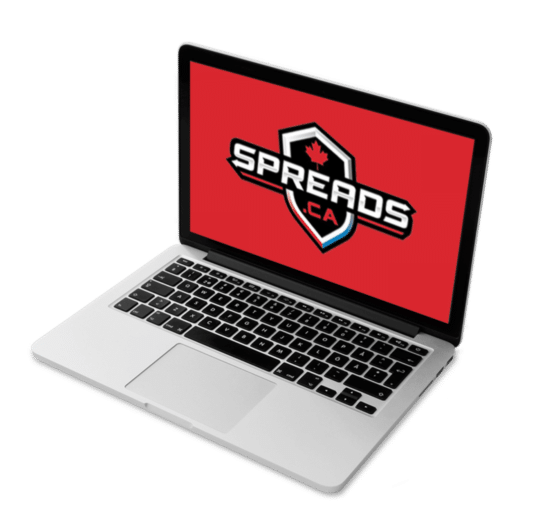 Born and bred out of Québec in May 2020, Spreads.ca, also known as Spreads Casino, is an online casino and sports betting site built for Canadians, by Canadians. With more than 500 games available for both new and seasoned bettors, Spreads.ca aims to provide top of the line iGaming services to the Canadian market. Though relatively new in the world of online sportsbooks, Spreads.ca has rapidly established itself as a fun, secure site available to Canadian bettors. With a large selection of online casino games, live dealers, lucrative bonuses, and competitive odds, Spreads.ca makes our list of sportsbooks worth checking out this coming season — and should definitely be up there on yours as well!
Canadian owned and operated
Excellent responsive mobile website
Huge variety of leagues to bet on
Some bugs reported on IOS app
Limited withdrawal methods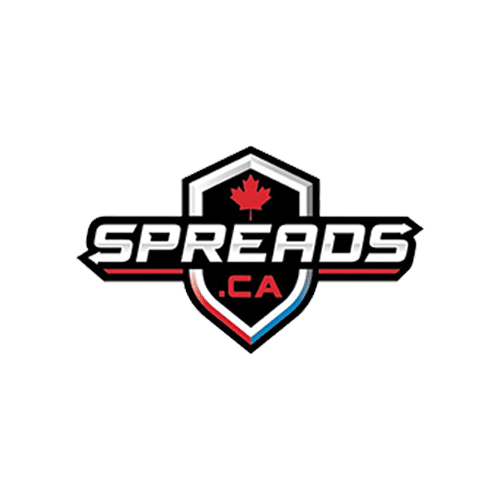 Spreads Casino Betting Bonus
CLAIM YOUR BONUS – Join today and get a 100% Deposit Match up to $750 or a Risk-Free Bet up to $500!
TAKE ME TO Spreads.ca!



Overview of Spreads Casino
Spreads Casino is all-Canadian and caters specifically to the Canadian betting market. Spreads.ca is licensed through the Kahnawake Gaming Commission and operates online across Canada, with the exception of Ontario. The online casino is owned and operated by the Abenaki Council of Wolinak, based out of Québec near Trois-Rivières. In February 2023, Spreads.ca entered into a strategic partnership with NorthStar Bets after NorthStar purchased SlapShot Media, a Canadian marketing and managed services company. Prior to the acquisition, SlapShot Media specialized in providing managed services to Spreads.ca. Through their strategic partnership, NorthStar Bets and Spreads.ca plan to provide top-notch betting services for Canadians across the country.
Is Spreads.ca legal in Ontario?
No, Spreads Casino is only available to bettors in Canadian provinces outside of Ontario. Prior to Ontario's regulation of the sports betting market, Canadians across the country could access Spreads.ca's host of online casino games and sportsbooks. As of April 2022, Ontario sports fans using Spreads Casino had to halt their use of the platform. That said, Ontario sports bettors with existing accounts or active deposits can continue to bet at Spreads.ca when they are not physically located within Ontario.
Ontario is the only Canadian province to regulate sports betting to date. The province gave grey market bookies until April 2022 to secure an Ontario license to operate. While a number of online sportsbooks joined the fold before the set deadline, some iGaming sites opted out of the transition, including Spreads Casino. As such, Spreads.ca remains among the few sportsbooks operating exclusively outside of Ontario. In the meantime, this means dedicated sports bettors at Spreads.ca will have to bet outside of Ontario, or keep tabs on Spreads' licensing updates. That said, it's business as usual for Spreads Casino fans located outside of Canada's most populated province.
What you need to create an account

When you first navigate to Spreads.ca's casino games or sportsbooks, you'll be prompted to create an account or log in. Choose a username, a password, and enter your email to get started. Spreads.ca will then email you a verification link, where you can follow the steps to verify your account. It's important to verify your email address as Spreads.ca will email you when you successfully deposit or withdraw funds. In addition, to play daily spin bonuses you'll need to have a validated email.
To validate your email at Spreads.ca, follow the steps below:
Log in to your Spreads.ca account.
Click on the hamburger menu in the top left corner.
Click on 'Validate Email'.
On the Email Validation pop-up, confirm that the email address is correct and then click the 'Send Email Validation Link' button.
You will receive an email with a validation link and further instructions to complete the process.
To maintain a safe and compliant gaming site, Spreads.ca asks players to verify their identity, age, and payment methods as well. We recommend you complete these additional account verification steps before you start betting to help expedite withdrawing winnings down the line.
The steps to verify your identity are as follows:
Log in to your Spreads.ca account.
Click on the hamburger menu in the top left corner.
Under 'Player Account' click on 'Information & Security'.
Click on 'Upload a Document'.
Because Spreads.ca is not licensed in Ontario, they'll also ask you to download a geolocation software to confirm you're located outside the province. We recommend downloading the software and confirming your location prior to placing bets. The site will automatically end your session if you try to place a bet without confirming your location. In other words, you'll be blocked from betting until you confirm where you're betting from. Once you've completed these steps, you're all set to start placing wagers and enjoying the slots at Spreads Casino!
What games can you play at Spreads Casino?
Known for its vast selection of online casino, live dealer, and sports betting games, Spreads.ca online casino delivers an extensive and diverse game lineup that caters to every Canadian sports betting enthusiast. While not as robust as some gambling sites that host casino games exclusively, Spreads.ca is a great option for sports bettors who may want to jump in on some casino action on the side.
What sports are available to bet on?
Spreads.ca offers MoneyLine, Spread, and Over/Under bets for all leagues available on their site. In addition, players can toggle between their favourite way to read odds, including decimal, American, and fractional.
Spreads Casino offers the following sports leagues to bet on:
Hockey
American Football
Basketball
Baseball
Soccer
Golf
Tennis
E-Sports
Badminton
Boxing
Cricket
Cycling
Darts
Futsal
Gaelic Football
Gaelic Hurling
Handball
Mixed Martial Arts
Motor Racing
Rugby (league and union)
Snooker
Table Tennis
Volleyball
Virtual Sports
and Politics!
What casino games can you play at Spreads.ca?
Though not as robust as some well-established online casinos, Spreads Casino hits most of the desired categories when it comes to available slot games. Players can navigate to their favourite games using the filters at the top of the casino page. At Spreads Casino, you'll find everything from traditional slots to table games that require a bit more skill.
The games you can play at Spreads Casino include:
Slots
Jackpot
Blackjack
Routlette
Table Games
Video Poker
Drops & Wins
High Roller Rooms
Players can also view their most recently played games, and access live dealers — all from the comfort of their screen. For live dealer games, Spreads Casino features a large number of 'Drops & Wins' bonus prizes, in addition to weekly Blackjack and Game Show tournaments.
The steps to join a live 'Drops & Wins' opportunity:
Join a table that is actively participating in the prize drop you're interested in.
Place a qualifying bet ($2) on that table.
That's it! A qualifying bet is enough to potentially trigger a random prize.
The steps to join a weekly live Blackjack or Game Show tournament:
Join a participating table.
Place a minimum qualifying bet of $10.
You'll receive points for any consecutive wins. The higher your points for consecutive wins, the higher your score will be.
Prizes are distributed based on who has the highest scores at the end of the tournament.
What bonuses are available to first time bettors?

Spreads Casino offers a number of bonuses including a welcome offer when you sign up. As a new player, you'll be prompted to choose a welcome offer of ten free spins on Spread.ca's 'million dollar slots' — i.e. a chance to win a million in cash with no deposit required. If casino betting isn't your thing, Spreads.ca also has a number of bonuses available that cater to their sports betting audience.
In addition to their free welcome offer, Spreads Casino offers a range of exciting promotions and rewards for new users. When you play at Spreads.ca for the first time, you'll be offered an additional $50 to bet on your league of choice when you make your first deposit of $25 or more. For the more seasoned sports bettor (or if you're feeling lucky) you can get a 100% match from Spreads Casino up to $250. If you take them up on this offer, you'll also get an extra $20 in free spins. Keep in mind, these offers are only valid for first time deposits, so if you plan to take advantage of a first-time betting bonus, choose your bonus wisely.
Here's a quick recap of the bonus offers available for first bets placed at Spreads Casino:
Free welcome offer of 10 free spins to win $1,000,000.
A 100% match on your first deposit up to $250, plus a $20 free sports bet.
A bonus $50 sports bet when you bet $25 or more on your first bet.

Where Spreads.ca loses a few points for their bonus offers is in their withdrawal rules. Though we haven't experienced this ourselves, some players have reported difficulty in withdrawing winnings won from playing bonuses. Largely, this stems from their limited withdrawal methods — iDebit and ETF bank transfers only. In addition, Spreads.ca doesn't allow some betting patterns or strategies when playing with bonus funds, as outlined in their terms and conditions. We recommend exercising caution when playing any bonuses offered by a casino. It's always smart to thoroughly read the rules before you bet real money!
Mobile app and website user experience

Desktop user experience review
Spreads Casino hits the mark when it comes to providing a user-friendly interface that ensures a seamless gambling experience. Sporting a clean homepage that uses ample white space, we found the games and sportsbooks available on Spreads.ca well organized and easy to navigate. With a simple top menu of casino games, sports betting, and promotions available, you can quickly and easily navigate to what you're looking for.
If you navigate to the 'sportsbooks' section of the site, you'll be prompted to create an account or log in. Once logged in, Spreads Casino makes it easy to see what's happening live, and what's upcoming for you to keep tabs on! If you're looking for quick updates on results, what's happening today in your favourite league, or looking to join a live table, their clean, organized tabs will get you where you need to go in no time.
At the time of writing this review, Spreads.ca momentarily ran into a few issues and returned '404 page missing errors'. We could still access the sportsbooks section of the site, but certain pages, such as the support page, failed to load. We'll keep tabs on these issues to report how frequently this error occurs, as this could be a huge issue for bettors looking to access their funds.
Is Spreads Casino available on mobile?
Yes, Spreads.ca has an app for IOS, in addition to a responsive mobile website. Though their casino website claims there is an Android app available, we were unable to find an app for Spreads Casino in the Google Play Store ourselves. In addition, the button linked to the Android app download returns a '404 missing page'. Likely, the app is undergoing some updates or has recently been removed from the Google Play Store.
If you own an Apple device, you can indeed access the IOS app for Spreads Casino. Launched last year by Pala Interactive Canada Inc, the Spreads.ca IOS app has most of the same functionalities as their desktop website, including a number of additional games that are unique to IOS. Same as on their website, bettors can bet on all major leagues and niche sports too.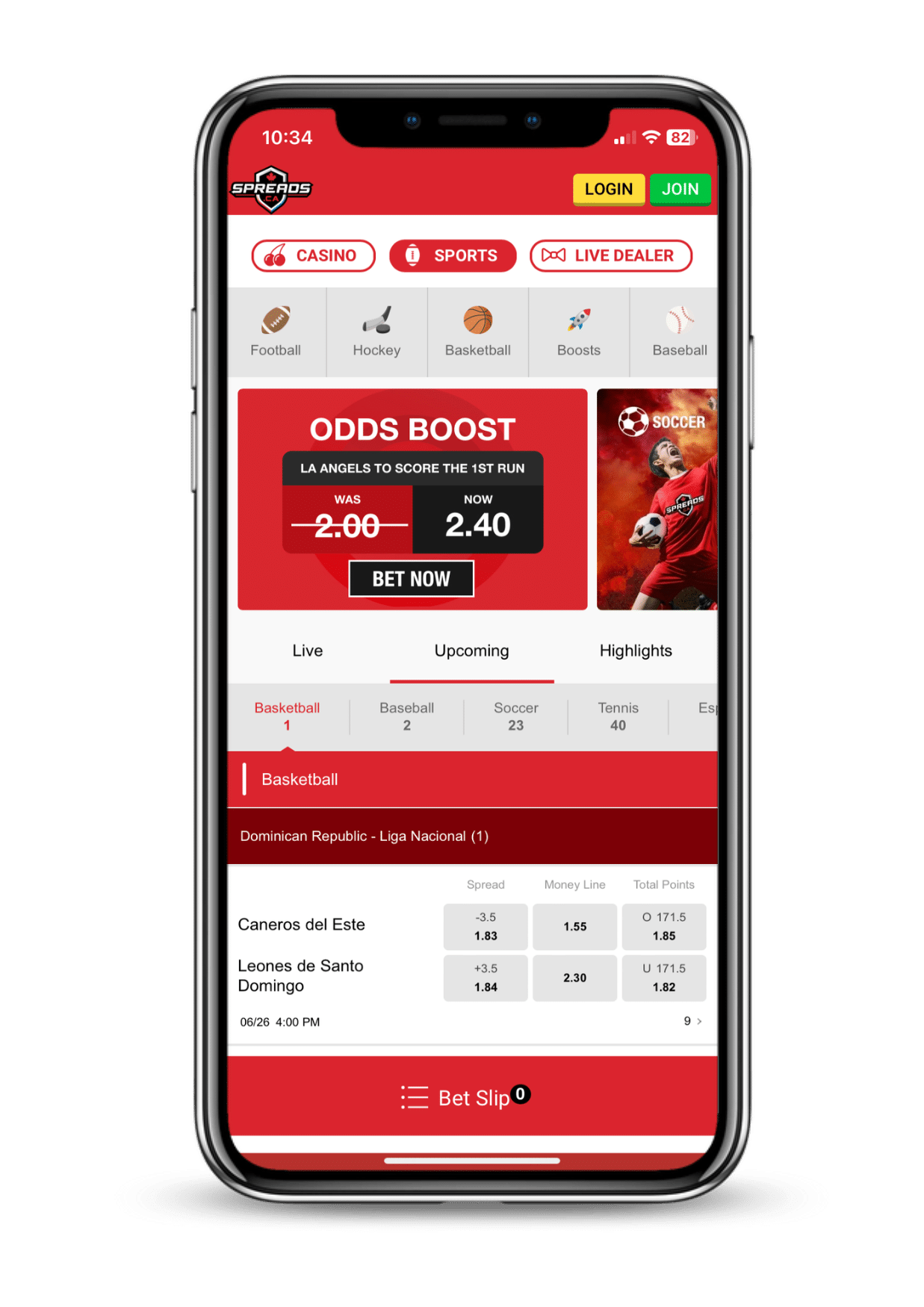 Unfortunately, the IOS app has a few bugs that various users have reported since it launched. Compared to some larger names on the market, the Spreads Casino app averages about three stars in the App Store. Where they lose points on our end is the apps' loading speed. When connected to a stable network, we found the sportsbook odds take a few seconds longer than we'd ideally like to see. In addition, if you're vying to use your sign up bonus offers, we recommend wagering them from your computer to avoid hitting some reported issues with betting bonuses from the app. If your preference is to avoid the app altogether, Spreads.ca's website more than makes up for these few issues found. Their mobile site works exceptionally well, and is fully responsive to any size of device, including phones and tablets on both IOS and Android devices.
Is Spreads Casino secure and trustworthy?

Spreads.ca is a safe and legal betting site, and is licensed by one of the most reputable online gaming jurisdictions in Canada. In addition, they do their due diligence to keep your account secure, and your deposits easily accessible. When logged in, players can easily access their deposit, payment methods, and withdrawals from the hamburger menu in the top left. In addition, they use geolocation software and two-factor authentication to keep your banking information hidden, and your account safe from hackers.
As with any smaller casino, players may sometimes be wary about withdrawing large winnings. That said, from our research we found very few instances of bettors not being paid out their winnings all at once — especially given the small size of the casino. All iGaming sites have daily withdrawal maximums laid out in their terms and conditions that may affect large winnings. However, with a daily withdrawal limit of $10,000, the average bettor shouldn't run into any issues.
How does Spreads Casino's customer support stack up?

Based on our research, we found the customer support team at Spreads.ca to be reliable, quick to respond, and professional. If you have a quick question or are searching for specific information, they have a knowledge base where you can find the answers to most frequently asked questions. In addition, they have a number of helpful articles and guides you can find under your profile section of the website.
You can reach the customer support team through email, online ticket submissions, or via their live chat option. Our reviewers found the live chat box to be the best way to reach their team, and we heard back from them on average within two minutes of sending a message. They'll ask for your phone number associated with your account to confirm your identity before answering any questions.
Whether you have a question about account registration, need assistance with a withdrawal, or require clarification on a specific bet, this review confirms the customer support team is readily available.
Final thoughts: A true Canadian sportsbook

Designed for the Canadian sports bettor, Spreads Casino covers every major international sport a Canadian could hope to bet on. In addition, they offer a number of exciting casino games sports bettors can dabble with on the side. As a smaller casino compared to some of the big names on our sportsbook review lists, Spreads Casino stacks up relatively well. With tons of options in live betting, daily events, most recent results, and competitive odds, Spreads.ca is a fun, safe, exciting site to get in on your favourite sports betting action!
Because Spreads.ca falls short in their withdrawal and deposit methods, and currently only caters to Canadians, they have some work to do in expanding their accessibility to a larger audience. For our Canadian bettors, this is an awesome local site to check out. As everything is in Canadian dollars and their customer support team is in local time zones, betting at Spreads.ca is an obvious choice for bettors close to home. Our team at Canada Sports Betting definitely recommends checking out this sportsbook next time you're shopping around for the best odds!
Spreads.ca Online Casino FAQs
How do you do conduct your Spreads.ca review?
We carefully evaluate the betting site feature by feature, and then compare them to dozens of others. 
Is Spreads Casino available in Canada?
Yes, Spreads.ca is available to Canadian customers aged 18 or older, located outside of Ontario.
How do I contact Spreads Casino customer support?
Simply navigate to the support tab in the navigation bar to submit a ticket, or use the live chat option to reach out to Spreads.ca's customer service.
Where is Spreads.ca located?
Spreads.ca is headquartered within the Abenaki Council of Wolinak, near Trois-Rivières, Québec.
Can I use a VPN to access Spreads.ca?
No, Spreads.ca requires users to download a geolocation software to confirm you live within an approved area. If you are caught using a VPN, you risk having your account blacklisted and winnings forfeited. There are plenty of online sportsbooks in Canada you can access without a VPN.
Does Spreads.ca pay real money?
Spreads Casino is a real money sportsbook. Understand the risks involved with sports betting before making real money deposits and wagering anywhere.
Are winnings from Spreads.ca taxed?
No, winnings from Spreads.ca and most other sports betting sites are not typically considered taxable income. In Canada, only professional gamblers are taxed for winnings as this is considered income.
What sports are available for betting at Spreads Casino?

Hockey
American Football
Basketball
Baseball
Soccer
Golf
Tennis
E-Sports
Badminton
Boxing
Cricket
Cycling
Darts
Futsal
Gaelic Football
Gaelic Hurling
Handball
Mixed Martial Arts
Motor Racing
Rugby (league and union)
Snooker
Table Tennis
Volleyball
Virtual Sports
Politics
Can you do parlays at Spreads.ca?
Yes you can. All the betting combinations from major online sportsbooks can be found at Spreads.ca. They offer single bets, parlays, prop bets, over/under, and, of course, spreads.
Do people win big at Spreads.ca?
Always remember there's no such thing as a sure thing, even in sports betting. While some players may bet high and win big, there's always a risk involved in any sports bet. In addition, bettors who plan to play big and win big should be aware of the daily withdrawal limit of $10,000 at Spreads.ca. As a smaller casino, they have more safeguards to protect themselves from larger won sums, which may impact your ability to withdraw winnings.
Does Spreads.ca accept Bitcoin?
No, Spreads.ca does not accept any form of cryptocurrency, and has not announced any plans to do so. Currently, they offer traditional payment methods including Interac, credit, iDebit, and e-transfer.
Does Spreds.ca have a casino?
Yes, Spreads.ca is also known as Spreads Casino for their vast selection of online casino games. While not quite as robust as other dedicated online casinos, they have more than 500 options available that are sure to keep bettors engaged.
Does Spreads.ca have a casino welcome bonus?
Yes, Spreads Casino will give new users 10 free spins to win $1,000,000. In addition, they'll 100% match bets up to $250 for first time bettors.
Is there a Spreads Casino app?
Spreads Casino has an IOS app, but no Android app available yet in the Google Play store. That said, there have been a few bugs reported on the app, so we recommend using their mobile site for the best experience.
---