The world-famous Caesars Sportsbook, one of the preeminent sports betting providers on the planet has arrived in Ontario, ready to build on the immense success the company has had in capturing an impressive 21% markets share in the blossoming U.S. mobile sports betting industry. The elite Caesars Canada app is the culmination of years of gambling experience the company has garnered in the US market, combined with the assets it gained when European heavyweight mobile provider William Hill was acquired by the company in 2021.
Now, Caesars mobile sports betting app moves north of the border, specifically Ontario, where the company has had a presence since 1994, thanks to their government owned retail facility – Caesars Windsor Hotel & Casino. That facility doubles as the first licensed sportsbook in Canada when sports wagers first started taking place in 2006.
As one of the true heavyweights in the sports betting universe, Caesars Ontario's mobile launch is a huge deal on Canada's path toward acceptance of a wide-ranging legal sports betting platform. This Caesars App Review will dive into what makes the sportsbook special, and perhaps some of the underwhelming aspects of the launch of one of the most anticipated sportsbooks arriving on Canada's shores.
Let's take a peek at the markets has a presence in, how to register for the Caesars Ontario sportsbook, dive into the Caesars app review, the sports available to bet on, the markets Caesars Canada covers, the company's banking options, and their customer service.
Caesars Sportsbook Bonus
Caesars Sportsbook is eager to bring in new Canadian members and offer all sorts of incentives to join. Registration is free and always open!
Deposit and Get Started!
Caesars Sportsbook Ontario
Caesars Canada brings with it name recognition to the Ontario market and as mentioned, its share of experience catering to Ontario bettors. Caesars has decades of experience in the legal gambling game. When combined with William Hill's immense know-how in the mobile sports betting realm, it is no surprise it debuted in Ontario as one of the most trusted brands going live on April 4, 2022, a day that will be looked back on with fondness for the Ontario wagering scene.
A top-tier bonus structure, competitive odds, a unique knowledge of what North American sports bettors are focused on, a cutting-edge approach to wagering markets, banking options and an established Rewards Program are aspects of the Caesars Sportsbook app that set the provider apart from the rash of competition they face in the exciting Ontario market.
Where Caesars has been successful
Caesars Sportsbook app has cut their teeth in a number of huge American sports betting jurisdictions. Arizona, Colorado Washington DC, Illinois, Indiana, Iowa, Louisiana, Michigan, Nevada, New Jersey, New York, Pennsylvania, Tennessee, Virginia, and West Virginia are all home to successful Caesars mobile sports betting platforms. Together, they have allowed Caesars a 21% market share in the U.S.
All of Caesars' experience and momentum in those states carried over to an Ontario market that went live as of April 4, 2022.
How to sign up for the Caesars Ontario experience
Caesars Ontario is home to one of the most streamlined sign-up procedures in the business. As a veteran of the sports betting scene, Caesars has managed to ensure that registering for their Caesars Sportsbook app is quick and painless. The registration procedure should take 3-5 minutes from start to finish and makes you immediately eligible for any Welcome Bonus and Rewards that come along with registration.
Caesars Ontario will require you to enter your full name, email, address, phone number, last four digits of your SIN, and date of birth in order to verify who you are and that you are of legal age to place a bet in Ontario. 
You will then be required to provide a password and to come up with a set of security questions before moving on. Once you have verified that you are indeed 19 years of age or older, you will be able to claim any promotions offered by Caesars and will be able to use any of their slew of banking options to make your first deposit. More on that later.
Caesars Sportsbook Safety & Security
As a purveyor of sports betting options and holder of bettors' personal and banking information, questions will frequently arise about the safety and security of the Caesars Ontario app. 
We are happy to report that Caesars, as one of the true industry leaders boasts one of the most secure platforms in the global market. Not only has the sportsbook withstood stringent regulatory hurdles in their share of American markets, but it has endured arduous vetting by the Alcohol and Gaming Commission of Ontario. We can't discount their nearly 20 years already operating in the Ontario market at Caesars Windsor Hotel & Casino and their sportsbook there which has been around for 15 years.
Caesars employs all of the best encryption software available in the market and a search of any nefarious activity south of the border turned few if any concerns.
No amount of hype can withstand scrutiny over a sports betting provider's appearance and ease of use. We found that Caesars Ontario rates highly, to nobody's surprise, in its ability to cater to all levels of bettors, from veterans of sports betting to what will be many newcomers in Ontario. Caesars legendary sportsbook will be available for desktop users, and for Android and iOS users.

The Caesars mobile app has garnered a 4.6/5 rating on the App Store, 4.5 on Google Play, and has been one of the top-3 options available in all jurisdictions it is currently available in. From our experience with Caesars mobile app, that rating is for good reason. It's all about look of Caesars platform and its efficiency and overall usability. 

Starting with the mobile version of the Caesars mobile app., we found the platform to be easy to access, visually pleasing, responsive, and easy to navigate – Caesars ranked near the top in all of those metrics. 

Caesars has been a huge part of the evolution of live betting markets and absolutely requires as responsive a platform as any in the market today.

Generally, while not quite at flashy as some competing sportsbooks, Caesars certainly does the job of getting your attention and keeping you there.

It was also nice to see the desktop version of the Caesars Ontario app mirroring that of the impressive mobile app. The website carries much of the same DNA as their apps, making it easy to transition between the two with an awareness of where all your settings and features are.

Caesars has been a market leader in not only their menu of sports but also their array of bet types. They bring their full and impressive menu of available sports to the Ontario market. To list the sports would waste your time – expect Caesars Canada to have what you are looking to bet on and more.

Of course, there is a heavy focus on the Maple Leafs and Senators, Raptors, and Blue Jays as well as the CFL.

As one of the biggest players in the North American legal sports betting scene, Caesars Ontario will provide one of the most impressive menus of betting markets available in the Ontario. To start, the Caesars focus will be on some of the more traditional bet types such as:

moneyline 

point spread 

totals 

parlays 

live betting

Caesars U.S. operations offer a host of other bet-types. Expect those to find their way North of the border before too long.

Caesars customer service is definitely a strength of the overall product. Caesars proves that they are no rookies in dealing with the betting public and bring that knowhow to the Ontario market. Caesars, along with an extensive FAQ section offers 24/7 Live Chat support options, along with well-supported email, phone, and social media customer service options.

Customer service is an increasingly important focus for sportsbooks. Caesars Sportsbook Reviews such as this can expose weaknesses. We are happy to report that customers in Ontario are in good hands with Caesars sportsbook and that you will be satisfied with your Caesars customer service.

Caesars was one of the first to offer a Rewards program to their clientele and they are still one of the best. Players get to earn points for every dollar they spend with Caesars. And it's not even that convoluted!

Points earned can be redeemed for stays at Caesars Entertainment branded locations, spa treatments, free meals, tickets to special events, odds boosts, free bets and more.

Caesars Sportsbook experience is also reflected in the sheer amount of banking options the are able to offer their clients. Off the bat, Caesars is concentrating on 3 options. All are instant and all are common methods of banking for the average Ontario bettor.

Expect to see more banking options open up in the Canadian market – e-wallets (Neteller, Skrill, and PayPal), and  Play+ Card are examples of banking options Caesars already employs in American markets and will be looking to bring to Ontario as well.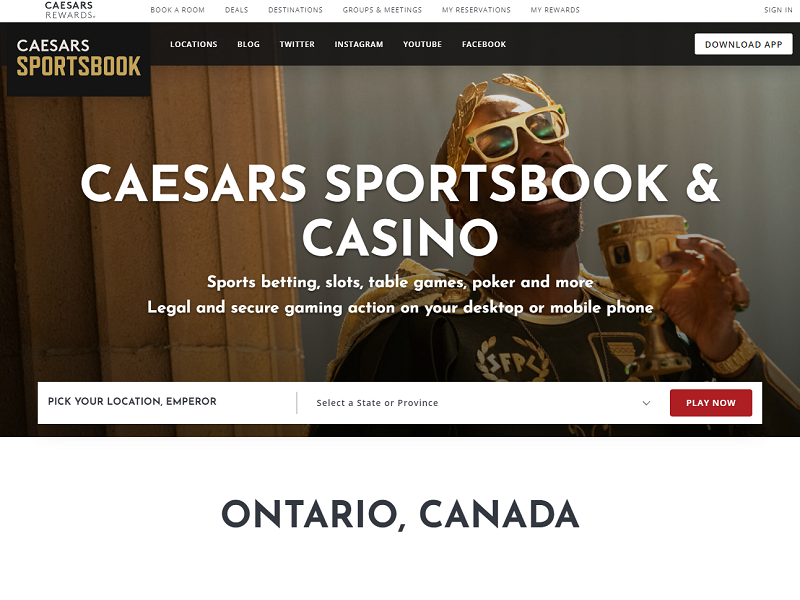 Connect to Caesars Sportsbook From Anywhere
Open a free personal betting account; make an initial deposit, collect valuable welcome rewards and wager on thousands of options instantly!
Take Me To Caesars Sportsbook Betting!
---
Caesars Sportsbook FAQ
Is Caesars sportsbook legal in Canada?

As of August 2021, single-game betting and an expansive sports betting platform was legalized in Canada. Caesars was one of the lucky ones to be licensed in Ontario for mobile betting and officially went live April 4, 2022. Caesars has been operating a retail sportsbook in Windsor since 2006.

Is Caesars sportsbook legal in Ontario?

Simply – yes! Along with a host of international, private sports betting providers, April 4, 2022, was the official jumping off point for the  Ontario mobile sports betting scene. Caesars was a big part of that launch. 

What does Caesars sportsbook offer to new players?

Caesars is known for its generous member incentives and the Ontario market is no different. Promotions and Incentives change frequently – check with the site and be sure to take advantage of all the benefits Caesars offers.

Does Caesars have an Android App?

Caesars boasts an elite mobile app that is available both on the site and through Google Play.

Does Caesars have an iPhone App?

The iOS version of Caesars Ontario Sportsbook is also top notch and is available on the App Store.

What sports can I bet on with Caesars Ontario?

Caesars provides its clientele one of the most complete menus of sports in the business. There will be a focus in Ontario on the NHL, NFL, MLB, and NBA of course.