Sometimes, a journey around the world finds a way of bringing you all the way back home. Founded by a pair of Toronto Metropolitan (formerly Ryerson) University alumni, BetRegal established itself in Malta, expanded throughout Europe, and is now making its way into Ontario as the regulated market expands. Already partnered with the Canadian Football League (CFL) and PGA Tour Canada, the inroads back home are well underway.
But what does this mean for you? BetRegal Ontario claims to be focused on making an experience "for Canadians, by Canadians", and using a business model that will give you an edge on the lines. In this post, CSB dives into the experience that BetRegal Canada provides, and how to make the most of it.
Deposit with Interac e-Transfer
Canadian founded and developed
Multiple league partnerships
Expansive prop menu



In what markets is BetRegal available?
BetRegal Canada is entirely focused on its own market, taking in customers from coast to coast in Canada. BetRegal's parent company does operate in other regions though, including the UK and Europe.
Walkthrough of the BetRegal registration process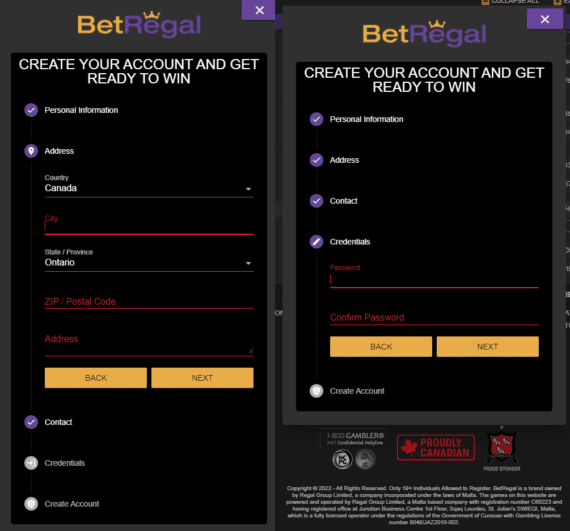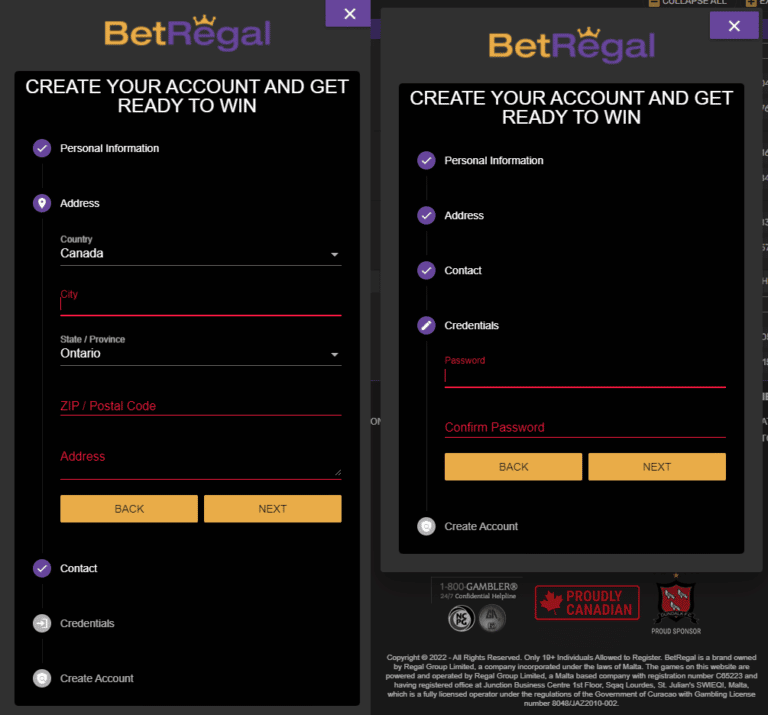 Signing up is broken up into steps, but is pretty straightforward. Begin by clicking on the yellow button in the top right corner of your screen – it'll likely say "JOIN" on your computer, or be in the shape of a power button on your mobile device.
The first block asks for your full name and birthdate. Next you'll put in your address – country, city, province, postal code, and exact place of residence. The contact step ahead will ask you for your email and phone number, along with giving you an opportunity to enter any sign-up code you might have. Lastly, you'll set up a password, and begin the next step in the sign up process.
Generally, this is just verifying your account via email, though in our specific instance, BetRegal was under maintenance of its membership back-end. After reaching out for support, they helped us get through to the next step – this will likely not be an issue when you go to join.
BetRegal Canada sportsbook basics
In a lot of ways, BetRegal Canada is set up quite similar to their competition. At the core, you've got a sportsbook with a long list of events – from your big five North American Sports, to hundreds of soccer and tennis matches, to combat sports, and even some niche options, like table tennis, chess, and even some political and entertainment options.
As far as methods go, it's similarly standard fare. You have game days and futures, parlays, teasers, and all sorts of props. You'll even find some creative bets offered from time to time: For example, on the day of writing this, BetRegal is offering All Home Goals vs. All Away Goals in the NHL for the day, as a way of getting into all of the hockey action at once rather than just a game or two.
Beyond the book, BetRegal also offers a casino with dozens of games, and a racebook for those who want to take their picks to the track.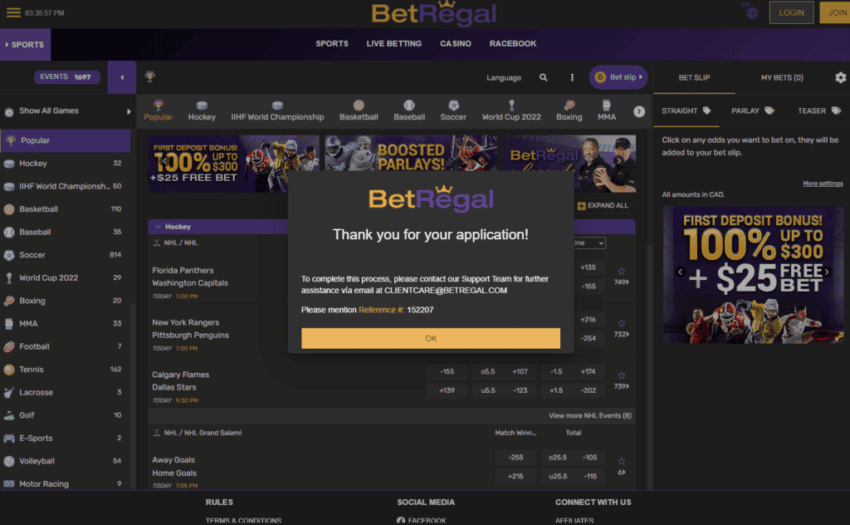 BetRegal Ontario Overall User Experience
The experience on BetRegal isn't the absolute best we've seen, but it gets the job done when needed. If they happened to be the venue with the best odds or an availability on a line that we wanted to bet on for a given night, we wouldn't hesitate to use them. There are some quirks in the web presentation that one would hope they build upon in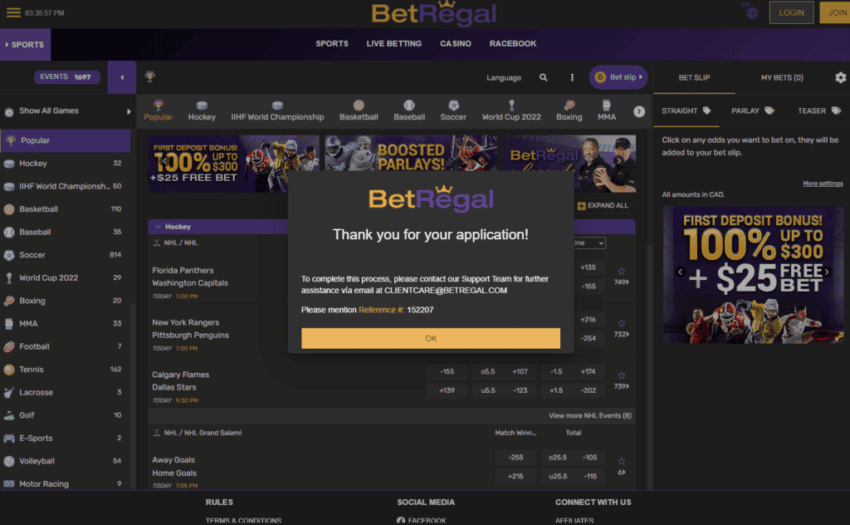 BetRegal Sportsbook Canada FAQs
Is BetRegal sportsbook legal in Canada?
BetRegal is a legitimate, legal outlet for play in Canada. They're registered partners of the Canadian Gaming Association and aim to meet regulations in all of the regions that they offer their services in. BetRegal's parent company (Regal Group Limited) is based out of Malta and is fully licensed.
Is BetRegal sportsbook legal in Ontario?
BetRegal is legal in Ontario, though not yet a registered iGaming Ontario partner. They are in the process of acquiring a licence from the AGCO though, so we don't expect it to be too long before they are an official, regulated operator as well.
What does BetRegal sportsbook offer to new players?
Like many other operators, BetRegal routinely offers a variety of promotions to new and current players alike. These promotions often rotate, varying based on time of the year, what events are on, and what competitors are offering. To find out more about what incentives BetRegal might be offering at the moment, your best course of action is to check the BetRegal Ontario website for yourself!
Does BetRegal have an Android App?
BetRegal does not offer an Android app, via the Google Play Store or via a standalone APK file. Should you see any unofficial sites claiming they have an app file for side-loading, do not install it. Instead, use the BetRegal website, which is built with a responsive core and as such, adapts to mobile devices. You can also bookmark their site as an app icon on your phone, to give it a very similar look and feel to having downloaded the application.
Does BetRegal have an iPhone App?
Just like with Android, there is no BetRegal app for iOS at this time, be it for iPhone or for iPad. Of course, this could change for both platforms in the future, though nothing of the sort has been announced or confirmed by the outlet. Once again, our recommendation would be to use the responsive mobile site that BetRegal offers to access the book from your device, and possibly even bookmark it to your home screen for that extra app-like feel.
---