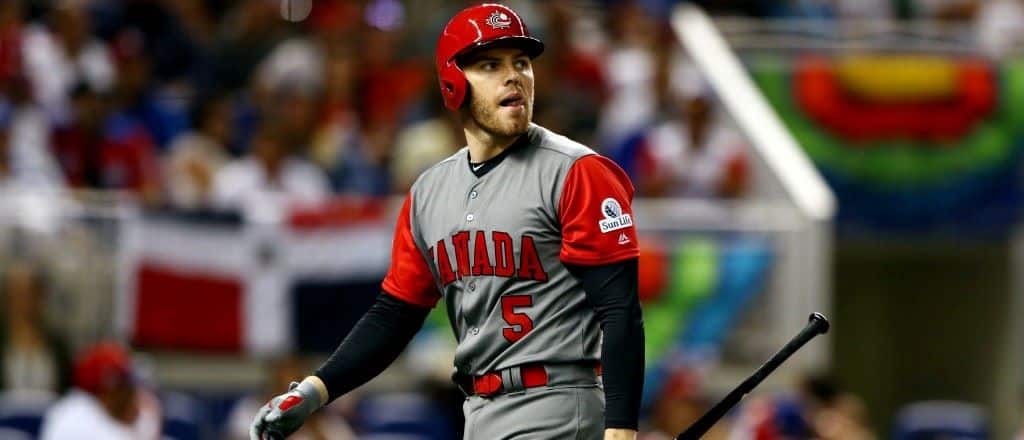 The World Baseball Classic gets underway on Tuesday, March 7 when Cuba takes on the Netherlands, officially giving baseball fans and bettors some competitive games to wager on instead of settling for Spring Training action.
Despite the event getting underway on March 7, Canada won't take the field as part of Pool C until March 12 in Arizona, when it takes on Great Britain in the first of four pool games. The Canucks will also play the United States, Colombia, and Mexico in the pool stage. The top two teams in the pool will advance to the quarterfinal round, while the bottom two teams in each of the four pools will be sent packing.
This will be the first World Baseball Classic since 2017. The United States won that tournament with Puerto Rico finishing as the runner-up. Canada failed to advance out of Pool C, going 0-3 with a -18 run differential.
Canada's roster
Canada initially released its 30-man roster for the WBC in early February and it's headlined by National League 2020 Most Valuable Player and six-time All-Star Freddie Freeman (Los Angeles Dodgers) and two-time Gold Glove outfielder Tyler O'Neill (St. Louis Cardinals). Several other players that cracked MLB rosters in 2022 will be joining the pair including pitcher Cal Quantrill (Cleveland Guardians), pitcher Matt Brash (Seattle Mariners), Otto Lopez (Toronto Blue Jays), Bo Naylor (Guardians), Abraham Toro (Milwaukee Brewers), Jared Young (Chicago Cubs), and Rob Zastryzny (Pittsburgh Pirates).
Boston Red Sox right-hander Nick Pivetta was also initially named to the roster, but he later withdrew due to illness. His absence will be a huge blow to Canada's starting rotation for the tournament.
A group of former big leaguers will also represent Canada including Andrew Albers, John Axford, and Adam Loewen, among others.
Unfortunately, Canada's roster could've been much stronger, but several players declined offers to play in the tournament for various reasons. Joey Votto, Mike Soroka, James Paxton, Jameson Taillon, and Jordan Romero are just some of the MLB players that were eligible to suit up for Canada.
Canada will be managed by former Blue Jays catcher Ernie Whitt.
Canada's odds
Canada doesn't have the roster to compete with some of the other stacked nations at the WBC, and it'll take a miracle for the Canadians (+2500) to win Pool C with both USA and Mexico in the group. However, Canada could realistically pull off pool wins against Great Britain and Colombia.
The picture gets even uglier when you look at Canada's outright odds for the event, which stand at +11000.
Game lines aren't out yet for Canada's opener against Great Britain, but the Canucks will likely be favoured in that opening matchup, especially if Quantrill is named the starting pitcher.
Domincan Republic is the nation to beat
The Dominican Republic (+210) are the favourites to win the WBC this year, and all it takes is one glance at their roster to see why. Juan Soto, Manny Machado, Wander Franco, Rafael Devers, and Julio Rodriguez are just a few of the names that will represent their country at the event.
The United States (+260) and Japan (+280) have the next shortest odds to win it all. The Americans, led by Mike Trout, Mookie Betts, Trea Turner, and Pete Alonso, have the firepower to compete with the Domincan Republic, and Japan boasts the two-way talents of Shohei Ohtani and pitcher Yu Darvish, as well as a plethora of Japanese league standouts.
A deep sleeper pick could be baseball-crazy Cuba (+4200) which will have a handful of current and former MLB players on its roster, including Yoan Moncada, Luis Robert, and Yoenis Cespedes.