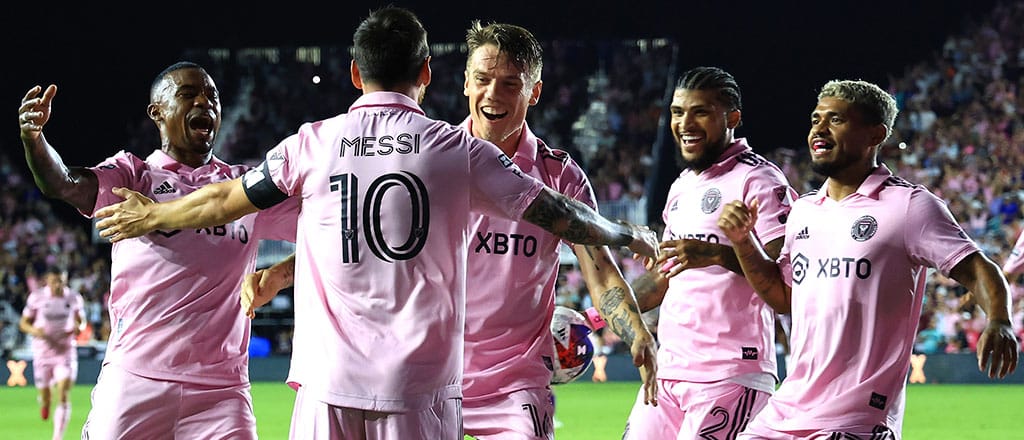 It feels like just yesterday when reports came out that the impossible had happened – that the greatest soccer player of all time, Lionel Messi, was going to be coming to Major League Soccer while he still had gas in the tank. The 35-year-old confirmed his plans to sign with Inter Miami in the beginning of June, but the deal, which sees him making a large base salary combined with revenue sharing on everything from MLS merchandise to Season Pass subscriptions on Apple TV, and gives him a share of the franchise post-retirement, wasn't made official until a little over a month later.
At the time, the big question was how he could impact Inter Miami's chances at winning the 2023 MLS Cup. My feelings were as such:
From a team perspective, it'll be interesting to see what this does for Miami's chances this year. As it stands, they're far longshots to win the 2023 MLS Cup, currently posting the worst record in the Eastern Conference and third worst in the league, with an MLS-leading 11 losses in 16 games. However, MLS favours a North American-style playoff system over the traditional table system, having a Supporters Shield for the regular season but giving preference to the knockout trophy. In that sense, they could still have a chance – their five wins are the second most for any non-playoff team, their goal differential of -6 is salvageable, and they're only six points out of the play-in race in the East.

So am I saying there's a chance? If he joins in July, yes. Of course, we'll start to really test the limits on how much one player can transform an 11-man squad, but if the slips stay in the +5000 range, it's one of the more intriguing longshots you'll find.
Since then, Inter Miami has been winless in MLS action, losing three games and drawing three, and they've fallen two spots back in the standings, all the way to dead last with 18 points in 32 games. Now 12 points out of a play-in opportunity, with six fewer games to catch up to the field, our friends at bet365 have adjusted Miami's odds to win it all from +5000 to … +1000.
Wait, that can't be right, can it? Oh, it can.
There's an odd paradox here where while Miami's next five weeks made the bleeding worse, none of them actually included Messi, since he was still negotiating his contract. In fact, Messi hasn't played his first Major League Soccer game yet.
"But what about all those crazy highlights we've seen?," you might ask. After all, Messi has played four games for Miami so far, and put them and the league in the international spotlight with incredible, rejuvenated play that feels closer to the happier, free-flowing Messi of his Barcelona prime when compared to the tense Messi we saw at Paris St-Germain. In those four games, Messi has scored seven goals, put up an assist, attempted 17 shots, and landed nine on target. Most importantly, Miami have won all four, by a combined score of 14-6. So what gives here?
Well, those games were in a tournament called the Leagues Cup, which is designed to pit the best of MLS and Mexico's Liga MX against each other. It's a way for both leagues to pull in some money while keeping them determined to try to one-up the other on the field. Thus far, Miami have been the stars of it, largely facing MLS teams in their path, which is what is creating the confusion. In that tournament, where six MLS and two Liga MX teams remain, Miami has the shortest odds to go the distance, at +225. LAFC, Philadelphia, and Nashville, who are all considered marquee contenders for MLS Cup, sit at +400, +600, and +600 respectively.
Needless to say, fans, analysts, sportsbooks, and everyone in between have seen the degree of dominance of not just Messi, but former Barcelona teammates and fellow Miami signings Sergio Busquets and Jordi Alba and how they've not just linked up as a trio, but helped the likes of Finnish winger Robert Taylor and former MLS MVP Josef Martinez find new gears. Messi and friends have been remarkable in the sense that they have not just been individually dominant, but bought into completely revamping the team ethos. New head coach Tito Martino, who has experience with the Barca trio and with Martinez, also adds to this mix.
In essence, before Messi gets to play his first MLS game, Miami looks well-tuned to hit the ground running as a completely different club. The Leagues Cup run has led to schedule conflicts and rescheduling that pushes that break away from the league even wider, giving them even more time to prepare. A 12-point catch up in 12 games is still an extremely uphill battle – one worse than when Messi showed up, but by winning in out-of-league tournaments, they've put themselves in an optimal position to make their strongest effort.
Success for Miami in the US Open Cup – which there aren't currently betting odds for – has also helped with stretching the schedule, as Miami has managed to push to the semi-final even before the summer signings. Miami will play against FC Cincinnati on August 23, giving them another trophy to potentially chase, one more tune-up before their return to MLS play on August 26 against the New York Red Bulls, and a big test, as Cincinnati currently lead the MLS Table by eight points and have the shortest odds to win the 2023 MLS Cup at +400.
Last on the rapid-risers list, Messi himself now has the third-shortest odds to lead MLS in goals, at +500. Again, it's worth keeping in mind here that Messi has zero goals and twelve games to catch up.
If the current scoring leaders maintain their paces so far this season, Messi will likely have to play in all 12 remaining games and put up roughly 19-20 goals in that span, a clip of 1.6-1.7 goals per game, or about triple the rate that the others with the five shortest odds have produced at. So far, he's converted at a clip of 1.75 per game, which is why we can have this conversation at all, though it's hard to predict that the initial high will maintain itself for another two and a half months. I would be less inclined to take this one on, but again, the fact that the conversation can even be had is a testament to the talent of the player, the quality of the supporting signings, and the instant chemistry the whole group has developed.