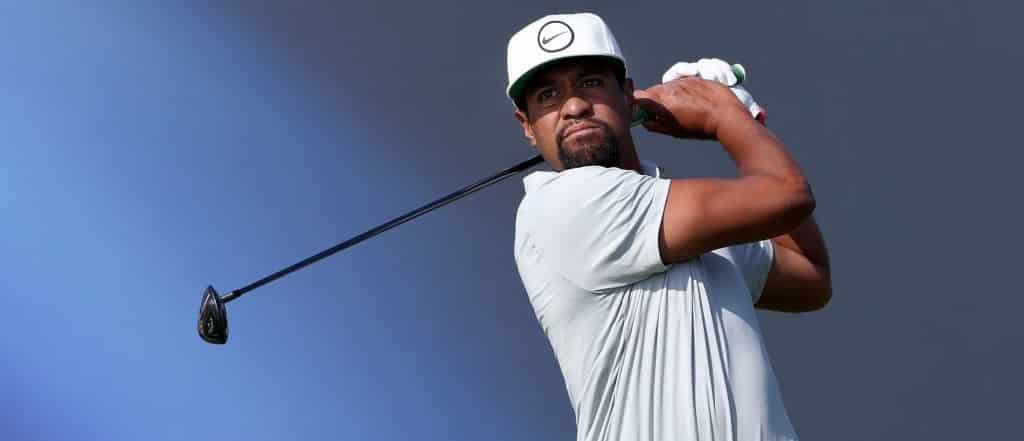 Coming off The Open, the 3M Open is going to look a bit sparse comparatively speaking. Most of the big names are taking the tournament off while the heavy hitters from the LIV Tour, like Brooks Koepka, are back on their respective tour, unable to play in this event.
That begs the question as to who the best pick is heading into the 3M Open. Let's take a closer look at the odds going into the event, three names to watch, three to fade, and three sleepers who could potentially be in the mix on the final day and reward brave sports bettors very handsomely.
Canadians in the field
Corey Conners and Nick Taylor are the two best Canadians on the tour, but they'll be taking this one off, making way to a quartet of hopefuls that are aiming to make the 3M Open their event for 2023.
Adam Hadwin (+3500): So far this season, Hadwin has been the definition of a boom-or-bust player. He missed the cut five times in 10 tour events this year. He was 59th at the U.S. Open and 40th at the PGA Championship. He also earned money at the Byron Nelson with a 34th-place finish. Hadwin also has a 12th-place finish at the RBC Canadian Open and was runner-up at the RM Classic at the end of June. Though his odds are long for a reason, he could find himself on the leaderboard on the final day. If you can grab him to finish in the top 20 at a solid price, that would be a play worth taking a shot at.
Taylor Pendrith (+6200): It has largely been a struggle for Pendrith this season. Though he has just three missed cuts all year, Pendrith has also finished 60th or worse in three events. He does have a pair of top-15 finishes, however, both of which have come in his last three starts. His best finish came two weeks ago at the Barbasol Championship, where he finished sixth. The safe bet is another finish outside the top 25, but his recent play has been strong which does result in some confidence heading into this event.
Adam Svensson (+7100): While a win is definitely a long shot for Svensson, he has quietly had a good money-making season on the tour. He has claimed earnings in three of his last four starts despite missing four cuts since The Masters. Svensson is coming off his best performance of the season, a 21st-place finish at the John Deere Classic. If you want to put money on anyone, Svensson to crack the top 20 could be a fun underdog pick worth taking.
Mackenzie Hughes (+7500): Hughes has shown a few bright spots this year. He finished 14th at the Byron Nelson and a solid 29th at The Masters back in April. The rest of his season has been disappointing. He has only made the cut one other time in his 10 tour starts this season, finishing 49th at the U.S. Open. It is hard to expect much more than a made cut and even that seems like a long shot.
Top Canadian: Adam Hadwin

+200
Bet Now!
Outright odds
Before we get into the picks for the 3M Open, let's take a look at the notables in the field. Here are the top 15 golfers with the shortest outright odds heading into this week's action:
Three players to back
Picking the winner of any event is a tough ask. In some events, a name comes from seemingly nowhere to have a great tournament and walk away as the champion. There are a couple of names that could seriously threaten for the 3M Open Championship or at least make a decent run at the top five.
Hideki Matsuyama (+1900): Matsuyama may be one of the most well-rounded players taking part in the 3M Open. He has only missed two cuts this season, though the last did come at the RM Classic at the end of June. The rest of his resume looks quite good. He has finished in the top 15 three times this year, including fifth at the PLAYERS' Championship and 13th at the Travelers Championship in mid-June. He has another trio of top-25 performances, and his very worst effort was 32nd at the U.S. Open. His sound game could be taken to another level and give him a great chance to walk away with his first win.
Justin Thomas (+2200): If you look at Thomas' season, it is the definition of "hit and miss." He began the season with a 10th-place showing at the Valspar Championship. He also has managed another pair of top-25 finishes at the RBC Heritage and Wells Fargo. Then again, he has missed the cut in three of his last five events, making him a scary pick to win any tournament. But with a ninth-place finish at the Travelers Championship and 26th at the Scottish Open, Thomas has had his spurts of good play. With a depleted field this weekend, it could be his time to make a run.
Emiliano Grillo (+2500): Grillo may be the most dangerous name in this tournament, especially given that he had a great performance at The Open Championship just a week ago. It was likely his second best performance of the year, the first coming at the Schwab Challenge in May where he won. Grillo has a pair of top-seven finishes as well, showing that he has what it takes to be near the top of the leaderboard. His missed cuts might seem concerning, but two of the three came at majors with all eyes on those events. Away from the spotlight, he could shine at the 3M Open.
Emiliano Grillo to win tournament

+2500
Bet Now!
Three players to fade
Picking based on odds makes it seem relatively easy to know who to pick. There are a few names near the top of the list, however, that you should definitely stay away from. These are the three names you should be fading on your bet slip this weekend.
Tony Finau (+1300): No one in this event is an overwhelming favourite and with good reason. That said, Finau has shown the potential to have himself a run as was displayed with his win at the Mexico Open back in April. Since then, Finau has largely been solid, finishing between 23rd and 32nd in four events. His three missed cuts, including the RM Classic at the end of June, could be indicative of trouble. But with a depleted field, a strong run is not out of the question. Still, his odds are a little short to find much value.
Sungjae Im (+1400): Im enters the event as one of the favourites, though it is becoming increasingly difficult to see why. Sure, the field isn't as star-studded as The Open, providing more opportunity for talented players like Im. That said, he hasn't been great since a trio of top-16 finishes to begin the year. Im has missed the cut four times in his last seven starts and his best showing was 24th at the RM Classic at the end of June. With that kind of run in recent tournaments, picking him to even finish in the top 10 may not be wise.
Cameron Young (+1500): Despite being second to only Finau on the odds list, it is hard to feel great about Young here. Yes, he is coming off of a solid sixth-place finish at the John Deere Classic just a couple of weeks ago. And, yes, he has made his last four cuts. That said, Young has just two finishes above 32nd, the other coming when he finished seventh at The Masters. As a matter of fact, Young's 32nd-place finish at the U.S. Open is his only other finish inside the top 50 on the season. If you can get Young in the top 10 (+188), that's a better pick than him winning outright.
Three potential dark horses
We know who the favourites are. We know who to avoid. But what about the guys who could make a surprising run and be right there in contention on the final day? Here are three names that you should keep in the back of your mind as a potential threat to be among the leaders.
Patrick Rodgers (+4200): Which Patrick Rodgers will we get at the 3M Open? Will it be the one who placed second at the Barracuda Championship and 10th at the Mexico Open? Or will it be the one that missed three consecutive cuts prior to his Barracuda performance?
Adam Svensson (+7100): Svensson is a fun pick because he's a generally solid player and it wouldn't be out of the realm of possibility to see him make a run. That said, if you can get money on him in the top 10 (+800) that would be a much better play, one that would have a much greater chance to actually pan out when the tournament is over.
Cam Davis (+3700): Davis has struggled lately, missing four of his last six cuts. He did have a 17th-place finish at the RM Classic sandwiched in there, however. It's also worth noting that he finished fourth at the PGA Championship and seventh at the RBC Heritage, showing that he can put together a great round of golf at any time.