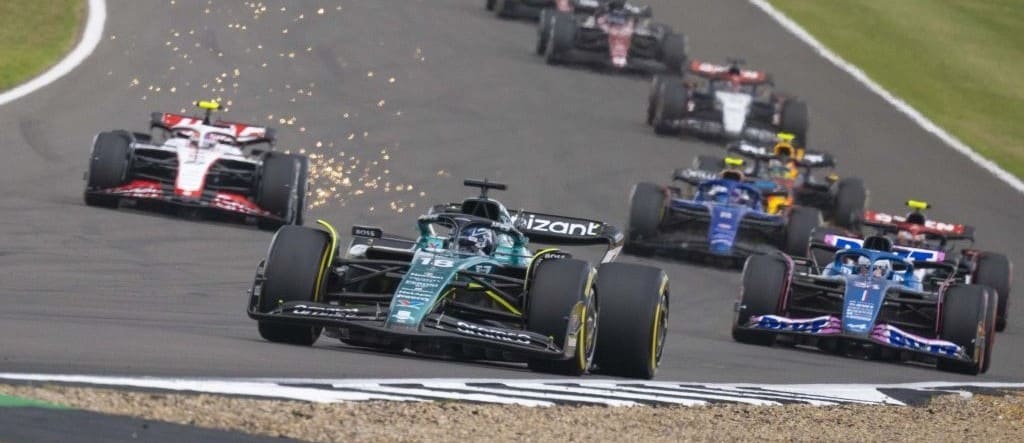 The F1 Hungarian Grand Prix is just around the corner. As is the case with nearly every Formula One race this year, all eyes are on Max Verstappen. He has dominated at nearly every track over the course of this season, racking up an impressive eight wins in 10 events.
He will be the overwhelming favourite heading into the Hungarian Grand Prix on July 23. As a matter of fact, he is the only driver in the race that does not have odds better than even money, showing just how dominant he has been on virtually every track over the course of the F1 season.
Of course, Verstappen is not the only driver in the field on Sunday, though it has definitely felt that way at times. We will go over some of the other storylines heading into this race, including Canada's own entrant, Lance Stroll, the bets to watch, and more. But first, check out the list of odds for the drivers in this weekend's F1 Hungarian Grand Prix.
Outright odds
Lance Stroll carrying the flag for Canada
Being the only Formula One racer from Canada, all the hopes of his countrymen rest on Stroll's shoulders. Stroll has had up-and-down results this year racing for Aston Martin, but there has certainly been promise in some of his recent finishes.
He did get a bit of a late start to the year, suffering injuries in training that ultimately resulted in him missing pre-season testing. Of late, however, Stroll has been racing at his best. In 10 races this season, Stroll has placed in the top 10 in six of them. He has even managed a trio of top-six performances at the Gulf Air Bahrain Grand Prix, AWS Spanish Grand Prix, and Rolex Australian Grand Prix, respectively.
At +15000 odds to win, he sits firmly in the middle of the field heading into the Hungarian Grand Prix. He had a solid ninth-place finish a month ago on home soil at the Pirelli Canadian Grand Prix, and finished in the same position at the Rolex Austrian Grand Prix two weeks prior.
Though he is a dark horse heading into the Hungarian Grand Prix, Stroll certainly bears watching. He has improved on his starting position in two of his last four races, picking up points in the standings in three of his last four. Don't be shocked if Stroll continues his strong performance and challenges the top five in the event.
The Verstappen Show
All you need to do in order to understand Max Verstappen's domination of the F1 circuit this year is to look at the standings. He is not only in first place, but stands at the mountaintop by nearly 100 points over teammate and second-place driver Sergio Perez (255-156). Verstappen has taken the drama out of a lot of the races by absolutely dominating the rest of the field. He is truly making a case as one of the all-time greats.
When you break down his record so far this year, it only gets more ridiculous. In 10 races this year, Verstappen has won eight of them, including the last six. Not ridiculous enough? In the two races he didn't win – Azerbaijan and Saudi Arabia – he finished second behind teammate Perez. It's Verstappen's world right now and everyone else is just hoping for a respectable finish.
Red Bull domination but Alonso approaches
At the top of the F1 team standings, it has been Red Bull's dominance. Of course, having Verstappen in first by a country mile helps that but Perez has been very good on the whole. Even "slumping" lately, he has five podium finishes and the only two wins this year that don't belong to Verstappen.
Outside of Red Bull, the two racers who have stood out most are Lewis Hamilton of Mercedes and Fernando Alonso of Aston Martin. Hamilton has five podium finishes this year and has been very solid over his last five races.
Alonso, third in the F1 standings, has been quietly very good all year. He has finished on the podium six times, though just once in his last four races (second in Canada). He has slumped a bit himself of late, having his two worst finishes of the year (seventh at both Spain and Britain). He has the talent to win if Verstappen slips, though that doesn't seem even remotely likely this season.
Three bets to consider
When it comes to betting on the F1 Hungarian Grand Prix, there are a couple of ways to look at things. You could take the safe money and bet on Verstappen to pick up his ninth win of the season and take the modest winnings that come with his odds (-300).
Or you could take a different approach and look for a few value bets. While only one man can win the Hungarian Grand Prix, there is a litany of other bets at play. Here are three bets, in particular, that should have your attention before the race begins on July 23.
Lance Stroll to finish Top 6 (+300): As touched on above, Stroll has really started to level out and become a solid racer, rebounding from a slow start hampered by injuries. Since having a DNF performance in Monaco back at the end of May, he has performed quite well. Though he hasn't challenged the top five since Spain back in early June, Stroll has consistently raced well. He will also likely want to wash the bitter taste of a 14th-place finish in Great Britain out of his mouth. With a pair of ninth-place finishes and his second-best showing of sixth place back in Spain, Stroll will want to continue to build momentum with a strong finish here.
Lewis Hamilton podium finish (+120): Aside from Verstappen, Hamilton may be the most well-known name in the sport. His rise to fame in recent years has been meteoric, even if his results on the track have not necessarily been indicative of his talent. That said, Hamilton has been very good this season and bears watching when it comes to finishing on the podium. As a matter of fact, Hamilton has been downright hot of late. Since finishing fourth in Monaco at the end of May, Hamilton has finished on the podium in three of his last four races. He finished second in Spain, third in Canada, and third in Great Britain with an eighth-place finish in Austria sandwiched between. Hamilton has been consistently good, and if he wants to catch Alonso for third in the F1 standings, he'll need another good showing this weekend.
Sergio Perez podium finish (-138): Being a teammate of Verstappen's pays off. As a matter of fact, Perez began the season with two wins in his first four races and a pair of second-place finishes over his first five events. It is much of what has helped him reach second in the standings behind teammate Verstappen. It could be easy to dissuade picking Perez here given his recent race results. Since his second-place finish in Miami back on May 7, it hasn't been the smoothest sledding for Perez. He has reached the podium just once in his last five races – finishing third in Austria two weeks ago. Even still, he has the talent and pedigree to finish on the podium at any time and now would be as good a time as ever to get back.